Dine Alone Records Releases Killer Free Summer Sampler

Prized Canadian independent label, Dine Alone Records, has released a rather killer 27-song free summer sampler.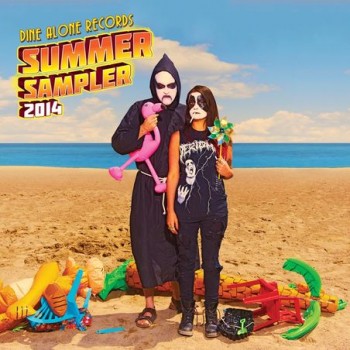 This offering features selections from Chuck Ragan, Arkells, Twin Forks, We Are Scientists, Monster Truck, Tokyo Police Club, Say Yes, Spanish Gold, and a ton more.
Those who enter in their contact info upon downloading the sampler will be automatically entered to win one of 20 prize packs from Dine Alone Records, West 49, Olloclip, Nalgene, Jansport, Skullcandy, and TOMS.
What's more, West 49 will carry the sampler postcard at their 68 locations across Canada, as well as hand them out at GoSkateDay on June 21.
On the postcard, fans are encouraged to write a message to their favourite Dine Alone artist, forward it back to the label, and they'll feature them on Facebook before shipping them over to the artists.
You can download the sampler here.
Here's the outstanding tracklisting:
1. Broncho – "It's On"
2. Clear Plastic Masks – "So Real"
3. Spanish Gold – "Out On The Street"
4. Spain – "Love At First Sight"
5. Sleepy Sun – "Outside"
6. Eagulls – "Possessed"
7. Monster Truck – "Boogie"
8. DZ Deathrays – "Reflective Skull"
9. Tokyo Police Club – "Gonna Be Ready"
10. Arkells – "Come To Light"
11. The Jezabels – "The Brink"
12. Sylvan Esso – "Coffee"
13. PHOX – "Slow Motion"
14. James Vincent McMorrow – "Gold"
15. Spencer Burton – "Diamond"
16. The Howlin' Brothers – "Pour It Down"
17. Chuck Ragan – "Something May Catch Fire"
18. Noah Gundersen – "Cigarettes"
19. High Ends – "The Weight"
20. Streets of Laredo – "Lonsdale Line"
21. The Apache Relay – "White Light"
22. Twin Forks – "Plans"
23. We Are Scientists – "Make It Easy"
24. Glass Towers – "In This City"
25. Say Yes – "Sunrise"
26. Solids – "Haze Away"
27. Cerebral Ballzy – "Lonely As America"
Please be sure to follow us on Twitter @riffyou and at Facebook.com/riffyou.