Getting to Know: Latvian Post-Rock act, Audrey Fall

In today's edition of Getting to Know, we get acquainted with Latvian post-rock act, Audrey Fall. Years ago, they started off as a screaming hardcore band, but have evolved into playing strictly instrumental tracks. If you are in an up and coming band that would like to partake in a Getting to Know feature, contact editor@riffyou.com to receive the questionnaire and instructions. Thanks!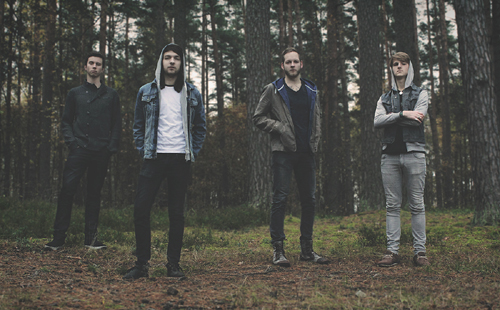 Band Name: Audrey Fall
Band Members: Jurgis Narvils (guitar), Elvijs Puce (guitar), Pauls Jaks (bass), and Aigars Libergs (drums).
Years Active: 3
City of Origin: Jelgava, Latvia
Who are you and what do you do?
"I'm Jurgis and I play guitar in Audrey Fall. We're a post-rock/metal band from Latvia."
In 100 words or less, tell us how your band has gotten to this point.
"We started off as a post-hardcore band with screaming vocals. I was singing a little bit then, too. We played quite a lot of shows in a short time and after that we decided to go instrumental. It took us two years to change the style, write and record the new stuff, and now we have released what we consider our debut album."
What is your latest release and how would you best describe it to someone who hasn't heard your band?
"Mitau is our debut album, which is basically a huge, hour long composition, split into 10 songs. I'd say it's a pretty diverse record with a song for every taste. It's got influences from both softer post-rock and heavier post-metal."
When making an album, which aspect of the process do you put the most time into and why?
"We put the most time into recording for this album, because we did it ourselves and it was a new experience…a lot of experimentation and a lot of learning from our mistakes. We actually had everything recorded but then decided to do it all over again, because it just wasn't that good."
What is the best part about your band and why?
"We're a DIY type of band. We try to do as much as we can ourselves – everything from recording the music, to editing videos, to doing the artwork, etc. There's so much more to do while being in a band than just to make music. We try to get involved in every aspect."
What makes your band unique from the rest?
"I think we don't put ourselves in restrictions of one style or one type of post-rock. We're not afraid to go heavier – if we feel like that – or softer, for that matter."
How does your band survive the challenges of touring/gigging?
"We haven't really toured/gigged a lot in the last two years while working on the new material. We'll see if we can manage to survive when we do."
Would you rather be critically-acclaimed; rich and famous; or an under-the-radar band with a dedicated fan base?
"We just want our music to be heard by as many people as possible. We're not focusing on anything else – we just want to get our music out there. If a time comes where we can make a living with music, then that's great. Personally, my dream is to hear my music in a movie or a trailer."
If you'd have to compare your band to another one out there, living or dead, who would it be and why?
"I haven't really heard a band that would sound really close to us. I think we just don't have such a distinct style to compare to one band. Some of our influences could be Russian Circles, Sleepmakeswaves, and If these Trees Could Talk."
Which band/musician would you like to share many drinks with? What would you talk about?
"I guess it would be Alexisonfire, the only band ever. There's no other band that I really consider myself a fan of. Too bad it's not possible anymore. They seem like great guys, and we'd probably speak about anything."
Please be sure to follow us on Twitter @riffyou and at Facebook.com/riffyou.