Getting to Know: London, ON Pop-Punks Redambergreen

In the week-end edition of Getting to Know, we meet London, ON-based pop-punk band, Redambergreen. They like Disney music, and love Cauterize. If you are in an up and coming band that would like to partake in a Getting to Know feature, contact editor@riffyou.com to receive the questionnaire and instructions. Thanks!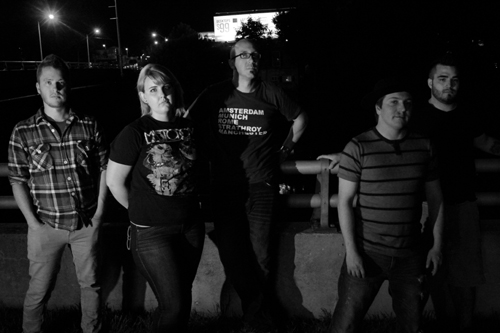 Band Name: Redambergreen
Band Members: Sara Preston (vocals), Phil Regimbal (guitar, backing vocals), Mike Funk (guitar), Cam Core (bass, backing vocals), and Michael Marucci (drums).
Years Active: 2½
City of Origin:  London, ON.
Who are you and what do you do?
"Hey! I'm Michael, I'm the drummer for Redambergreen."
In 100 words or less, tell us how your band has gotten to this point.
"Honestly, a lot of hard work, endurance, and love for the music we play. We've gone through a couple lineup changes. Our original singer Eric moved away, and our guitarist Cameron became a father. But through all that, we've become a stronger band and we're doing better than ever. I think it's important to focus on making the best music you can, and to make sure you're having fun doing it. That being said, a band is a business and we work hard at it."
What is your latest release and how would you best describe it to someone who hasn't heard your band?
"We just released our new EP called No City. It's a huge step forward for us and if I had to describe it, I'd say it's a fusion of pop-punk, with riff rock. It has big builds and catchy choruses. It's a really fun record!"
When making an album, which aspect of the process do you put the most time into and why?
"We do spend a lot of time writing. As easy as it is to bang out fast, fun tunes (which we totally do), we also have a deeper dynamic than that…so we try to balance our different writing styles. Some songs come together quickly, while others are much more intricate and developed, and I really think that's one of our biggest strengths. We have a cohesive diversity, which is to say, we're not boring, but we're not erratic and aimless either. We're also heavy into the production side. I'm a professional record producer, so I have a desire to deliver the best sounding record I can to fans. I think above all else, the song is most important, but if your music sounds like garbage, it's a wasted opportunity and it's shortchanging your listeners. Nothing bothers me more than hearing an amazing song with a terribly low production value."
What is the best part about your band and why?
"We all have an absurd sense of humour? Seriously, if you were at band practice you'd be bombarded by riffs and poop jokes interspliced with serious discussions about time travelling dogs."
What makes your band unique from the rest?
"For starters Redambergreen contains five unique people. Imagine that! An entire universe of matter and only one of each of us!  But on musical level, we're all so diverse in what we bring to the table. We all draw from so many places that the music we make can go in all sorts of different directions without losing its definitive 'Redambergreen' sound. This also allows us to play with tons of different bands which we love. Seriously, we like so much music it's terrifying."
How does your band survive the challenges of touring/gigging?
"The same way a lot of bands do I think, by being smart and savvy. In this day and age, with social networking, we communicate heavily with other bands to coordinate gear shares if necessary, which helps each other maximize space and minimize gas. We pick shows that are the best fit for us and in strategic spots on the right nights, and we make sure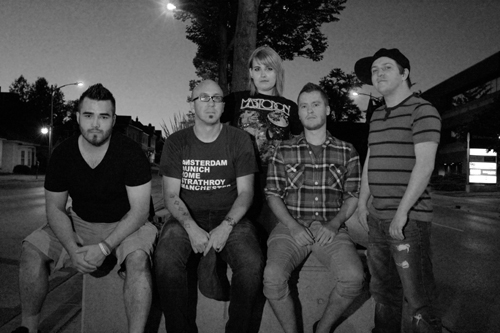 we promote the hell out of every show we do whether it's close to home or far away. As I said, a band is a business (at least if you want it to go somewhere) and so being smart about when and where you play is essential. Also, take care of each other. Other bands are your brothers in arms…they're your lifeblood. Help each other, build a family, there's nothing you can't accomplish when you work together. Pooling resources is a huge way to make touring and gigging easier."
Would you rather be critically-acclaimed; rich and famous; or an under-the-radar band with a dedicated fan base?
"For us, it's really about playing the best music we can and seeing other people take something positive out of it. But, it's also a business, and we want to make a reasonable living doing this. So can we have a dedicated fan base and perhaps a moderate level of public notoriety? Please? Because that would be sweet, to share music with people that love it as much as we do."
If you'd have to compare your band to another one out there, living or dead, who would it be and why?
"We have a TON of influences, everything from the Beatles to Disney movies. But if I had to pick a band that falls in line with what we do, it'd be Cauterize. Those guys blended pop-punk, alt-punk and rock so well. They had sweet riffs and knew how to write something fast or something slow without ever losing who they were. Seriously, listen to their 2005 album Paper Wings. Tracks like "Wake To the Sun" and "Porcelain". All I have to say is fuuuck!"
Which band/musician would you like to share many drinks with? What would you talk about?
"I Mother Earth without a doubt, they're my favourite band by far. They are some of the nicest guys I've ever met in the business, and they also happen to be some of the most talented musicians Canada has ever produced. Their music is so well written, fun, and diverse but (again with this point) without losing their cohesiveness. The Quicksilver Meat Dream is in my opinion the best record I've ever listened to. It's also the best record I've ever heard sonically, or from a production standpoint."
Please be sure to follow us on Twitter @riffyou and at Facebook.com/riffyou.