Getting to Know: Minnesota Metalcore act, Watch Them Fly

In today's Getting to Know, we meet up and coming Minnesota-based metalcore act, Watch Them Fly, a band that would love some face time with Of Mice and Men. If you are in an up and coming band that would like to partake in a Getting to Know feature, contact editor@riffyou.com to receive the questionnaire and instructions. Thanks!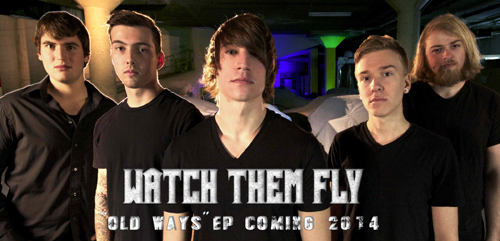 Band Name: Watch Them Fly
Band Members: Paul Reichstadt (vocals), Corey Sanders (guitar), Nick Perkins (guitar), Evan Reynolds (bass), and Jake Laux (drums)
Years Active: 2
City of Origin: Minneapolis, Minnesota
Who are you and what do you do?
"I am Paul Reichstadt, the vocalist of Watch Them Fly."
In 100 words or less, tell us how your band has gotten to this point.
"Watch Them fly were formed in January 2012 by me, and have made use of the Internet in getting our name out there and building a fan base. After releasing our Self-Titled EP in May 2013, we have experienced continuing growth and fan support. We are always promoting the band in any way we can to get our name out – whether it is through hanging with fans at shows, or networking through the use of social media. It is awesome to see how far this band has come over the last two years and we are very excited about the direction we are heading…especially since we are releasing our new EP, Old Ways, in the spring of 2014. We are excited to see how the band will continue to grow!"
What is your latest release and how would you best describe it to someone who hasn't heard your band?
"Our Self-Titled EP. The band's sound is exploding with passion and is changing the music scene with our mixture of uplifting melodies and dark poetic breakdowns. Our sound is similar to, but by no means the same, to Bring Me the Horizon, Memphis Mayfire, Sleeping with Sirens, Of Mice and Men and We Came as Romans."
When making an album, which aspect of the process do you put the most time into and why?
"We make sure to put the same amount of time in each element of the process. We want to make sure we are giving 100% of what this band can offer, whether it's during a live show or when making our records."
What is the best part about your band and why?
"The best part would be that we are all experienced musicians. That makes it easy for us to separate ourselves from the other bands in our genre, and bring something creative and new to the table when we write new music!"
What makes your band unique from the rest?
"I think our music is what really separates us. We try to mix it up as much as we can from a theory stand point, as well as a structure stand point. We are always striving to make our music new, refreshing, and creative!"
How does your band survive the challenges of touring/gigging?
"It's tough, but we always make sure to keep a positive attitude, as well as never forget the reason why we are making music…which is to help people."
Would you rather be critically-acclaimed; rich and famous; or an under-the-radar band with a dedicated fan base?  
"Probably critically-acclaimed, because we put our heart and soul into the music in hopes that we can maybe save people who are going through a tough time, or feel as if no one could relate to them. So it would be good to know that people hear the time and effort we put into our music."
If you'd have to compare your band to another one out there, living or dead, who would it be and why?
"I would have to say Memphis Mayfire, because their sound has a similar balance between heavy and melodic parts."
Which band/musician would you like to share many drinks with? What would you talk about?
"It would be cool to chill with the dudes from Of Mice and Men and just talk about life and different experiences from building a career in the music industry."
Please be sure to follow us on Twitter @riffyou and at Facebook.com/riffyou.