Interview: Hollerado Penning 111 Songs for Next Album

In the substantially emptied backstage area of the Toronto Urban Roots Festival (TURF), the sky is slowly darkening as Hollerado gears up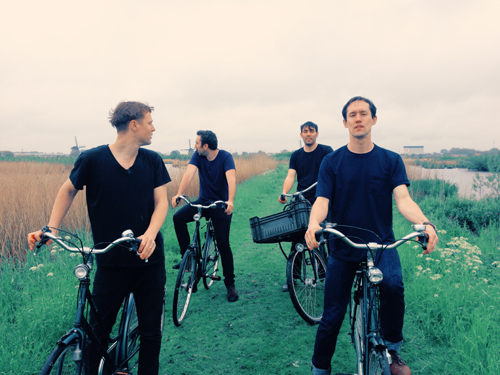 for a South Stage headlining performance in 45 minutes. Reports are that there is no beer to be seen, but the band's frontman Menno Versteeg has a greater concern: Hollerado is performing at the same time as Neutral Milk Hotel. He's bummed not to see them and concerned, yet understanding of the fact that this may take people away from his stage.
Despite all of this, Versteeg is in great spirits. Hollerado continues to chug along as one of Canada's hookiest rock acts on the scene, night-after-night leaving crowds with smiles on their faces thanks to notoriously high-energy sets that often consist of many confetti gun shots.
When he meets up with Riffyou.com, we're told that the band – Nixon Boyd (guitar, vocals), Jake Boyd (drums, vocals), Dean Baxter (bass, vocals), and Versteeg – is heading out to New York the following day to track some new tunes. White Paint is over a year old now, and it's time to look forward. We ask the obvious question – how's that going?
"We're trying to finish 111 songs, because usually we go into the studio with 30 ideas, but only 15 of them get totally finished…then you cut down from there to complete the album," explains Versteeg as our eyebrows raise with regards to the ambitious task Hollerado is embarking upon.
"We got into a situation where we promised a whole bunch of people custom songs, so we're trying to finish those," he elaborates. "They're turning out to not totally be custom songs…it's hard."
You see, as a way to encourage fans to pre-order White Paint, the band offered those who got in on the action early a custom song. Simply send the band a few random facts about yourself after pre-ordering the album, and voila, you'll forever be immortalized in a Hollerado song.
Versteeg admits that response soon grew beyond expectations, forcing the band to shut the promotion down early.
"As we've been writing these songs, you read facts like, 'I have a dog named Jim and I like cross-country skiing.' And, I can't really write a song with those facts," admits Versteeg. "So, we're finding inspiration ourselves – as we always do – and we're just trying to put in these little nods to the [info] people have sent us."
Versteeg notes that the band has its own studio and is "recording all of the time." An album could be done in a day, but that's not the speed in which Hollerado is looking to travel. That said, spring 2015 is when they hope to see their next album drop. On it, anticipates Versteeg, will be the best 12 songs out of the 111 they'll record.
What are we in store for? Well, hooks of course – perhaps even some absolutely chaotic noise rock that could freak a bunch of people out.
"We love hooks. It's totally okay!" Exclaims Versteeg. "We grew up on Tom Petty and The Beatles, so that's not going to go away. That being said, with this 111 song project, it has been really, really fun to do some complete throwaways. But, they aren't even throwaways…we're really proud of them.
"We have this one song called 'Cult Jam,'" he continues with building enthusiasm. "Whenever we're working and we hit a creative roadblock, we say, 'time to bring out Cult Jam!' It's this 15-minute, anything goes [song] with chants, and brown noise…you can do anything with it. Someone can just sit there and go 'rhaaang, rhaaaang, rhaaang' or you could bang on a couch. Right now, it's as done as it ever will be."
Perhaps that could be the album's opening track?
Concludes Versteeg as he rubs his chin like a movie villain: "That's kind of a great idea."
-Adam Grant
Please be sure to follow us on Twitter @riffyou and at Facebook.com/riffyou.