Pearl Jam's McCready on Relationship with Nirvana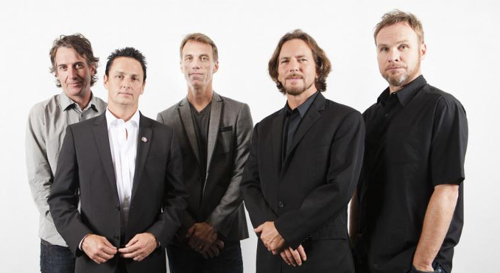 In a recent interview with Esquire, Pearl Jam lead guitarist Mike McCready reflected on the early days of his band, as well as the "supposed tension" between it and fellow grunge heavyweights, Nirvana.
McCready tackles the subject while discussing The Glamour and the Squalor, a documentary project that he is currently working on. He notes coming across footage of departed Nirvana frontman Kurt Cobain talking about his band's not-so-commercial follow-up to Nevermind, 1993's In Utero.
"[The clip] made me think, 'Wow, he's so young.' He was in his mid-20s, when they interviewed him, and it brought me back to that time when there was this supposed tension between all of us, this press-created thing. There probably was some of that, but toward the end of it, there wasn't. I think he and Ed (Eddie Vedder, Pearl Jam frontman) had talked."
McCready then recalled attending an MTV Video Music Awards and his need to try and break down any barriers that had been put between Pearl Jam and Nirvana.
"I just jumped over the seats, and I said [to Cobain], 'Hey, I heard you and Ed might be doing a record someday. I'd love to play a lead on it.' And he goes, 'Oh, we'll talk about it some other time.' I just felt like I had to reach out, because there was this weird wall between us, us versus them or them versus us, and it wasn't. We all came from the same scene, in my mind. We came out of a very provincial city that was not very supportive of music and we had to do our own thing."
McCready further explained that this type of disinterest from the region led to a very communal vibe between Seattle bands, as many would go to each other's shows and wind up at the same parties. As many of us now know, the world would eventually flock to the land of the Space Needle.
"When [the scene] got huge and we all went on the road, we were happy for everyone else, and I wish Kurt was happy, too," offered McCready. "In this documentary, it made me kind of sad, obviously, to see him as such a young man, and wish he could be around to see where [Nirvana would] be now, you know what I mean? It's poignant and it's celebratory, but also, there's some sadness and darkness that goes along with it."
Pearl Jam's 10th studio album, Lightning Bolt, is available now. Click here to check out the Riff Review.