Q&A: Gerard Way Has a Home in "Hesitant Alien"

When Riffyou.com hopped on the phone with ex-My Chemical Romance frontman Gerard Way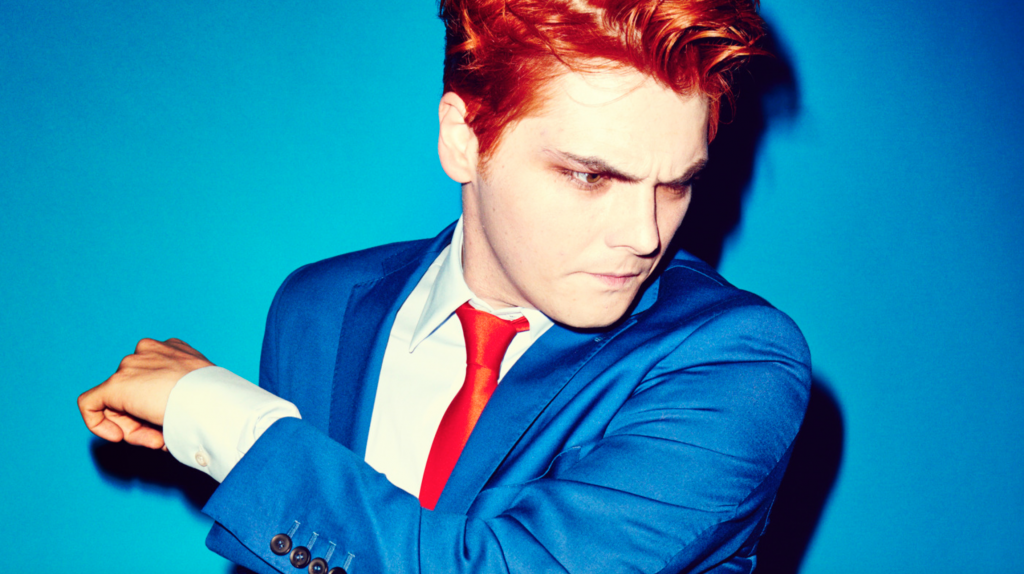 to discuss his cool debut solo album Hesitant Alien, the vocalist just completed a move.
After more than a decade as a touring artist and renting places for the past bunch of years, the positive reaction to Way's solo endeavour has led to he and wife Lyn-Z (of Mindless Self Indulgence) purchasing a home and putting down some roots. Way credits her endless support for helping his solo adventure and this new home come to be, very much viewing this time in their lives as a reward for years of hard work.
While fronting My Chemical Romance, Way very much became one of the poster fellas for the edgier emo movement of the early 2000s. While My Chemical Romance's sound shifted drastically throughout its three most memorable albums (Three Cheers for Sweet Revenge, The Black Parade and Danger Days: The True Lives of the Fabulous Killjoys), what Way is up to now is even more of a big left turn.
With 2014's Hesitant Alien, Way embraces his Brit pop influences of David Bowie and '90s era acts like Blur and Pulp, all the while presenting listeners with a fresh direction that feels the opposite of contrived. This is a genuine Way of shedding the past and moving forward.
During our conversation with Way, we discuss the new challenges that a solo career brings with it; why Brit pop resonated with him more than grunge; how Hesitant Alien first sounded to his ears; and how he never sought out the music band's like My Chemical Romance played.
RY: Now that you're fully engulfed in this solo career, has the journey of it been what you expected? 
Gerard: "It's definitely different. We shared a magical bond and chemistry in My Chemical Romance. What we did on stage together is something I never could've imagined duplicating…it's not something I've tried to strive for. Having said that, touring as a solo artist is a lot different – the challenges are more demanding, but I think the payoff is greater. And definitely, the anxiety level is lower. If you're at peace with yourself, that's the only peace that matters…and that's a new feeling. It's more of a relaxed atmosphere."
RY: Is it different for you being the focal point as a solo artist, as opposed to the frontman of a band like My Chemical Romance?
Gerard: "I didn't feel like I was anymore important [than anyone else] in My Chemical Romance, but I did bring different things to the table. I wasn't just showing up and being the singer in the band, I was also art directing and shaping all this stuff. So, I guess I'm used to it. Even though I haven't made a [solo] concept album, it still has a vibe, an energy and a look, so people still want to ask about that. But, I am a different kind of focal point now because I don't have anyone else to riff on anymore, or anyone to ask questions to – it is a lot of intense work. It does all fall on me."
RY: When you started this solo adventure, were you surprised by how much you liked it?
Gerard: "I wasn't surprised about how much I would like it – I had a really good feeling about how much I would like it. I felt like the writing had been on the wall for years that I wanted to try something different. It had nothing to do with personal relationships with the people in My Chemical Romance. But, I didn't see My Chemical Romance as something that was supposed to last for a really long time and we'd be doing it into our older years. I never saw that, so I guess I was emotionally ready for [the solo career.]"
RY: A lot of talk surrounding this album is the amount of influence Brit pop had on you. As you were growing up, what captivated you about that form of music? 
Gerard: "It really felt like [those artists] were singing about the working class struggle of being born into and growing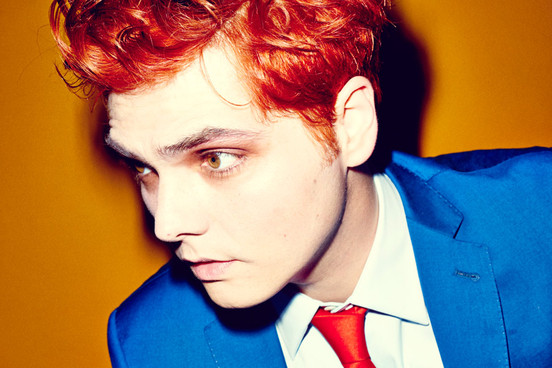 up in a place where you're probably going to attend school in, have a crappy job in, then die in. I felt that Brit pop bands were singing about that. If you listen to stuff like 'Common People' by Pulp or anything off Parklife by Blur, you get this sense that there's this desire for more than where you were born. That resonated with me – grunge didn't resonate with me. I don't know exactly why that is, but grunge was really angsty and I wasn't. I wanted something more."
RY: So after you explored those sounds when making Hesitant Alien, how did it feel to listen back to the album for the first time? 
Gerard: "It felt and sounded like something that came freely and wasn't overthought. And I liked that. It didn't sound like something that was overdone…it felt just right and that's a lot of how most of Hesitant Alien feels to me. It also sounded like something that would be instantly transferable to an audience. There's immediacy to the songs – maybe not in the sonic nature – but that is okay with me. I actually intentionally made it a little bit sonically muddy. I wanted to make it a bit of a challenge [for people] to understand what was going on. I wanted everyone to hum the melody and enjoy the purity of the melody."
RY: Were you surprised by the music coming out of you here, considering what you'd been focused on musically for so long with My Chemical Romance? 
Gerard: "I don't know if it was surprising to myself – it was just confirming what I felt all along. I had been in My Chemical Romance and I had helped architect that sound and that's who I was at that moment. But this sound has been with me the whole time. I accomplished what I wanted with My Chemical Romance, but there were these lingering feelings that I wanted to go back to the stuff [that represented] what I was. It felt overdue"
RY: That may be interesting for fans to read, considering that many music fans think that artists only enjoy the type of music that they make…like they can't be influenced by something entirely different.
Gerard: "It's pretty crazy. What you just said is so true and very interesting. I still get the random tweet from somebody who maybe isn't a fan, but is surprised to learn that I listen to Blur. They assume that because you make a certain type of music, that that's all you listen to. When in reality, the kind of music I made with My Chemical Romance is stuff that I never listened to – I just made it. That's what came out of the band when we made music together. But, it wasn't what I listened to. I definitely didn't listen to any of our contemporaries. So, I still get people who are very surprised by the sounds of my solo record."
-Adam Grant
Please be sure to follow us on Twitter @riffyou and at Facebook.com/riffyou.