Q&A: Gogol Bordello Shift Society Through Song

Backstage at this year's Toronto Urban Roots Festival, Gogol Bordello's notoriously rambunctious frontman Eugene Hütz has arrived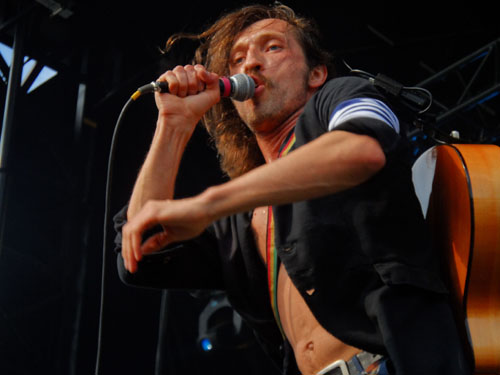 roughly an hour ahead of his set. As Riffyou.com greets him outside of his trailer, his body language is mellow, but as conversation grows we quickly learn that his mind is anything but.
As we sit in an outdoor living room of sorts, Hütz doesn't rush his thoughts and can't help but make you feel good when he smirks to let his gold tooth shine.
Still touring in support of the band's 2013 album Pura Vida Conspiracy, Hütz took 20 minutes out of his day to bring us into his song writing process, what's wrong with society nowadays, and how he hopes to fix it.
RY: When you get into the studio to start putting an album together, what do you zone in on?
Eugene: "I understand very well what song writing as an art is about. That doesn't mean that there are any rules or formulas when it comes to writing songs…there are, but that doesn't make for interesting [songs]. They remain a mystery that can be cracked if you have a big instinct. It's not only about energy, and it's not only about structure, and it's not only about how a song's built. It's actually quite hard to pinpoint what the criteria are. You kind of play with this mess until it assumes the shape, and it's done.
"I'll tell you one thing: all great songs – even if they only build to a climax by the end, as your impression may tell you – in reality, they're all really fantastic from the very second you hear them. If you don't have it going from the very first second…"
RY: Your music in particular really seems to capture the audience in a very real entertaining, yet meaningful way. What drew you to the idea of not only giving an audience something to be entertained by, but also give them something with substance?
Eugene: "I have pretty good insight on this topic because I can trace what I'm doing now, with before I was doing it. The mechanism is the same. Before I started writing songs when I was 14- or 15-years-old, I was an eccentric in my world. There are several types of eccentrics,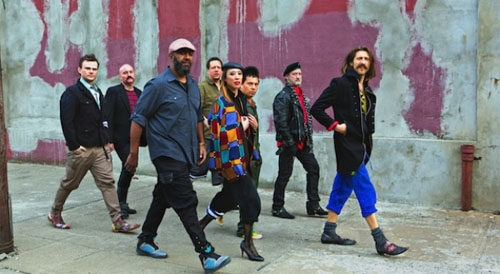 while their motivations might vary, my urge is communication. And, it's chiefly communication of my personal joyous energy. It really all boils down to that.
"I was born with extra energy and it always sneaks its way out. It puts a smile on peoples' faces and makes their eyes sparkle. Sooner or later, I realized that. When I became a musician, I wrapped that energy into song writing and performance. This works great for me, and obviously a large number of people out there too," laughs.
"At the bottom of it all, it's about communication. Communication of unifying joyous energy…that's something people forget about: the joy of being. Being is fucking greater than being a fist full of dirt.
"Being who we are, as humans, it's an amazing thing. But, this civilization seems to be overlooking it. I think their organs are depleted or something. It's been centuries and centuries of overlooking it.
"If you say to a person in western civilization that something is 'fun,' they kind of have a flat feeling about that. Like fun is a worthless, not so bad, but empty activity, because they don't know really know what fun is. They have no fucking idea what it is. Their ideas of fun are so compartmentalized that's it not adventurous. Like drinking beer and watching football. Yeah, that's a little bit in the direction of fun, but that's definitely not the fucking kind of fun that I know to be fun.
"Adventurousness and spontaneity are so fucking gone, that I feel like dedicating my life to just putting fun back onto the map."
RY: Why do you think fun has gone away? Do people just want to be cool and fear that having too much of a good time might ruin the mystique they attempt to have?
Eugene: "That's very recent…recent symptoms of that. I think it's much older. I think it has to do with centuries of misguided enthusiasm," laughs. "Centuries of religious practicing that lost its purpose. Centuries of chiefly egoic interaction…centuries of people just not talking or communicating. Instead, just talking at each other. When one person is talking, the other is waiting for him to shut the fuck up so that he can start talking. Look around wherever you're at: it's very rare that you'll see people actually communicating.
"There is still a good percentage of people who have that ability and quality [of communicating], but for the most part, that's usually artists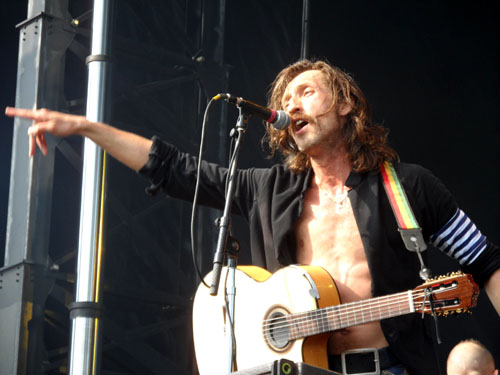 or people who stand out in one way or another. But really, communication is in a really shitty state."
RY: With that said, do you feel like you put extra pressure on yourself to help people change such bad habits? Do you almost feel like you're fighting a losing battle?
Eugene: "I'm not fighting any battle at all. I'm really not a confrontational person. Sometimes people misread me when I'm on stage, because I just go bananas. I really don't feel like I'm at war with anything at all. But, I do feel that what I'm doing is vital and I think it's therapeutic.
"Those who do what I can do, should just keep doing it. It'll never lose its relevance…and it's fucking fun," laughs. "People always tell me 'man, you really deserve all the success,' and people from my hometown say, 'you work so hard!' I don't know man, do you realize how much fun I have? It doesn't feel like work at all!
"If you're walking for 30 miles in the snow, you're like, 'man, that was work.' But, if you're walking for 30 miles in the snow to see a woman that you love, that's all you want to do. It's more than worth the trip. Every step of the way is it."
-Adam Grant
-Photos 1 & 3 by: Jessie Sipione

Check out our photo spread of Gogol Bordello in action at this year's Toronto Urban Roots Festival.
Please be sure to follow us on Twitter @riffyou and at Facebook.com/riffyou.