Q&A: Milky Chance Show Millions the "Stolen Dance"

David Hasselhoff, Rammstein, and "99 Balloons" are just some of the German musical entities to make sizeable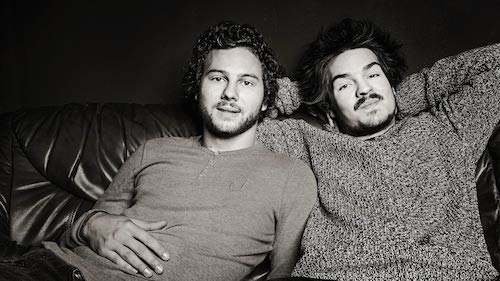 impressions outside of their motherland.
Right now, you can add folk/rock/electro duo Milky Chance to the mix, as their single "Stolen Dance" has become a dominant track in the YouTube universe, garnering more than 58 million views to date.
The men within the band – Clemens Rehbein and Philip Dausch – released that monster of a track on their 2013 debut album, Sadnecessary, before landing a deal with Universal Music.
Recently, Riffyou.com spent some time with Rehbein to discuss how he's handling the success of "Stolen Dance," and how his longtime friendship with Dausch has helped the group navigate through the craziness.
RY: "Stolen Dance" has become really popular…there are tens of millions of views of the video on YouTube. How does it feel to you to have that happening?
Clemens: "It's great, but it's hard to realize that we've reached a huge amount of people across the Internet with that song. It's hard to grasp those numbers. For me, it's more important to connect with four or five thousand people from the stage – that's the point where I realize what's going on [for us]."
RY: Is having a tool like YouTube interesting for an artist though because it helps up and coming musicians like you get more attention, faster?
Clemens: "Yeah, of course. The Internet and YouTube give artists who aren't well known the opportunity to just share their music and get people to listen to it. Back in the day, when [those tools] didn't exist, it was harder to share the music. But also, [YouTube] can make it harder to get attention because there are so many artists on the Internet."
RY: Obviously there's something about "Stolen Dance" that's really connecting with people. What do you think it is?
Clemens: "I don't know," laughs. "When more people started listening to the song, I began to think about why this was all happening and why so many people liked listening to it, and got connected to it. But, I just stopped thinking about that because it just became too big."
RY: So what you're saying then is that you're more comfortable with letting that song go, as you just continue to do your thing onstage?
Clemens: "Yeah, of course."
RY: Now that you've been able to build an audience – thanks in part to that song – have you become comfortable with receiving so much attention, so early into your career?
Clemens: "Sometimes yes, sometimes no, " laughs. "I think there's a certain level of attention that you can handle, but it can be hard to process. I'm working on it."
RY: I guess the thing is that some musicians would prefer to start out a little quieter, and then gradually build a following. At least that way, they have the time to grow before too much exposure sets in. Do you sort of wish you had that time?
Clemens: "Yeah, of course. I'm just trying really hard to stay grounded, and just concentrate on making music. That is what we really love to do, as opposed to dealing with the fame. Sometimes it's very fun, but we just try to focus on the music."
RY: Now, you and Philip met in high school, so you've been friends for quite a while. Has that friendship helped you guys navigate through this upswing you're experiencing?
Clemens: "It's very cool doing all of this as friends. And, I think our friendship is getting deeper and firmer because we have so many experiences that we can share together. We visit so many different places and meet different people, and we're able to share everything with each other. It's very cool and important for us."
-Adam Grant
Please be sure to follow us on Twitter @riffyou and at Facebook.com/riffyou.