Riff Review: The Gaslight Anthem – Live in London (DVD)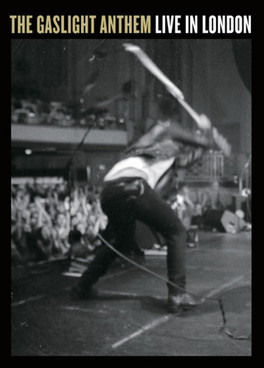 To say that concert DVDs aren't always a showcase for pretentiousness and image-stroking, is to say that bands actually forget when cameras are focused upon them while on stage. In the case of The Gaslight Anthem's Live in London, it's easy to get the impression that this concert pack was put together with the pure purpose of showing the band's album-adoring public just what they can do when plugged in before crowds.
Filmed at London, UK's "home to astonishing events," The Troxy, this offering by the Bruce Springsteen-loved and compared rock outfit is a great study tool for a dude like me that loves The Gaslight Anthem recordings, but has yet to see them live in the flesh.
While I'm aware that this footage was gathered and edited together from two shows back in March 2013 and packaged together for optimal viewing pleasure, the sheer strength of The Gaslight Anthem's musical chops and emotional connection with the kids crammed against the front-of-stage barricade can't be manipulated by post-production tricks.
Draped in plaid and a well-placed fedora, frontman Brian Fallon shares many looks of thrill and contentment with bandmates while pushing forth the group's lyrical agenda. Perfectly filmed and dropped into the footage, these glances can't help but convey to the viewer that this is a band that appreciates their rise from New Jersey to international stages.
From the outset of this 10-track feature, The Gaslight Anthem struck with relentless energy and a fast-paced four-song kickoff that included "American Slang," "The '59 Sound," "Handwritten," and "45." Fallon would address the crowd for the first time after this, introducing a song about his mama, "Here Comes Your Man." Inspiring an unprovoked sing-along from the audience, the chilled pace of this track led nicely into the brooding and uber-intense "Too Much Blood." The guys would soon pick up steam again by launching into "Great Expectations."
The latter third of the on-DVD set featured "Keepsake," and a tremendously intimate, calming rendition of "She Loves You." On track 10, "Mulholland Drive," the filmmakers really let their presence be known through slow motion clips and montage-esque editing, determined to further hammer the point home that The Gaslight Anthem has it.
Throughout the hour long package one thing becomes undeniably obvious: these fellas can do it live and do it very well. With already being a beautiful band to hear through the speakers and get close with when headphones are upon your ears, Live in London serves as a firm reminder that The Gaslight Anthem can connect on a live level as well. It's one thing to sound awesome in studio – it's another to be impressive and important in a live setting.
This concert DVD is: Riff Respected
­-Adam Grant