No Joke: Axl Rose Has Joined AC/DC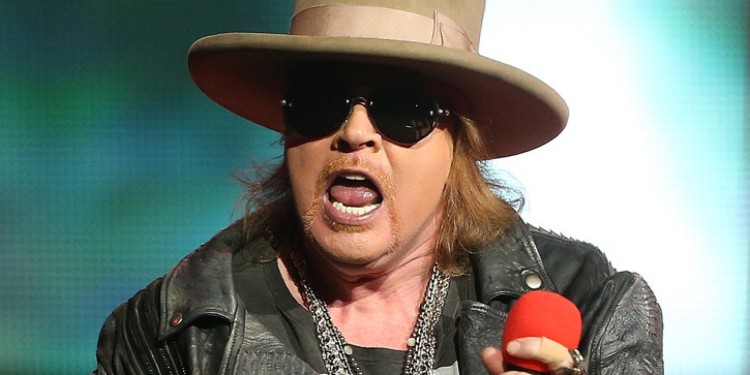 After rampant speculation, AC/DC has confirmed that Guns N' Roses singer Axl Rose will replace Brian Johnson. The Aussie rock icons recently scrapped the remaining shows on their North American tour after doctors ordered Johnson off the road, as a result of serious issues with his hearing.
The official statement from AC/DC reads:
"AC/DC band members would like to thank Brian Johnson for his contributions and dedication to the band throughout the years. We wish him all the best with his hearing issues and future ventures. As much as we want this tour to end as it started, we understand, respect and support Brian's decision to stop touring and save his hearing. We are dedicated to fulfilling the remainder of our touring commitments to everyone that has supported us over the years, and are fortunate that Axl Rose has kindly offered his support to help us fulfill this commitment."
As it stands, Rose's first gig with AC/DC will be on May 7 in Lisbon, Portugal. From there, he will lead the band through a run of European shows. It remains unclear if those aforementioned scrapped US tour dates will be rescheduled, with Rose at the helm. Considering that Guns N' Roses have a monster stadium tour crossing North America this summer, one would guess that the earliest AC/DC and Rose could play that region is the fall or winter…if at all.
What about an AC/DC album with Rose on vocals? Don't hold your breath. Considering the age of AC/DC's members and how long they usually take to make an album, we're not banking on this happening. There's also Rose, who as you know, has a reputation for taking way too many years on an album – see Chinese Democracy.
As for Johnson, it was previously suggested by comic and friend, Jim Breuer, that he'd unceremoniously been given the boot out of AC/DC once his hearing issues came about. If that's true, what a sad ending that is for someone who did a remarkable job to help AC/DC become one of rock music's most celebrated and adored bands.
With Axl Rose now on the mic, we can't help but suspect that the vibe of AC/DC will not feel nearly as friendly, celebratory, or welcoming as when Johnson stood up front.
AC/DC 2016 Tour Dates:
05/07 – Lisbon, PT @ Passeio Maritmo de Alges
05/10 – Seville, ES @ Estadio de la Cartuja
05/13 – Marseille, FR @ Stade Velodrome
05/16 – Werchter, BE @ Werchter Festival Grounds
05/19 – Vienna, AT @ Ernst-Happel Stadium
05/22 – Prague, CZ @ Letnany Airport
05/26 – Hamburg, DE @ Volksparkstadion
05/29 – Berne, CH @ Stade de Suisse
06/01 – Leipzig, DE @ Red Bull Arena
06/04 – London, UK @ Queen Elizabeth Olympic Park
06/09 – Manchester, UK @ Etihad Stadium
06/12 – Aarhus, DK @ Ceres Park
Guns N' Roses 2016 Tour Dates:
04/19 – Mexico City, MX @ Foro Sol
04/20 – Mexico City, MX @ Foro Sol
04/23 – Indio, CA @ Coachella Music Festival
06/23 – Detroit, MI @ Ford Field
06/26 – Washington, DC @ Fedex Field
06/29 – Kansas City, MO @ Arrowhead Stadium
07/01 – Chicago, IL @ Soldier Field
07/06 – Cincinnati, OH @ Paul Brown Stadium
07/09 – Nashville, TN @ Nissan Stadium
07/12 – Pittsburgh, PA @ Heinz Field
07/14 – Philadelphia, PA @ Lincoln Financial Field
07/16 – Toronto, ON @ Rogers Centre
07/19 – Foxboro, MA @ Gilette Stadium
07/23 – East Rutherford, NJ @ MetLife Stadium
07/27 – Atlanta, GA @ Georgia Dome
07/29 – Orlando, FL @ Orlando Citrus Bowl
07/31 – New Orleans, LA @ Mercedes-Benz Superdome
08/03 – Arlington, TX @ AT&T Stadium
08/05 – Houston, TX @ NRG Stadium
08/09 – San Francisco, CA @ AT&T Park
08/12 – Seattle, WA @ CenturyLink Field
08/15 – Glendale, AZ @ University of Phoenix Stadium
08/22 – San Diego, CA @ Qualcomm Stadium