Submit Your Reviews!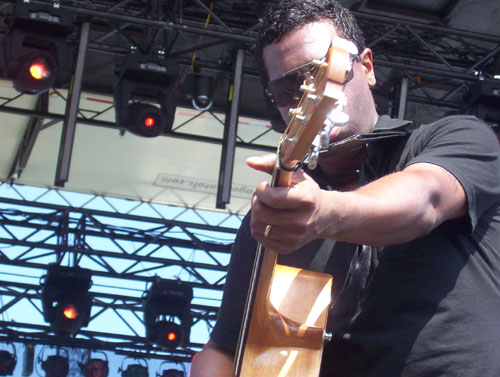 RiffYou.com: Music News For You and By You
RiffYou.com is a music news and reviews site designed to encourage readers to participate in the process. Instead of having a team of editors and staff writers directing all coverage, a lot of the power will be put into the hands of the truest music lovers of them all…you!
Have questions for the bands that fill your ears?
Seen a heart-stopping show?
Been wrapped in an album that has changed your life?
Experienced an awful performance or album that makes you want to slap those responsible?
If so, RiffYou.com wants to hear from you! Forward your reviews to editor@riffyou.com and we'll be happy to share your story with the world. You don't need to be a professional writer or journalist, just someone with a passion for music.
What's in it for you?
At first, there will be the glory of getting your opinion out to the masses and bragging rights among friends. Hopefully as we progress, there will be some excellent prizes to reward the best submissions.
We too will be supplying news and reviews, but we'd love nothing more than for you to contribute and go Riff yourself.
The Specifics
Band Interviews:
Every so often, we will let you know which interviews we have coming up and present you with the opportunity to submit questions for us to ask. The best questions will be used, and you'll be credited and rewarded when possible.
Music Reviews:
Whether it's a single track, EP, or full album, we're more than interested in what you're liking, hating, or indifferent about. Submit your review, and the best review each month will take home a prize.
Concert Reviews:
Be it at a small club, big arena, or your local YMCA or pool hall, it doesn't matter. A great band can be seen and discovered anywhere. If you want to talk about it, send in a review (preferably within 48 hours of the show happening) and share your thoughts. Photos are also welcomed, as long as they've been shot by you and you're cool with us using them on RiffYou.com. If possible, send a bit of proof regarding your attendance at the show, be it a photo of a ticket, poster, etc.
Meet & Greet:
Want to introduce us to your band? Reach out to editor@riffyou.com, share your story, and find out how to submit your music for review purposes, or take part in a RiffYou Interview.
Details, Details…
Since the goal here is to build a community of healthy opinion, we do know that some controversial things may be said. Reviews will be edited in an attempt to keep them well-presented and not offensive to others. We encourage being critical, but please be responsible with your language and opinions. If you have questions about this, or anything else, please feel free to ask.
*Please note that all reviews are subject to edits by RiffYou.com, where necessary.