Read Courtney Love's Cease & Desist Letter to "Soaked in Bleach" Filmmakers

In the 21 years since the passing of Kurt Cobain, many still believe that the Nirvana leader's death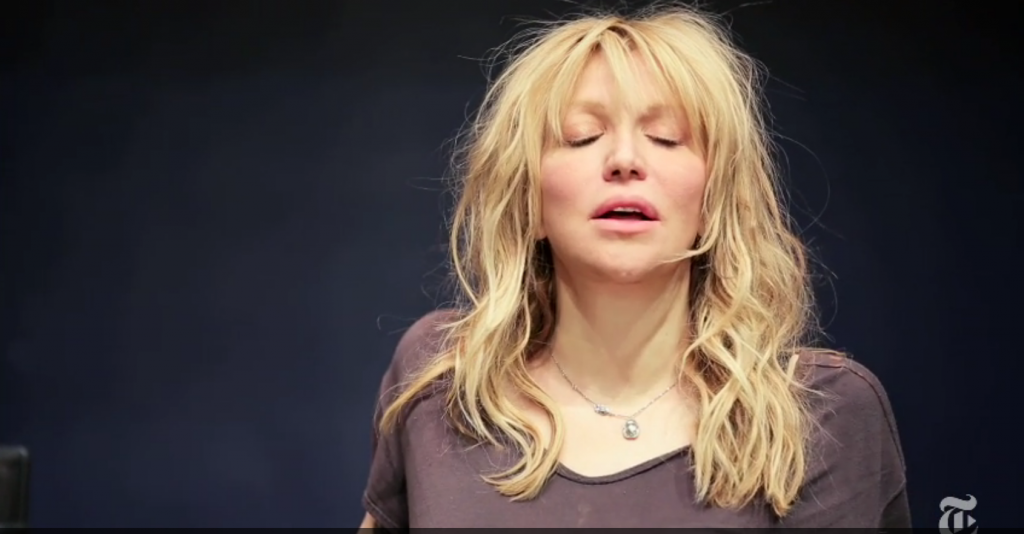 wasn't a suicide and that his wife Courtney Love had something to do with it.
The 1998 Kurt & Courtney documentary deeply explored that issue and now, so has Soaked in Bleach, a new film that "reveals the events behind Kurt Cobain's death as seen through the eyes of Tom Grant, the private investigator that was hired by Courtney Love in 1994 to track down her missing husband (Kurt Cobain) only days before his deceased body was found at their Seattle home."
Love, who is obviously not impressed by the nature of this film, recently filed a cease and desist letter to its filmmakers.
"The Film falsely presents a widely and repeatedly debunked conspiracy theory that accuses Ms. Cobain of orchestrating the death of her husband Kurt Cobain," reads part of the legal document. "A false accusation of criminal behavior is defamatory per se under California Civil Code Section 45a, which entitles Ms. Cobain to both actual and presumed damages."
It continues: "There is simply no credible evidence to support any of these defamatory claims, as has been publically known for years. In 1994 the Seattle Police Department ("SPD") investigated the tragic event of Mr. Cobain's death and concluded the case a suicide. In the 20 years following Mr. Cobain's death, no one has presented any colorable case of involvement of our client. Finally, SPD re-examined Mr. Cobain's death in 2014 and, again, concluded it was a suicide."
The letter went on to state that: "For years Ms. Cobain has been publicly subjected to threats based on the same kinds of baseless theories that appear in the Film, and dissemination of the Film would only exacerbate the risk that she will suffer further emotional and financial harm."
You can read the full letter here, courtesy of Deadline.
Those behind Soaked in Bleach issued a response that, in part, reads:
"Courtney Love's uninformed accusations and efforts to discredit the film are totally off base. The film examines the well documented facts surrounding the death of Kurt Cobain and it questions much of what the public has been told about those events. Most of the opinions and theories presented in the film come directly from facts gathered by Tom Grant, the private investigator Courtney Love hired the week before Kurt's body was discovered. Tom quickly became suspicious and tape recorded all his conversations with Courtney and others in the days leading up to and after Kurt's death. The film uses those recordings to reenact Tom's encounters with Courtney Love and others in Kurt's inner circle. It also presents the views of Norm Stamper, Seattle's Police Chief at the time, and Dr. Cyril Wecht, a leading forensic pathologist, who both question whether Kurt could have committed suicide.
"Courtney Love and her lawyers clearly don't like that the film presents a compelling case for re-opening the investigation into Kurt's death. They should respect the First Amendment and let people decide for themselves."
Last week, Riffyou.com spoke with Buzz Osborne, founder of Melvins and an early friend to Kurt Cobain. He too had some harsh opinions about Love and the authorized Kurt Cobain: Montage of Heck documentary.
"If they want to take her (Courtney Love's) word for things, then go ahead. Do you feel better? Then everything she says is the golden rule. Absolutely. That's got to be honest, no problem. That's fine by me. If that makes them feel better, it's fine by me," said Osborne. "I just don't understand how anybody could possibly defend her…if they want to defend her or take the side of the film maker, go ahead. How is that my fault? How am I to blame for that? Like I said in my article: 'Facts don't make any difference. What matters is what people believe.' The 'truth' about [Cobain's] situation has always been false. So there you go…utter fabrication. That's never not been the case."
-Adam Grant
Please be sure to follow us on Twitter @riffyou and at Facebook.com/riffyou.