The Cure Gets Added to Riot Fest Toronto

Last week, the lion's share of the Riot Fest Toronto lineup was officially announced, but organizers did warn that surprises were ahead. Well, tonight one of those surprises came through as it was revealed that The Cure will join the festivities at Downsview Park. Needless to say, they now sit atop the roster of performers.
As previously reported, the Toronto edition – which runs from September 6-7 – also features: City and Colour, Metric, The National, Billy Talent, Rise Against, The Flaming Lips, Social Distortion, Death Cab for Cutie, Death from Above 1979, Brand New, Paul Weller, AWOLNATION, Stars, The Head and the Heart, Dropkick Murphys, Die Antwoord, Tokyo Police Club, The New Pornographers, Taking Back Sunday, Bring Me the Horizon, The Afghan Whigs, Alkaline Trio, Glassjaw, Bob Mould, Thurston Moore, Buzzcocks, Clutch, New Found Glory, Circa Survive, Manchester Orchestra, Lucero, Title Fight, Bad Suns, Citizen, Lemuria, Mounties, PUP, Nostalghia, Radkey, Rubblebucket, Pentimento, Broncho, The Hotelier, Laura Stevenson, The Beaches, Somos, Restorations, Say Yes, Seaway, Wounds, and Little Big League.
This evening, the Chicago, IL, and Byer, CO, bills were also announced. Like Toronto, The Cure will headline these stops as well. You can check out the full lineups for both below: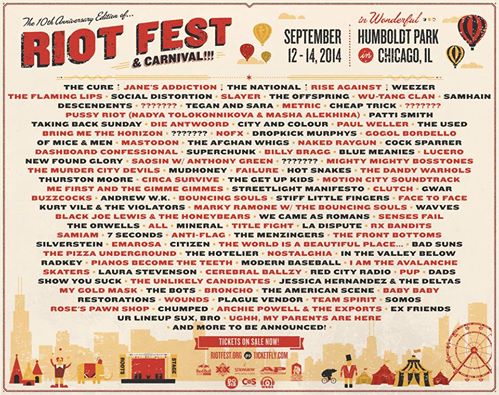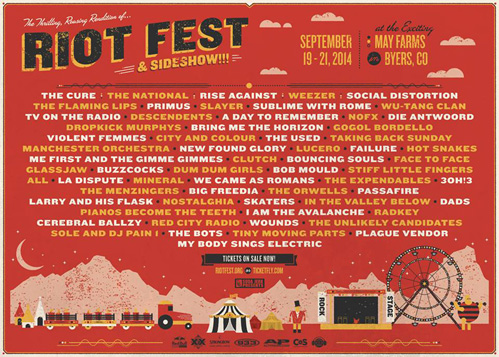 Tickets for all three Riot Fests are available now. Visit the event's official site for more information.
-Adam Grant

Please be sure to follow us on Twitter @riffyou and at Facebook.com/riffyou.