Dine Alone Records Celebrating 10 Years in Style

As far as Canadian-founded record labels go, Dine Alone Records certainly deserves a special spot at the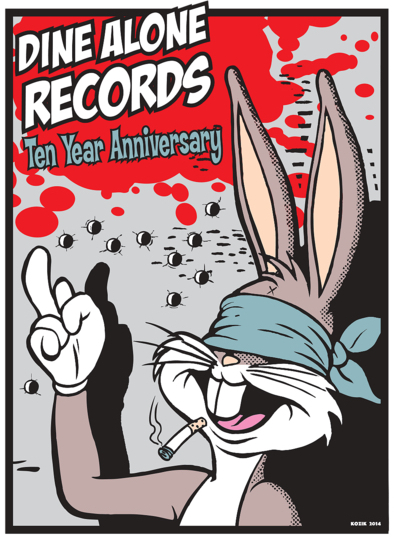 table. Now into its tenth year of existence, the label is looking to celebrate its double-digit anniversary in style by giving fans a 2015 filled with "exciting, exclusive and limited edition" offerings by current and past roster members.
First up is the release of Helicon Blue's Collection. This three-piece featured Dallas Green (before Alexisonfire and City and Colour came to be), along with Marce Lanteigne and Nick Osczypko. The limited edition, deluxe package is comprised of the band's two EPs from the early 2000s, pressed on two 12", 180-gram vinyl LPs. There will be 200 copies pressed on clear and tan marble vinyl, with 550 more copies pressed on black vinyl. Included in this package are never-before-seen photos and Green's handwritten lyrics from the original recording sessions. Fans can grab these beginning at Noon EST on Monday, January 26 through the Dine Alone web store.
Also available here will be the 10 Year Exclusive Vinyl Bundle – Pt. 1 (limited to 150 copies), which includes the aforementioned Helicon Blue Collection, two forthcoming special releases by other artists (to be announced in February and March), a previously unreleased 7" in an exclusive colour, plus other cool merchandise and surprises.
If wall art is more your thing, multiple special edition Dine Alone anniversary posters will roll out throughout 2015. Frank Kozik, an individual who has created artwork for the likes of Pearl Jam, The White Stripes, The Beastie Boys, Green Day, Neil Young, Nirvana and more, has created all posters.
Dine Alone Records' current roster includes City and Colour, Arkells, Tokyo Police Club, Chuck Ragan, Hey Rosetta!, Jimmy Eat World, Marilyn Manson, Monster Truck, Twin Forks, Lumineers, and way more than our fingers have the energy to type.
-Adam Grant
Please be sure to follow us on Twitter @riffyou and at Facebook.com/riffyou.