Getting to Know: Florida Roots-Rockers, Hotel Oscar

In today's edition of Getting to Know, we are introduced to Florida roots-rock collective, Hotel Oscar. Find out here about the band's meticulous album-making process. If you are in an up and coming band that would like to partake in a Getting to Know feature, contact editor@riffyou.com to receive the questionnaire and instructions. Thanks!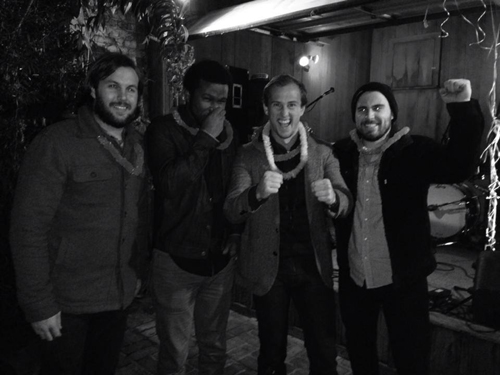 Band Name: Hotel Oscar
Band Members: Mose Wilson (vocals, guitar), Isaac Eady (drums, vocals), Adam Cooper (saxaphones, keyboards, vocals), and Owen Finley (bass).
Years Active: 3
City of Origin: Destin, FLA
Who are you and what do you do?
"My name is Mose and I am the lead vocalist, guitarist and primary song writer."
In 100 words or less, tell us how your band has gotten to this point.
"We have gotten this far through a combination of hard work, respect for the music that came before us, determination, and having a good time. We all love playing music and don't miss an opportunity to share it. The more we can spread it, the better."
What is your latest release and how would you best describe it to someone who hasn't heard your band?
"Our latest release is Rock and Roll Graveyard, which was released May of 2013. When approaching the songs, I was focusing my writing on old school rock and roll. We recorded in full analog (reel to reel tape) with Andrija Tokic (Alabama Shakes: Boys and Girls) at his studio, The Bomb Shelter, in Nashville, TN."
When making an album, which aspect of the process do you put the most time into and why?
"Right now we are writing songs for a third record. We are all listening to shit tons of music and looking for any and all kind of inspiration we can to use to write and arrange our new material. Once we have a solid body of work and a steady direction, we start critiquing the songs and working out all the parts and approaches. Then, we will take everything to the studio and spend time crafting the sounds with the engineer to produce the album we have all been hearing in our heads. The live show has its own approach also. The songs sometimes have to be altered or approached differently so that live they come across just as powerful as they did on the record and vice versa."
What is the best part about your band and why?
"The best part about the band is the passion behind the members. Each member is extremely dedicated to the music, the songs, and the show. I would also say that's what makes us unique. We all want each song we play together to be the best it possibly can be in every aspect. We kind of feel like we are on a mission at times…you know?"
What makes your band unique from the rest?
"We just want play good music and give the crowd a great experience at every show.
If you'd have to compare your band to another one out there, living or dead, who would it be and why?
"I don't want to compare us to anyone, but I will name off some of our biggest inspirations: The Band, The Meters, Miles Davis, The Beatles, The Roots, and My Morning Jacket to just name a few. (But there are way more.)"
Which band/musician would you like to share many drinks with? What would you talk about?
"If it were the '70s, I would want to party with Led Zeppelin or the Stones. Nowadays, it looks like the Avett Brothers are having a good time so let's go with them."
Please be sure to follow us on Twitter @riffyou and at Facebook.com/riffyou.