Getting to Know: GTA Pop-Punkers, The Gentlemen Thieves

In today's Getting to Know, we are introduced to GTA pop-punk collective, The Gentlemen Thieves. Their debut full-length album, Uncertainties, arrives in April! If you are in an up and coming band that would like to partake in a Getting to Know feature, contact editor@riffyou.com to receive the questionnaire and instructions. Thanks!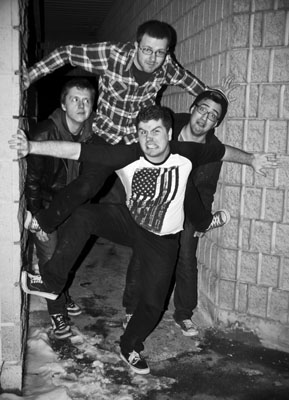 Band Name: The Gentlemen Thieves
Band Members: Ken Taylor (vocals, guitar), David Huzyk (guitar, vocals), Dylan Ramstead (bass, vocals), and Thomas Lesnick (drums).
Years Active: 3
City of Origin: GTA (mix of Burlington, Mississauga, Newmarket, ON.)
Who are you and what do you do?
"We are The Gentlemen Thieves, a band that brings back the more nostalgic sounds of pop-punk. Our main goal is to take the biggest influences we had when we were growing up, and infuse them together, with lots of blistering, raw intensity and energy."
In 100 words or less, tell us how your band has gotten to this point.
"We all met each other through playing shows together with our older bands, with the exception of Thomas – we answered his Craigslist ad. Officially forming in February of 2011, we started out with a few smaller releases and a good handful of shows. After a few more extensive tours, we decided to take things to the next level, and have embarked on recording and releasing our first full-length album, titled Uncertainties (April 22 digitally, April 25 physically), followed by a nationwide tour. Both are happening this spring."
What is your latest release and how would you best describe it to someone who hasn't heard your band?
"Our last release was a 7" vinyl, titled Shooter. It contained two songs, and was meant to be a teaser for the full-length album, Uncertainties. Both Shooter and Uncertainties were recorded during the same sessions, with producer Dave Baksh (Organ Thieves, ex-Sum 41), at The Gentleman's Den. Both of these releases showcase our high-octane, no filler, stop-and-go style of pop-punk that may feel refreshing when compared to other pop-punk of the past decade."
When making an album, which aspect of the process do you put the most time into and why?
"While we put a lot of attention and effort into our song writing and rehearsing, it is during the production phase that we really come alive. During our last recording session, we gained a ton of knowledge and experienced an immense growth, thanks to the help of Baksh. He greatly helped us find our individual playing styles and allowed us to express ourselves in the studio, while still building skills and focusing on the fundamentals.
"We underwent a pre-production process that saw us altering our songs into the way we play them today. A lot of fat was trimmed, and parts were edited to bring better cohesion to the overall song. We are all firm believers that anything we put on record should be able to be replicated live, so in the studio is where we also get the chance to experiment and add as much as possible, without anything coming off as filler or flair. A lot of ideas will get thrown out on the floor, but only the ones that will actually add to the live performance of the song are kept."
What is the best part about your band and why?
"The best part about our band is how much fun everyone involved has, particularly with the live shows. While we as band members have a great time performing, and really come alive on stage, the audience always seems to enjoy themselves as well. We've played shows where we might not typically fit the bill, but at the end of the night have people telling us they really enjoyed our performance, when they fully expected not to. I think anyone who comes out to a TGT show will be able to feel the energy in the air. The interaction we get to have with the audience is always the most fulfilling and rewarding experience. If they're leaving with a smile on their face, then so are we, and everybody wins."
What makes your band unique from the rest?
"I think what we are currently doing provides a very refreshing experience. Right now a lot of music out there is getting very complicated and cluttered, when it comes to both the live show and the presentation of the band. We don't use any samples or triggers. We're not glammed up head to toe. We're not trying to make some grand statement. We're simply here to rock you and have a good time. There is definitely a lot you can take away from our songs lyrically, but the core of the band is simply to transform you to a time where you felt youthful and energetic…when things were simpler, and all you worried about was having a good time.
How does your band survive the challenges of touring/gigging?
We've been lucky enough to not really suffer any challenges while on the road. Physically, we've never had anything break down or fall apart, so for that we are thankful. Being in a band can be very stressful, and there can be a lot of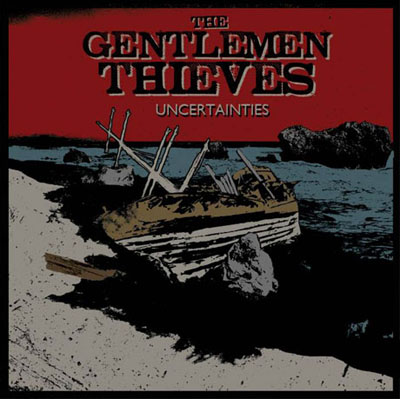 complications trying to balance it between your home life and personal life. We've definitely experienced our share of struggles, but I think once we are all together in a van, and out on the road, everything else goes away, and we all share the one common goal and experience of touring. We're all ready and willing to take on whatever the road has to offer us, so we always have a good time. And we never travel far in winter. That's just asking for trouble!"
Would you rather be critically-acclaimed; rich and famous; or an under-the-radar band with a dedicated fan base?
"I don't think it really matters what we end up being. Of course we would like as many people as possible to hear our music, but at the end of the day we're not doing this as a business or to make money. It's simply who we are and what we do. When it comes to our output, be it song writing, tours, our live show, merchandise, etc., we try to do it to the best of our abilities, and ensure that we are always growing and increasing the quality of what we present. If that raises us to a level where we're critically acclaimed, or thousands of dollars are coming in, then great. It would have all been on our terms. But if we stay an underground band that a handful of people get really stoked about, that's just as good."
If you'd have to compare your band to another one out there, living or dead, who would it be and why?
"Probably a mixture of Gob and early Weezer. I think musically, we collectively grab a lot of influence from Gob. The energy and antics they always present is also not far off from what we bring to our live shows. In regards to Weezer, I think lyrically there may be some similarities one could draw between us and the first two Weezer albums and B-sides."
Which band/musician would you like to share many drinks with? What would you talk about?
"This is a hard one, because I think we would all have a different answer. Tom would probably say Matthew Good. Ken would most likely say Blink-182. Dylan might choose Green Day. For David, it'd have to be Fugazi. I think, regardless, we would just want to hear a bunch of road stories. You know, the stuff so outrageous that they never discuss it publically."
Please be sure to follow us on Twitter @riffyou and at Facebook.com/riffyou.