Getting to Know: NYC Grunge-Pop act, Ghosts of Eden

In today's Getting to Know, we meet Ghosts of Eden, an NYC-based grunge-pop band that believes the best from them is about to come. If you are in an up and coming band that would like to partake in a Getting to Know feature, contact editor@riffyou.com to receive the questionnaire and instructions. Thanks!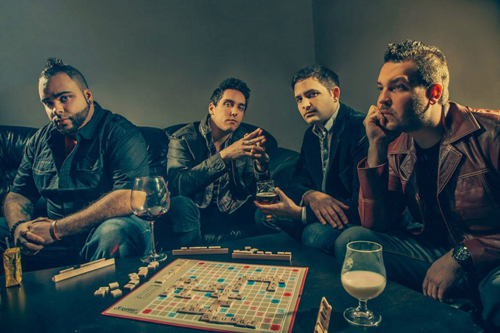 Band Name: Ghosts of Eden
Band Members: Tom (lead vocals, rhythm guitar, lyrics), Rich (lead guitar), Benny (drums, keys, backing vocals), and Miles (bass).
Years Active: 5
City of Origin: New York City, NY.
Who are you and what do you do?
"We are Ghosts of Eden and we are a four-piece grunge/pop-rock band from New York City."
In 100 words or less, tell us how your band has gotten to this point.
"We honestly just keep hustling. We write and rehearse and tour when we can. We are big at staying in touch with our fans and keeping them apprised of our process. We also do small private gatherings for our biggest fans, where we will just have a happy hour for them. People like to feel like they are a part of something bigger. That's why we started this band in the first place."
What is your latest release and how would you best describe it to someone who hasn't heard your band?
"We are currently in the studio working on an eight song LP with producer Mike Watts (As Tall as Lions, Story of the Year, The Dear Hunter). The best way I can describe it is a walk through my emotional transition as I try to figure out what I want most out of my life. The songs are truly about doing what makes you happy, even if it means making hard decisions. Whether it be a break-up, or not listening to others who put you down, doing what makes you happy is truly what life is all about."
"The songs deliver a real punch to the gut too. We have some big epic ethereal songs like "Terrible Things" and "Doubting Thomas," but still have some quirky catching punk and pop influenced grungy tunes like "Prizefighter" and "Knives (When It's Over)." I think I'm most proud of the track "Happy?" – it starts off like a Bad Religion tune where the flaws of someone are clearly being pointed out, but then blends into a very beautiful chorus letting the person know that it's okay they are not perfect because they are still accepted. I would say out of all the songs and records we have done, this is the most personal and most rewarding for us musically, and for me lyrically. We should be done recording in mid-July and are aiming to release it by late summer, early fall 2014."
When making an album, which aspect of the process do you put the most time into and why?
"Rehearsing is the most important. You can all write the song and you can let the producer touch it up, or you can slave over it, make sure it's right, and rehearse the shit out of it so that when you get into the studio, there is a minimal amount of things you need to do to it. That way, you can get the performances right, which is really the most important part of making a record. That's what we did with this last record and it was the right move by far."
What is the best part about your band and why?
"We all have individual personalities that come out in the songs. No two of us are exactly the same, and it helps allow us to have an original sound as opposed to a rip off band."
What makes your band unique from the rest?
"We're not trying to reinvent the wheel here, but we are not trying to be something we're not. We just write songs we would want to hear that we think people can move their asses to."
How does your band survive the challenges of touring/gigging?
"This has been our biggest struggle. We all have full-time jobs so it's hard to get out as much as we would like to. Being a musician is an expensive dream. You need money to make money. You can't make money busing tables."
Would you rather be critically-acclaimed; rich and famous; or an under-the-radar band with a dedicated fan base?
"We would rather be under the radar with a dedicated fan base because then we could tour regularly and make a living at it. The fans give you longevity, not a good review in Rolling Stone or a million bucks. Let the record show though that we would also like a million bucks."
If you'd have to compare your band to another one out there, living or dead, who would it be and why?
"We don't like to compare. Musically, we get Foo Fighters sometimes, but I think if anything, we're like any other band out there made up of four regular guys who just dream a bit bigger than the average person."
Which band/musician would you like to share many drinks with? What would you talk about?
"I would gladly give my right pinky (the only finger I really don't need to play guitar) to have a bourbon or a beer with Dave Grohl or Eddie Vedder. That would be swell."
Please be sure to follow us on Twitter @riffyou and at Facebook.com/riffyou.