Getting to Know: Oshawa Rockers, Valyear
In today's Getting to Know, we meet Valyear, a Canadian rock outfit that would wage war on Black Veil Brides if given the chance. If you are in an up and coming band that would like to partake in a Getting to Know feature, contact [email protected] to receive the questionnaire and instructions. Thanks!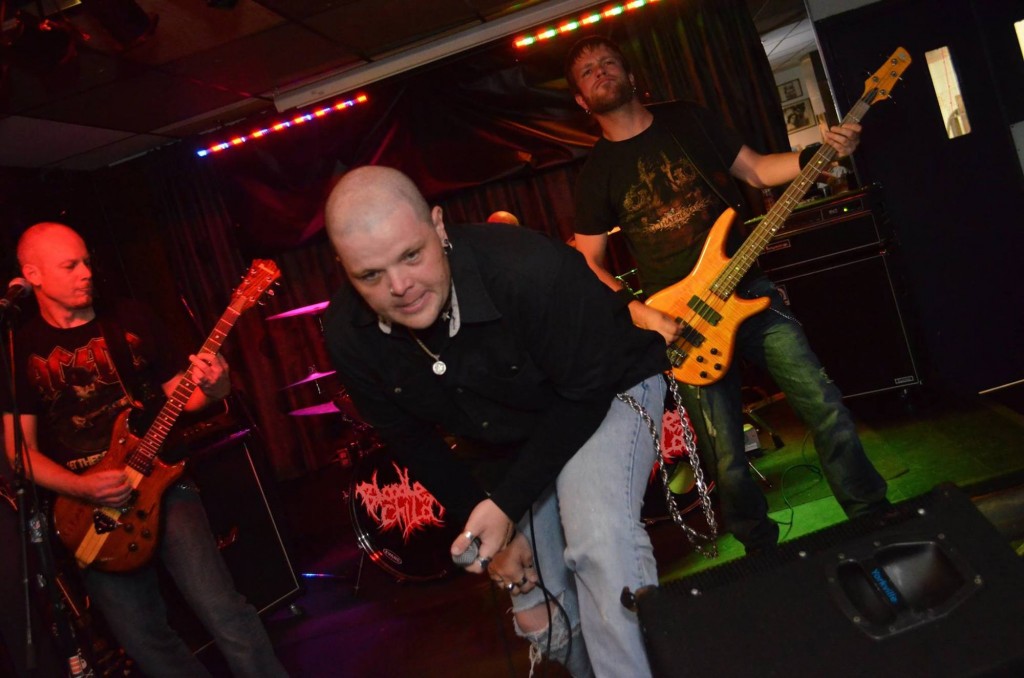 Band Name: Valyear
Band Members: Chad Valyear (vocals), Jordan Zylstra (bass), Stefan Lal (drums), and Cory Weir (guitar).
Years Active: 1
City of Origin: Oshawa, ON.
Latest Release: "I Hate Your Face" (Single); Full Control EP coming soon.
Who are you and what do you do?
"I am Chad Valyear. Singer, lyricist."
In 20 words or less, how would you describe your band?
"Old school vibe, new school groove, rock n' roll with just enough metal to kick you in the teeth!"
Why should people care about your band?
"We have all been doing this in various formats long enough without making any kind of money, to prove we do it completely from the heart. We come from the time when a whole album meant something and we put everything we have into every song we write. There will never be a filler track on a Valyear recording. We aren't following any trends – we simply make music we would listen to even if we were not in the band."
What is the most hilarious, frightening, or weird thing you have seen from the stage or while on the road?
"In my previous band, Undergods, we were playing to a full house at The Funhause with The Hellz Kitchen Show, and Jordan's old band, RPO. When the crowd rushed the stage it was with such intensity it kind of scared me a bit. But after our set THKS played. I used to get up with them and sing an amazing cover of an old song called 'Electric Avenue.' When I got up on stage with them, the crowd was about 100 times more intense and fierce! I was actually afraid that they were going to rush the stage. I was definitely scared for my safety!"
If you become a band that eventually fills stadiums or arenas, what would be the most ridiculous thing you'd require backstage?
"We would require naked pictures of Bea Arthur, or maybe take the Van Halen approach by asking for no brown M&M's? Fuck it, we want Bea Arthur naked and covered in melted M&M's. The real Bea Arthur, the dead one!"
Which band could your band defeat in a street fight? What methods would you use to ensure victory?
"Black Veil Brides. We would use the power of well-written rock n' roll to ensure our victory. God…what a shit band."
What is the most pretentious thing you've seen or heard from another musician/band? Did you love it or hate it?
"I remember a singer from a band that I used to play with a lot…and the singer was always in 'interview mode.' Every time we talked, he made sure to tell me how 'this rep' from 'this major label' saw him and told him 'straight up' that 'they can clearly see he was put on earth to own the stage!' Then he always ended the conversation with, 'if you ever want to pay me to come do some guest vocals on your recordings…just let me know! I will do it cheap for you!' Now, I have to admit, I loved this guy's confidence. And it did let him experience some 'moderate' success."
How do you feel about smartphones lighting up concert venues instead of lighters?
"What I hate about smartphones at concerts is that less people seem to be paying attention to the band, and are more worried about the recording angle or answering texts. At least with lighters, you had to let them cool down a bit. I don't hate seeing cell phones lit up, but I just wish more people were focused on the show and life around them."
If you had to be a tribute act for just one band, who would it be and why?
"I would have to make it an Alice in Chains and Faith No More tribute act. Mike Patton and Layne Staley are the two singers that changed everything for me musically. They both have a unique style that people mimic to this day, including myself. I have stolen elements of both of those guys and incorporated them into any band I have ever been in, including Valyear."
Is it better to burnout than to fade away? Please explain your answer.
"Fading away seems like there is always a chance that in time you could fade back in – allowing you more than one shot to be successful – depending on what level you consider success. To burnout seems so final, so I'd much sooner fade away."
Please be sure to follow us on Twitter @riffyou and at Facebook.com/riffyou.