Getting to Know: Oslo Metal Collective, Plain

In today's Getting to Know, we meet Plain, an Oslo-based metal act whose front man is a church manager by day, but a rocker by night. If you are in an up and coming band that would like to partake in a Getting to Know feature, contact [email protected] to receive the questionnaire and instructions. Thanks!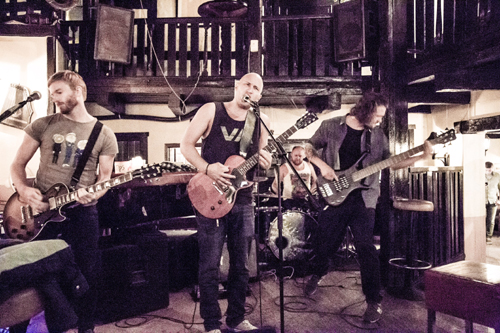 Band Name: Plain
Band Members: Karl Ove Jeppestøl (vocals, guitar), David Solbjørg (bass, backing vocals), Morten Sigurd Hansen (guitar, backing vocals), and Halvor Dahle (drums).
Years Active: 2
City of Origin: Oslo, Norway
Who are you and what do you do?
"Karl Ove Jeppestøl. I am actually from a small place called Jeppestøl in the south of Norway. I've been living in Oslo for the last five years. I have a master's degree in theology and a bachelor in classical Greek. Right now I work as a church manager, which is not all that exciting. But it makes a living, and it allows me practice my music in my spare time."
In 100 words or less, tell us how your band has gotten to this point.
"Me and my manager (previous drummer in Plain) Vegard Børjesson met at our faculty and found out we wanted to play some covers together, just for fun. All of a sudden we had ourselves a band."
What is your latest release and how would you best describe it to someone who hasn't heard your band?
"Our latest release is the single called "Roadrunner." This is maybe one of our most thrash like songs, which I like a lot, being an old Sepultura fan. I grew up playing those songs. Our next single will be released in June, followed by a full-length album in February."
When making an album, which aspect of the process do you put the most time into and why?
"The melodies and guitar riffs are not too hard. Mostly because that is something I've been doing all my life. Sometimes the whole composition of the song almost writes itself, but if not, it can take a lot of time. I always do the lyrics in the end, and this is always the hardest thing for me. There are so many considerations you have to bear in mind when it comes to writing. The lyrics must add up to the rhythmic and composition of the song. They have to contain a certain mood which fits the atmosphere of that particular tune. And of course, the very fact that it is one of the most important elements of a song, just makes you want to take your time with it."
What is the best part about your band and why?
"This may sound like a cliché, but I really think we are a straight-up band, that doesn't try to be someone we`re not."
What makes your band unique from the rest?
"Hard to say…there are so many great bands out there. We are definitely trying to be a rock band that plays up front rock n' roll,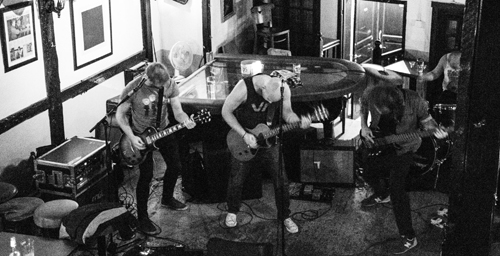 without to many special effects. We also take pride in making our music more simple and groovy than too complicated. Personally, I'm not a fan of progressive metal."
How does your band survive the challenges of touring/gigging?
"We just got to making our first album, so that's not a problem at this time."
Would you rather be critically-acclaimed; rich and famous; or an under-the-radar band with a dedicated fan base?
"Of course I would love to be rich, who would not? Then I could pursue music full-time and not have to worry about money! But that's all wishful thinking. If we could get a dedicated fan base that was inspired by our music, I would be grateful and humbled."
If you'd have to compare your band to another one out there, living or dead, who would it be and why?
"I honestly don't know. My inspiration definitely comes from bands like the Deftones, Sepultura and Pantera. But people say we are more similar to the typical grunge bands like Soundgarden, even though I`ve never listened to them."
Which band/musician would you like to share many drinks with? What would you talk about?
"Chino Moreno! We'd talk music."
Please be sure to follow us on Twitter @riffyou and at Facebook.com/riffyou.