Getting to Know: Ska-Punk act Small Town Get Up

In today's Getting to Know, we meet Ontario ska-punk collective, Small Town Get Up. Their large membership may make them a logistical nightmare sometimes, but the music always pulls them through. If you are in an up and coming band that would like to partake in a Getting to Know feature, contact [email protected] to receive the questionnaire and instructions. Thanks!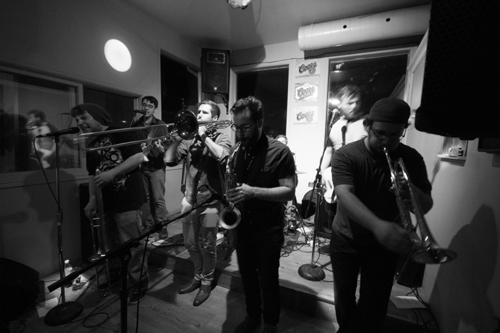 Band Name: Small Town Get Up
Band Members: Nick Arseneau (guitar, vocals), Brennen Robinson (bass, vocals), Jeff Cummings (trombone, vocals), Adam Stobbe (trumpet), Fredo Zavarella (alto sax), Brandon Roberts (trombone, tambourine), and Travis Haws (drums).
Years Active: 5
City of Origin: Grimsby, ON.
Who are you and what do you do?
"We're Small Town Get Up! We play horn-heavy ska-punk. Aside from that, we like drinking beer. Some of us like video games, some of us like sports. Some of us like both. But when we play a show, we like it when people dance and scream along with our lyrics. That usually happens, so for the most part we're a pretty happy bunch of dudes."
In 100 words or less, tell us how your band has gotten to this point.
"We started jamming in high school, when most of the members were 16 or 17. Originally we started as a ska cover band, just jamming tunes by Streetlight Manifesto, Less Than Jake, Reel Big Fish, Goldfinger and The Planet Smashers. Over the past five years we've written a ton of original tunes, played all across Southern Ontario, and met some awesome people working in the independent music industry. We've had the chance to open for some big name ska bands like Mustard Plug, The English Beat, and Five Iron Frenzy, just to name a few."
What is your latest release and how would you best describe it to someone who hasn't heard your band?
"Our second full-length album, New Noise, just came out in June. The sound of this record is heavily influenced by today's punk and indie rock, but with a lot of horns. Throw in progressive elements, a splash of math-rock and post-hardcore, and there you have it. If that doesn't make sense, just think loud, energetic, with catchy choruses, wrapped up with tasty horn and guitar riffs."
When making an album, which aspect of the process do you put the most time into and why?
"Definitely song writing. That's the foundation of everything. Once we've got a solid song to work with, everything else sort of falls into place. To get all the material together for New Noise, it took us about two years. Our previous EP, No Tradebacks, has tunes that we had worked on for up to three years before we hit the studio. That being said, sometimes Nick will just write a song over a span of one or two days, if the inspiration strikes. Sometimes he dreams about an idea for a song and has to wake up and write it down really fast before forgetting it. Or, a melody will come to him in the middle of a nine hour road trip and he'll have to figure out everything in his head."
What is the best part about your band and why?
"Aside from our original trumpet player leaving a few months after we formed, all of our members have been in the band from the very start. It's pretty hard to do that when you've got seven guys, especially since after high school everyone moved out to Waterloo, Peterborough, Toronto, Hamilton and St. Catharines. That's just an awesome accomplishment in itself, really. Most bands that form in high school break up within a year of graduating."
What makes your band unique from the rest?
"We're definitely not your typical punk/ska band. With this new record, and somewhat on our last EP, we're really starting to find our own unique sound. We use the horns a lot differently than other bands, and the guitar parts aren't just straight up power chords. If you listen carefully, we're using a lot of different chord structures, but we try to mask it with shouting and distortion."
How does your band survive the challenges of touring/gigging?
"It's a miracle that we have the collective organization to keep going, book shows and rehearse. You should see our Facebook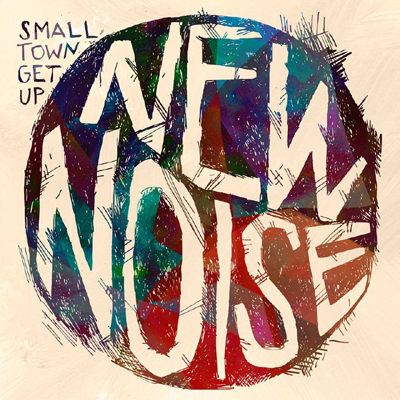 messages when we're trying to organize who's driving to practice, or to a show. Of course, something always gets forgotten."
Would you rather be critically-acclaimed; rich and famous; or an under-the-radar band with a dedicated fan base?
"Definitely don't want to be famous, Being able go out in public and not have anyone know who we are, goes out the window with fame! We would much rather be under-the-radar with a dedicated fan base. The sweaty, crammed, small-venue show vibe is too much fun. And if critics like us too, that's just a bonus."
If you'd have to compare your band to another one out there, living or dead, who would it be and why?
"We started out taking tons of influence from Streetlight Manifesto, and we've definitely been compared to them before, but recently we've been moving away from that sort of sound. Our producer/engineer Matt Drake of Sumo Cyco and Dodger, once compared us to Japanese ska band Kemuri. I had never heard of them before that, but if there's another ska band out there with a similar sound to us, it's probably them."
Which band/musician would you like to share many drinks with? What would you talk about?
"Definitely the guys in PUP, Toronto's latest rising punk/indie band. They seem like a rad bunch of dudes and would probably be really fun to have many beers with!"
Please be sure to follow us on Twitter @riffyou and at Facebook.com/riffyou.