Getting to Know: West Virginia rockers, Cylearian

In this edition of Getting to Know, we meet West Virginia rockers, Cylearian, a group that's had plenty of Nirvana comparisons early into their career. If you are in an up and coming band that would like to partake in a Getting to Know feature, contact editor@riffyou.com to receive the questionnaire and instructions. Thanks!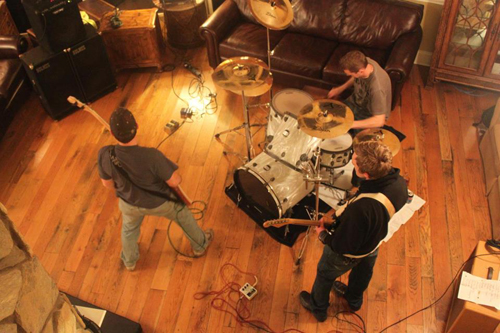 Band Name:  Cylearian
Band Members: Jamie Mink (guitar, vocals), Chris Puckett (bass), and Jim Boles (drums).
Years Active: 1
City of Origin:  Beckley, WV
Who are you and what do you do?
"Jamie Mink.  I primarily play guitar and sing in Cylearian. In a recording setting, depending on the line-up, I play and write drums and bass."
"Chris Puckett. I am the bassist in Cylearian. When writing or recording, I also play guitar, drums and sing."
In 100 words or less, tell us how your band has gotten to this point.
"Equal parts luck and randomness with a splash of talent and determination have brought us to our current state. We went from one member with a made up name, being "Cylearian," and the idea for a band unto which only came to fruition when connecting with a childhood friend and former band mate.  From there, songs were written and demoed on a laptop. Shortly thereafter by chance, and randomly, a member was in a music store playing our songs and the co-owner of a record company heard it and signed us. We basically went straight from our house to the Hard Rock Cafe, playing there twice. We are now signed to Rockwell Music Records and Digital Distribution, a label based in Melbourne, Australia."
What is your latest release and how would you best describe it to someone who hasn't heard your band?
"Our upcoming debut album entitled One, or 1, will be released on Rockwell Music Records and Digital Distribution in 2014 in both the United States and Australia, then worldwide shortly thereafter. The majority of the album was recorded in three days at Asylum Digital Studios in Mint Hill, NC by Scott Slagle. As for describing the album to someone who hasn't heard our band, reviews have said that we have 'heaving groove laden riffs, pulsating drums, head bobbing songs, melodic;' 'North Carolina driving sounds, [with] a touch of Ozzy mixed with Nirvana;' and that we are  'the unsung heroes of Charlotte that may even be the second coming of Nirvana?'"
When making an album, which aspect of the process do you put the most time into and why?
"We would have to say rehearsing. When we write a song, we rehearse it extensively as well as older songs. All members write, so writing comes easy. But when recording, we are a one take, live, kind of band, hence the rehearsal. We rehearse the material, new or old, until it becomes second nature and muscle memory. This in turn makes the recording process quicker and more fluent as tracks are done in one take, from beginning to end."
What is the best part about your band and why?
"The music. We love playing music. We love listening to music, writing music, and talking about music.  The experiences we've had; people we've met; bands we've played with; opportunities presented to us; people and places we've seen simply because we are in this band; are things we wouldn't have gotten to experience otherwise."
What makes your band unique from the rest?
"The individual personalities…with their individual ideas, influences and writing styles that become a collective and a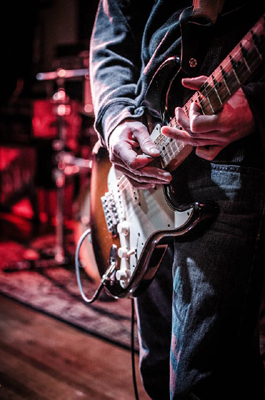 single cohesive unit that makes up this band, as well as our more so stellar than not work ethic. But moreover, how people categorize us is unique. They define us by genre differently from region to region, state to state, country to country. We are considered grunge amongst some people, as well as heavy metal and rock."
How does your band survive the challenges of touring/gigging?
"Gigging and touring can be tough for any band. And like many bands, we've went through our fair share of line-up changes for reasons ranging from scheduling conflicts to personal matters. Overall, our band survives due to our longstanding friendships and history and mutual love for music…and we have fun playing music. If you are not having fun with it, enjoy it, love it, you won't survive anything. And through the break ups, line-up changes, sworn hatred, burned bridges, severed ties and ended friendships that most bands endure if together long enough – touring or not – I reflect, move on, and use the words of another: 'I loved it all.'"
Would you rather be critically-acclaimed; rich and famous; or an under-the-radar band with a dedicated fan base?
"We would like all three. Answers may waver from member to member on this, but in the end, gaining notoriety; recognition and acknowledgements; and critical acclaim for our efforts would be preferred.  Everyone wants to be rich and famous, but playing music and being in a band is tough. If it were easy, everyone would do it. In the end, we just want to play music, and receiving critical acclaim for doing so would be the greatest achievement."
If you'd have to compare your band to another one out there, living or dead, who would it be and why?
"None of us really like comparing ourselves to other bands. There has been an Alice in Chains, Layne Staley comparison due to the way our vocalist lays down multiple, blended, effected, vocal tracks similar to Layne. We even get Tool, Helmet, Black Sabbath, Led Zeppelin comparisons, but in reviews and press, Nirvana gets mentioned a lot with us.  In this respect, CEO and founder of our label, Paul Rockwell gives more insight into this saying, "The stuff you guys go through, the things you believe in, the attitude and overall demeanor for which you convey your music is very comparable to Nirvana."  As a band we can see the comparison and are honoured by it as we grew up in that era. But we like to think, with absolutely no disrespect to Nirvana or any band, that our song writing is more technical, eclectic and melodic. No one can emulate the song structure, angst, writing, singing, power, feeling, even frailty of Nirvana and take over the world as they did."
Which band/musician would you like to share many drinks with? What would you talk about?
"Paul would choose Quincy Jones as he's the most talented musician and producer and would talk about how he got the 'sonic sound.' Jamie would say PJ Harvey, John Frusciante and Layne Staley, and talk about everything and anything that came to mind. Chris's influences and likes are very eclectic and arguably punk favoured, but with his good natured and humble personality, he could talk to any band or musician with equal excitement and anticipation about anything and everything."
Please be sure to follow us on Twitter @riffyou and at Facebook.com/riffyou.