Getting to Know: Desert Rock act, Blue Sky Miners

In today's Getting to Know, we meet Blue Sky Miners, a Rocky Mountain desert rock act that takes pride in creating with a conscience. If you are an indie artist or in an indie band that would like to partake in a Getting to Know feature, contact editor@riffyou.com to receive the questionnaire and instructions. Thanks!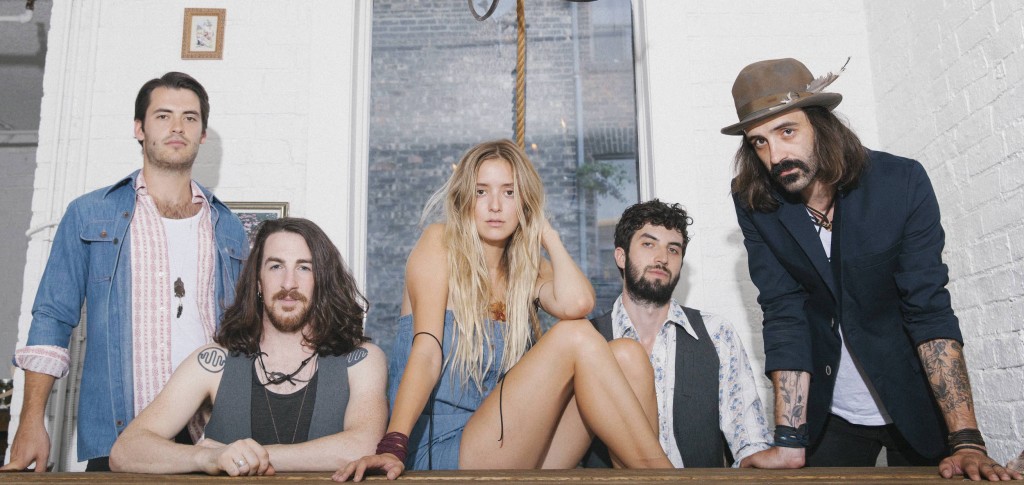 Band Name: Blue Sky Miners
Band Members: Jena Gogo (lead vocals, percussion, keyboards), Jay Mitchell (lead vocals, guitar, banjo), Eric Duquette (lead guitar, vocals, keyboards), Mark Lavoie (bass) and Stefan Hegerat (drums).
Years Active: 2
City of Origin: Toronto, Ontario.
Latest Release: Blue Sky Miners (debut EP). Available October 23, 2015.
Who are you and what do you do?
"Blue Sky Miners is a family of musicians and creators from all across Canada who found one another in Toronto."
In 20 words or less, how would you describe your band?
"Rocky Mountain desert rock: a blend of the storytelling aspects of folk with the energy and abandon of psychedelic rock."
Why should people care about your band?
"We mix the political and personal aspects of ourselves in a way that invites the audience to go on a journey with us. We create with a conscience."
What is the most hilarious, frightening, or weird thing you have seen from the stage or while on the road?
"We are pretty sure a Sasquatch defecated outside of our tent recently while we were off-site at our Campbell River show."
If you become a band that eventually fills stadiums or arenas, what would be the most ridiculous thing you'd require backstage?
"Fresh homemade pies for everyone and a ski ball machine."
Which band could your band defeat in a street fight? What methods would you use to ensure victory?
"Any band, other than ZZ top – those guys look mean as hell. We would use a weapon of our own design: Drumchucks™. (Drumstick nun-chucks.)"
What is the most pretentious thing you've seen or heard from another musician/band?
"Pretension and entitlement tend run pretty rampant among bands and musicians who are in this industry for the wrong reasons. Love your craft, work really hard, do it for the love of it."
How do you feel about smartphones lighting up concert venues instead of lighters?
"Flames or phones, as long as you're not blocking anyone's view or lighting your hair on fire.
If you had to be a tribute act for just one band, who would it be and why?
"We actually form as a tribute band every few months where we choose one band to cover for one night only: '2Nite We Are…' The most fun we've had so far was this summer when we covered Jack White's catalogue at The Silver Dollar in Toronto."
Is it better to burnout than to fade away?
"Fading away sounds like you had an explosive career and are just fading out of the public eye and into making music in the privacy of your own home. Who needs the limelight forever?"
Please be sure to follow us on Twitter @riffyou and at Facebook.com/riffyou.