Getting to Know: Garage Blues duo, Frankie & Jimmy

In today's Getting to Know, we meet fun-loving garage blues duo, Frankie & Jimmy. Their new album Scream The Blues is coming soon, and they hope to end up on a Wheaties box. If you are in an up and coming band that would like to partake in a Getting to Know feature, contact editor@riffyou.com to receive the questionnaire and instructions. Thanks!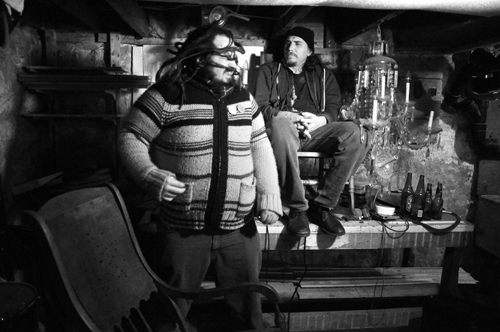 Band Name: Frankie & Jimmy
Band Members: Frankie Flowers (slide guitar, porchboard bass, tambourine, and background hollering), and Jim Fitzgerald (harmonica, lead hollering, and whistling).
Years Active: 2.5
City of Origin: Hamilton, ON.
Who are you and what do you do? 
"Frankie & Jimmy are a sliding delta garage blues duo. We revive old blues songs with a punk sensibility. We spend a lot of time at pho restaurants and calling liquor stores to see if they will stock our favourite kind of cider. Jim spends a lot of time sassing people. Frank spends a lot of time conditioning his hair."
In 100 words or less, tell us how your band has gotten to this point. 
"We actually went to the same elementary school but Frankie was a grade ahead because he's old. We met again as adults through mutual friends and were in another band for a little while that only played two shows. That project went south and we wanted to keep playing together. This blues duo was initially formed to make ourselves better at our instruments. Blues slide guitar and harmonica have some very challenging riffs. We played our first show in St. Catharines and have been gigging around Southern Ontario ever since."
What is your latest release and how would you best describe it to someone who hasn't heard your band? 
"We've recorded 13 songs for a 12-inch record. It was recorded by Mike Cividino and Pat Sirrs; mixed by Pat Sirrs; and mastered by Mike Trebilcock (The Killjoys). We're in the process of ordering our wax now. The LP is called Scream The Blues, and I couldn't be happier with the way it sounds. We take old favourites and play them in our own way; a fuzzed out, growling revival of old delta blues and rock n' roll innovators. I'm not going to pretend I can write a better song than Leadbelly or Elizabeth Cotton, so I'd rather play their music. This record is fun, danceable, stripped down, moody and occasionally demented."
When making an album, which aspect of the process do you put the most time into and why? 
"We recorded the album in single takes, so getting the songs sounding just right live was definitely the most time consuming. Some songs, we took 20+ takes. We wanted to get it just right, so if one of us messed up we had to start over again. Individual tracking can be great, but for the way we play it, it simply wouldn't have worked. We wanted an organic and live feel while still maintaining studio quality. Tone is very important, so we've spent a lot of time cultivating our sound, and that comes from hours and hours of working it out in the studio. It was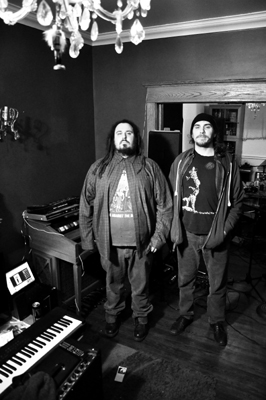 important to us to sound genuine. What you hear on the record is what you get from a live show. Good thing it's so much fun or it might feel like work."
What is the best part about your band and why? 
"The best part about our band is that we're a two-piece so we either get along or we don't…and we pretty much always get along. There are no massive band arguments. Everything is positive, fun and productive."
What makes your band unique from the rest? 
Frankie tunes to Low A=444 Htz (American standard tuning is Low A=440 Htz).  It's a more natural tuning and certain notes can do some weird things to your brain. When he feedbacks his guitar it feels really nice."
How does your band survive the challenges of touring/gigging?
"We make sure to have as good a time as possible all the time. Having good tunes and snacks, and being comfortable on the ride up goes a long way in being happy campers. Also, we make sure not to get bogarted. Gas is expensive."
Would you rather be critically-acclaimed; rich and famous; or an under-the-radar band with a dedicated fan base? 
"I want to be on a box of Wheaties or a milk carton."
If you'd have to compare your band to another one out there, living or dead, who would it be and why? 
"People say we're like The White Stripes except Frank's prettier and a better drummer. Wild Billy Childish's blues records were a huge influence to Jim in building a sound. Frank listens to a lot of Ragas and draws a lot of influence from traditional Indian music."
Which band/musician would you like to share many drinks with? What would you talk about?
"Leadbelly. We'd talk about freight trains and murder. Or Bo Diddley. I'd listen to just about anything Bo Diddley would have to say. He was the coolest."
Please be sure to follow us on Twitter @riffyou and at Facebook.com/riffyou.