Getting to Know: Ohio Metalcore act, In Days Forgotten

In today's Getting to Know, we meet Ohio-based Metalcore sextet, In Days Forgotten, a band that doesn't want to rely on too many rhythmic breakdowns, but would talk bananas with Tenacious D. If you are in an up and coming band that would like to partake in a Getting to Know feature, contact editor@riffyou.com to receive the questionnaire and instructions. Thanks!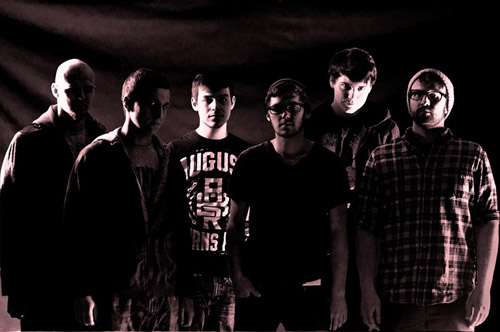 Band Name: In Days Forgotten
Band Members: Zach Unger (clean vocals), Rob Wilson (dirty vocals, screams), Tyler Daniels (guitar), Chris Knox (guitar), Dylan Geiser (bass), and Tim Wilson (drums).
Years Active: 1
City of Origin: Cincinnati, OH.
Who are you and what do you do?
"We are a melodic metalcore band from Cincinnati with a passion for heavy music. We want to tear the world inside out with our orchestrations of sinful brutality and monstrous moans of metal."
 In 100 words or less, tell us how your band has gotten to this point.  
"Most of us come from two former bands, Escaping Alcatraz and A Bridge Too Far. After the two bands split at relatively the same time, we got together and formed In Days Forgotten around July 2013. We have three songs recorded and released currently. We love connecting with fans and growing with them because without them, there could never be us."
What is your latest release and how would you best describe it to someone who hasn't heard your band? 
"We have a new EP on called Paint the Stage. The best way to describe this EP to an outside listener would be a heavier overall sound with melodic precise guitar riffs set in front of fast-paced grooved drums and bass. The vocals include harsh screams accompanied by clean catchy choruses.
When making an album, which aspect of the process do you put the most time into and why?
By far, the vocals. When in the studio, there is nothing that needs to be more precise than vocals."
What is the best part about your band and why?
"We are really into talking and connecting with fans and we really enjoy performing."
What makes your band unique from the rest?
"Have you ever seen a band that wears pumpkins on their heads, fishnets and fur coats to every damn show? Us neither, wouldn't that be cool though? On a more relevant note, today's music has done to rhythmic breakdowns what the '80s has done to guitar solos. If they are sprinkled into the music, it can add a lot to the sound, but if they are used constantly throughout each song, it takes away from the music's potential. We mix our rhythmic elements with a variety of guitar melodies and vocal peaks."
How does your band survive the challenges of touring/gigging?
"We promote our shows to get as many people out to them. We also have merch for sale at the shows to help pay for the cost of recording/gas/equipment/etc."
Would you rather be critically-acclaimed; rich and famous; or an under-the-radar band with a dedicated fan base?
"In the end, money is just a number. What's the point in being constantly in the eye of public view if you have nothing to show for but a critic's word on your album? Fans mean everything to us. If we had to stay local and underground in order to do what we love well, that would be perfectly fine with us."
If you'd have to compare your band to another one out there, living or dead, who would it be and why?
"We all hate this question because it is difficult to compare us to other bands out there. Every band is different. However, we have been compared to Beneath the Sky, August Burns Red, As I Lay Dying (minus the hiring a hitman to kill a wife thing), All That Remains, and a few others."
Which band/musician would you like to share many drinks with? What would you talk about?
"Tenacious D and 2 Chainz. We would discuss interesting and deep worldly things such as nano-mechanics, puppies with bling, and Chiquita banana stocks."
 Please be sure to follow us on Twitter @riffyou and at Facebook.com/riffyou.