Hillside Festival Shuts Down Due to Soggy Weather

It was the best of times, it was the wettest of times. Really, it was just the final couple of hours at Guelph, ON's exceptional Hillside Festival,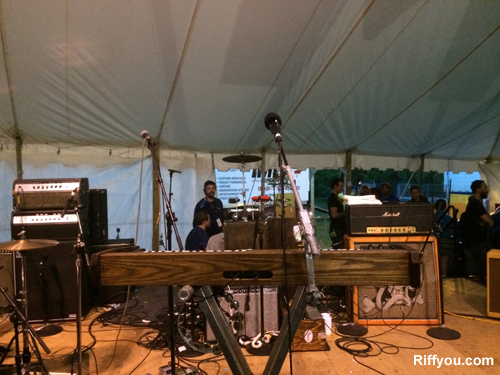 which was forced to shut down early on Sunday evening due to a thunder and lightning storm that rolled through the area. For a festival that celebrates and honours Mother Nature on an annual basis, the bitch had a funny way of showing her gratitude.
Skies greyed and rain began to fall just ahead of 7pm, as BC's The Belle Game ventured through an admirable set that was able to get the once grass-seated subjects of the crowd to stand up and dance. Behind them, Mounties gear was being wheeled in from behind the stage in preparation for the band's highly-anticipated 7:50pm set.
As The Belle Game drew to a close and Mounties gear began getting set up, it appeared that the weather outside of the tent was getting more severe. We weren't in Armageddon territory quite yet, but reports from festival staff and many in-crowd weather apps suggested that the worst was yet to come. With that in mind, Mounties were postponed indefinitely.
There was a period of casual muttering amongst the still rather understanding and pleasant audience, but as the clock began to tick, the slightly-audible silence shifted into song with a rousing crowd-driven sing-along of Queen's "Bohemian Rhapsody" (seen in video below). Easily, this was one of the weekend's highlights for the Riffyou.com crew, as none of us would rather be amidst an unruly mob-led riot.
The crowd's set list shifted to Journey's "Don't Stop Believing," Marvin Gaye and Tammi Terrell's "Ain't No Mountain High Enough," and AC/DC's "Thunderstruck." Signs of fatigue and people obviously losing their mental capacities kicked in when somehow a sing-along to Uncle Kracker's "Follow Me" emerged. Ew.
As the stage clock ticked past the 9 o'clock hour, hope was fading. Mounties members could be seen in the distance with a ready-to-go body language, but the skies weren't cooperating. Shortly after a semi-hopeful announcement was made that we may soon get going, organizers – with a ton of sadness and regret on their faces – decided to pull the plug and get everyone home safely.
It was a sad end to a wonderfully run, attended, and performed festival. The bummer of this safety measure was that it had but little choice to deny the audience sets from the aforementioned Mounties, not to mention Born Ruffians, Hey Rosetta!, and Kid Koala who was a last-minute fill-in. Instead of ending with a bang, the festival concluded with a soggy swan song.
Despite our disappointment over the hushed amps, we must give much credit to all involved. Last night wasn't an easy scenario for anyone, but it was handled beautifully by all.
-Adam Grant
Please be sure to follow us on Twitter @riffyou and at Facebook.com/riffyou.