Hot Hot Heat Releasing Their Farewell Album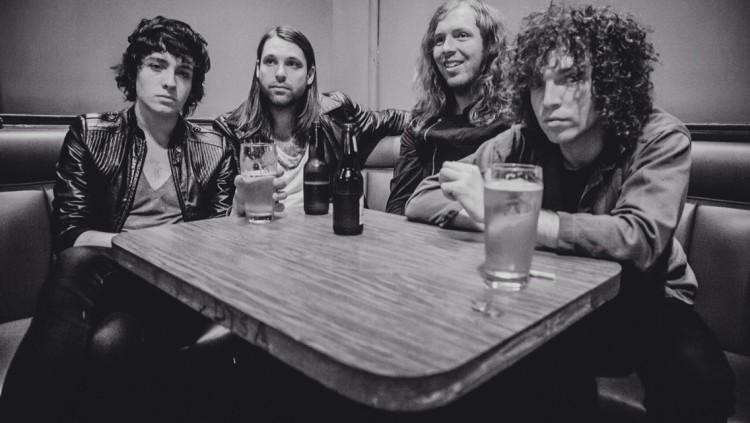 Canadian alt-rock collective Hot Hot Heat will be bidding their fans a fond farewell through the June 24 release of their final album. The Self-Titled affair was co-produced by Hot Hot Heat vocalist Steve Bays and his Mounties bandmate, Ryan Dahle.
"To be able to tour from 1999 to 2014 and play hundreds of shows a year was amazing," comments Bays. "It changed all of our lives. It was the greatest experience I could ever imagine. I can relate to our fans and I respect our fans. They are the kind of people I'd hang out with. I'm proud of every single record, and of finding the ground between making it challenging and fresh, but also not being afraid to be entertaining and put on a crazy show. Every show we ever did was just a total energy spectacle and that's a great legacy to have."
"We wanted it to feel cohesive and representative of the aesthetic we were into at that point," continues Bays when discussing the album. "We wanted it to feel like it was all the same album even though it had been written over several years. The songs are the songs we are most excited about at the moment. The idea behind the album was: if you want to try something great, it can only be when the inspiration hits."
To get the ball rolling on the album, Hot Hot Heat have premiered the track "Kid Who Stays in the Picture." (You can listen to it below.)
"'Kid Who Stays in the Picture' is about my best friend from childhood, who seemed clearly destined for fame," explains Bays. "He was the best singer, actor, comedian, athlete… you name it. But as we grew up, I watched his laughter fade to seriousness as 'real life' eroded his sense of humour and wonder. He inadvertently taught me the importance of fighting to stay young at heart and holding onto your innocence for as long as you can, because once it's gone, it's gone. The lyrics are a bit of a mantra to stay hungry and passionate about selfish interests, so your conscious mind stays self aware and doesn't get eaten up by the subconscious mind's potentially lazy sense of doom.
He adds: "Sonically It's fitting that the song would be the first song on the album because it was recorded at the peak of my addiction to analog keyboards from the 70s and 80s and the lush soundscapes they can add to a song's sense of wonder and escapism. In fact, we ended up recording the album twice. Once with software synths, which were great for writing on and editing quick timing and key changes; but then again as a live band with a bunch of old analog keyboards that can't help but add mystery and adventure, because they are so confusing and bizarre, in a beautiful way."
Fans are encouraged to swing by Hot Hot Heat's PledgeMusic page to pre-order the album and/or scoop up some sweet merch.
Tracklisting:
1. "Kid Who Stays In The Picture"
2. "Modern Mind"
3. "Pulling Levers"
4. "Bobby Joan Sex Tape"
5. "Magnitude"
6. "Mayor Of The City"
7. "Alaskan Midnight Sun"
8. "Comeback Of The Century"
9. "Sad Sad Situation"
10. "The Memory's Here"