Interview: Dirty Jeans Emerge onto the Scene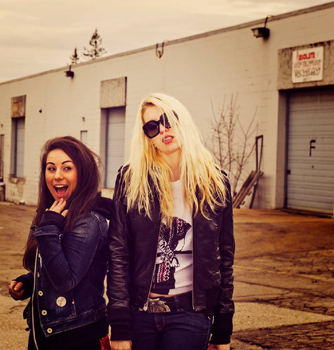 For Burlington, ON, musicians Ashley Sloggett and Kelly Boag, Dirty Jeans has been half a lifetime in the making. Having met as relative opposites working shows at their local YMCA, the one thing that melded the girl who put on the concerts and discouraged parking lot drinking (Sloggett) and the goth girl who wore kilts and combat boots (Boag), was music.
Beginning as teenagers about old enough to get driver's licenses, the duo formed "a million bands" that never left the basement and have remained musical allies.
Eventually, Sloggett became a well-known acoustic act within here scene and Boag began calling California her home, while travelling the world with a musician boyfriend. Then one day as Sloggett was hammering out a solo album, she encountered a creatively inspired Boag who was now back in Canada and ready to get a rock band going.
"Kelly had all of these ideas but didn't really know how to craft a song," offers Sloggett regarding the early stages of Dirty Jeans. "With her and me, it was natural. She said, 'I trust you and love your writing style, so let's try and do something. She showed me some lyrics and they were out of this world. I was so inspired by them, because it was a whole new element that was different from what I write."
By this summer, Dirty Jeans began gigging as a three piece '90s rock-inspired collective with Sloggett on vocals and guitar, Boag on bass and vocals, and Jamie Parkhill on drums. Just as momentum began to build following gigs with The Saint Alvia Cartel and a slot at Burlington's Sound of Music Festival, life got in the way and Parkhill exited the band.
It was at that point that Dirty Jeans would experience their personal rendition of Spinal Tap. They needed a drummer, had a couple briefly, but couldn't make one stick. The hunt became so dire in fact that Sloggett and Boag took out the "forbidden Craigslist ad," unsure of what kind of "weirdos" may show up. During this arduous process, Sloggett and Boag ended up meeting Dylan Broda. They no longer had to consider acquiring a drum machine.
"He was the last guy we auditioned. We were almost at the end of our rope and it just happened," says Sloggett. "He came into the jam and he had the look, the personality, the chilled out vibe, and the skills. We thought, 'oh my God, he has to be our drummer!'"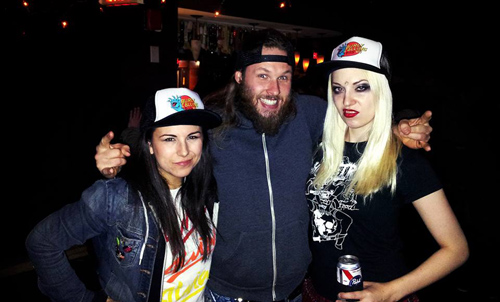 While discussing the matter of the drummer hunt, Sloggett briefly relays the fact that she had mentioned to Boag near the outset that she wasn't particularly interested in being in an all-girl band. Had the right drummer possessed the X chromosome during their hunt, however, she would've gone with what was best for Dirty Jeans. Later in our conversation, we re-approached the whole 'girl band' idea.
"I don't think there's anything wrong with being a 'girl band,' but I also don't think there's anything wrong with just being a band. Why can't you just be a band? That's where we're coming from," Sloggett later clarifies.
Further to that, Sloggett does offer the feminist nature of her and Boag, which doesn't consist of abandoning leg shaving tools, but is instead more geared toward ladies helping each other out along the way. Think the Spice Girls mentality, minus the music, plus a little bit of the Riot Girl movement tossed in for good measure.
"I want to see girls in the crowd looking at Dirty Jeans and be inspired to go and pick up a guitar, or a hockey stick, or drumsticks," notes Sloggett. "I'm not saying that every girl has to be a tomboy, but it used to be that if you were a girl, you'd play piano because it is delicate and dainty and you are a ballerina or did gymnastics.
"I think to see a role model on stage that loves her life, who is shredding it on the bass or on the guitar, or singing her face off and not worrying about whether it's pretty [is great]. It can be pretty if you want it to be, but it's okay to be a little bit abrasive. That's kind of our goal. Kelly and I don't mind making our listeners a little uncomfortable," she continues. "If a young girl sees us on stage and that inspires her to pick up a guitar or learn how to scream, or learn how to play the drums, then all the power to her."
With Dirty Jeans now in full swing, the trio continues to gig regularly as they work toward releasing their recorded debut at some point in January 2014. If interested in checking out this band in action, they will be rocking the stage at Burly Calling on Friday, December 6, as part of the Leather Jacket Showcase at The Dickens.
-Adam Grant
-Main Photo by: Kyle Weir
-In-article group shot by: Glen Blanchard