Interview: The Saint Alvia Cartel's Last Waltz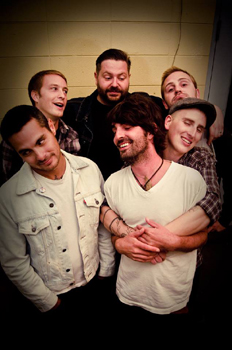 Some bands go out with a whimper, while others choose to exit stage left with a bang. Burlington, ON's, The Saint Alvia Cartel are the latter. The sextet comprised of Benjamin Rispin, Greg Taylor, Matt Richmond, Greg Fisher, Adam Michael, and John Laurin, issued their mighty good third album, Static Psalms, in February and less than six months later announced they were closing up shop with friendships intact and a critically acclaimed final album left as a bookend for their history (that last part is how RiffYou.com feels about it at least).
Oh and before completely moseying off into separate directions, Saint Alvia were going to embark on a good-spirited victory lap set to be completed on December 7 at the music festival they built, Burly Calling VII.
"I have imagined it a few times," says Rispin when discussing the grand finale at The Boston Manor with RiffYou.com. "I'm sure it'll be emotional. We've put a lot into this band and it's been a great run.
"I know in my heart that it's the right move for my life," he continues. "I don't want to be held down by a band anymore – it's so consuming to try and be in a band full-time. That's not where I want to be. But, I'll have fond memories."
When the original lineup emerged in the mid-2000s, the initial story propping the band up was the fact that it had been formed by a pack of guys coming from local rock royalty like Jersey, Grade, Boys Night Out, and The Video Dead. However, once 2007 rolled around and Saint Alvia's Self-Titled debut emerged through Stomp Records, it quickly became evident that the group would not have to rely heavily on their pasts much longer.
The guys dove headfirst into an array of spectrums, including, but not limited to Clash-style punk, thriving rock n' roll, folk, with organ highlights not unlike what The Band would put forth. Lead single "Don't Want to Wait Forever" ripped through radio airwaves, while "Blonde Kryptonite" and "Karma Kill Me Again" boasted enough power to move the kids standing by the speakers. This strong debut effort impressed enough to land Saint Alvia a JUNO nomination for Band of the Year.
Next up was 2008's sophomore effort, Between the Lines, which is also worthy of a top-to-bottom play each time it's flicked on. After touring that album and experiencing lineup changes that felt rough for those who stuck around, fans wouldn't see another album until this year's aforementioned Static Psalms.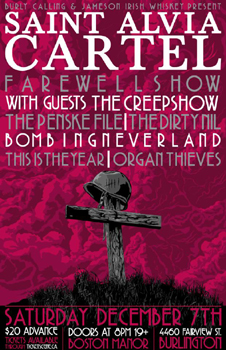 As the band began the process of pushing an album that some would consider their best, it became clear that the idea of Saint Alvia wasn't going to work anymore. Rispin confirms that commitments on the home front for band members made it increasingly harder for the outfit to tour as a full entity.
Saint Alvia was encouraged by outside forces to bring substitute members on the road, but Rispin states that there wasn't any interest in replacing members. Thus, here we are today with Saint Alvia on the verge of their last waltz.
"I believe everyone thinks about that sometimes," replies Rispin when asked if he ever thought that life would get in the way of him being in a band. "It's such an addictive lifestyle and I'm not even talking about the partying or things like that.
"One of my biggest fears – which is something I dealt with after we announced that Saint Alvia was closing out – was that I felt being in a band was such a big part of my identity…[I was the] band guy," he continues. "You go to your family Christmas party and your uncle goes 'how's the band doing?' For 20 years, that was my identity. To move past that and realize that you're human and you don't have to have that pressure of trying to succeed with music [is great]. Everybody who is involved with music is terrified of failure. They all want to be that one who is going to make it. To walk away from that, it felt like losing part of your identity or admitting defeat. But then, you can measure success [differently]. There's a huge amount of pressure off of my shoulders."
What also needs to be considered for the story of Saint Alvia, is the impact that the band had on the Burlington scene. Ashley Sloggett, a long-time solo artist whose new punk rock venture Dirty Jeans hopes to make their recorded debut in early 2014, contests that before Saint Alvia arrived on the circuit, the music community in which she lived within had fallen into disrepair and was in dire need of something fresh.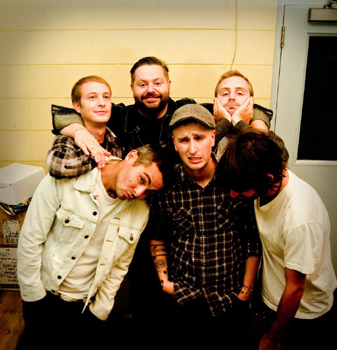 "They reignited our scene. Bands weren't helping each other, no bands were sticking their neck out for other bands…there was no community," reflects Sloggett. "The community had completely dissipated and that was sad. To see them bring that spark back – with everything from their own shows to Burly Calling (co-organized by Rispin). It's a platform now for young artists and brought our scene back together.
"Who knew that there were 85 bands in our area that are all making music?" She adds. "If it was seven years ago, nobody would know or talk to each other…it was always a fight. Now, we're back to how it used to be. I think that's been Saint Alvia's number one impact. And, you can't deny that the songwriting is incredible and inspiring."
When asked about what Saint Alvia meant to him over the years, Rispin can't help but reflect about growing up in a lower income household, before eventually finding himself in a band that allowed him to see the world. Essentially, Saint Alvia took Rispin to a world that he didn't necessarily expect to visit.
When asked what he hopes fans got from Saint Alvia, Rispin takes an elongated pause before offering the following:
"Most of all, I hope they had fun," he concedes. "I hope they got a little insight and became inspired to go out and start their own music. I hope they know that six friends who could barely play their instruments went out and travelled around the world and got JUNO nominations. I hope people can look at Saint Alvia and say 'we can probably do that too.' I hope kids out there realize that if you put your heart into it and take the time to write some pretty good songs, then you might be able to see the world."
-Adam Grant
-Photos by Ashley Sloggett (Rock + Roll Emporium)