Interview: USS is Understanding the Basics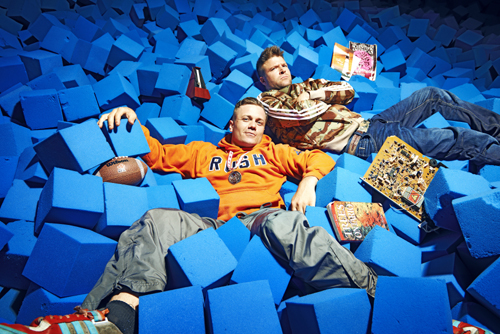 For Ubiquitous Synergy Seeker (USS), it took a lot of work to get to this day: the release of their new album, Advanced Basics. Despite the fact that the duo – Ashley Boo-Schultz and Jason "Human Kebab" Parsons – have been new-rock radio station staples since their monster 2008 debut single, "Hollow Point Sniper Hyperbole" (from Welding the C:/), they didn't coast through the process of building the newest edition to their discography.
"Personally, it was a stress-filled process," admits Parsons in a pre-release interview with Riffyou.com. "It wasn't until we got the final masters back that I truly had a smiling, proud moment of 'I can't believe we did it and pulled this off!' Everybody in our inner circle felt that this was our best album to date. It's amazing how critical you can be of yourself and the process, and not really realize that you had the answers all along."
Parsons explains that he and Boo-Schultz "had mixed vibes throughout the process," as they worked meticulously to follow-up their well-received 2011 album, USS Approved. In the end, Parsons notes, the seven songs selected for the final cut "definitely split the difference," between the aforementioned album, and the two that preceded it – he is correct.
Advanced Basics serves up a collection of tracks that showcase what USS does best: carefully melding rock and EDM,
with pop-hooks capable of helping the band crossover to several audience segments. The lead single, "This is the Best," is already spinning plentifully on radio throughout the country.
"I've come to learn that you're really only as good as your next song," explains Parsons. "You try to keep things coming from a natural, organic place, but at the same time, you're questioning the material in your repertoire and what you have at your disposal. Nowadays, with the music industry re-shaping as we speak, you have to still move with the times and have your own integrity intact."
The fact that USS is here for album release date numero four is a testament to their collective will. They've toured across nine countries; played sizeable musical festivals; and had to learn how to thrive within a very crowded Canadian music community after Toronto-based radio station 102.1 The Edge grabbed the band from obscurity and threw them into heavy rotation. Hell, USS didn't even have an album when the mainstream came calling.
Although the pressures have admittedly gotten to USS at points, they've come to realize their place and aren't afraid to keep pushing forward for the right reasons.
"There's so much competition in music," says Parsons. "If you're the kind of artist where you start on the radio, you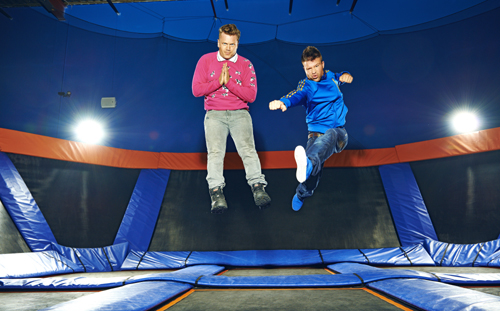 have to continue to feed that machine because that's your lifeblood. If we weren't a radio band and just some alternative rock-electric dance duo that drove around in a Chrysler Dynasty and toured, and built an indie following, it would've made a slow evolution [easier]. How many artists would buckle under the pressure of major radio support without a record label?
"People can feel a realism about us – that we live through the music and with the music…and it through us," he continues. "That realism, now more than ever, is important. People want to believe in music because they want to believe in the people who write and perform it. They want to believe that the artists have the same conviction as they did when they wrote the music; as to when they're on stage; as to when they spoke to you at the merch booth."
-Adam Grant
Please be sure to follow us on Twitter @riffyou and at Facebook.com/riffyou.