Jack White Releasing Epic Bonnaroo Vinyl Pack

At this year's Bonnaroo festival, Jack White arguably stole the show by blasting through a 26-song, two-hour and forty-five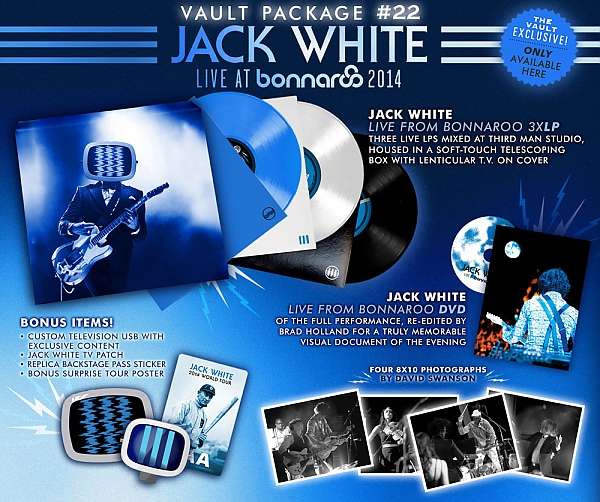 minute career-spanning set. Now, that magical night of June 14, 2014 can be experienced in the comfort of one's living room, thanks to an epic release through the Third Man Records subscription series, The Vault.
Included in this offering is three vinyl LPS (white, blue and black), packaged in a soft-touch, telescoping box, complete with a lenticular television on the cover. All audio has been mixed by Grammy Award-winning producer, Vance Powell, and is said to be "a marked improvement over the on-the-fly board mix heard in webcasts, YouTube uploads and shady downloads."
Described by the label as "the most ambitious Vault package yet," fans will also get a DVD of the full performance; four 8×10 photographs; a customized Jack White patch; replica backstage pass; a bonus poster; not to mention a custom-designed USB flash drive packed with "super-secret, extra-added bonus materials."
Whoa.
Interested? If you're not a member of The Vault yet, you have until October 31 to sign up, if you want this incredible collection.
Setlist:
"Icky Thump"
"High Ball Stepper"
"Lazaretto"
"Hotel Yorba"
"Temporary Ground"
"Missing Pieces"
"Steady, As She Goes"
"Top Yourself"
"I'm Slowly Turning Into You"
"Freedom at 21"
"Three Women"
"You Don't Know What Love Is (You Just Do As You're Told)"
"We're Going to Be Friends"
"Alone in My Home"
"Ball and Biscuit"
"The Lemon Song" (Led Zeppelin)
 Encore:
"The Hardest Button to Button"
"Hello Operator"
"Pipeline" (The Chantays)
"Misirlou" (Dick Dale)
"Sixteen Saltines"
"Cannon"
"Blue Blood Blues"
"Astro"
"Love Interruption"
"Little Bird"
"Seven Nation Army"
Please be sure to follow us on Twitter @riffyou and at Facebook.com/riffyou.