Neil Young & Jack White Make Sweet Vinyl on Fallon

Jack White, already known for his rapid-fire recording prowess, took to The Tonight Show with Jimmy Fallon last night with his buddy Neil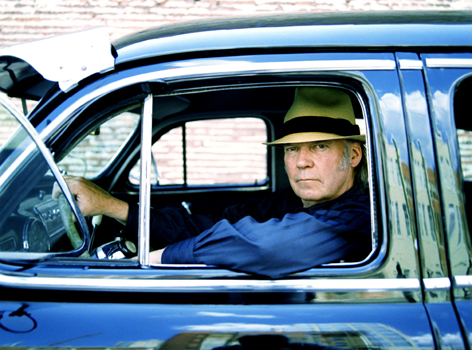 Young to churn out a fresh piece of vinyl before the show signed off.
Using White's refurbished 1940's era Voice-o-Graph recording booth – which allows a musician to essentially record directly to a 6" phonograph disc – Young performed, recorded, and pressed a cover of Willie Nelson's "Crazy" during the broadcast. Further proving the quick turnaround time, the track was played at the end of the show.
White explained that this is the only surviving Voice-o-Graph system on earth, and is open for use by musicians at his Third Man Records headquarters in Nashville. To date, he said, more than 1,000 musicians have recorded in the booth.
In the case of Young, he used the Voice-o-Graph booth to record his latest album, A Letter Home (to be released May 27). During the interview with Fallon, Young boasts about how great of an experience it is to record in such a space, and that it really puts a musician into the "zone."
Jack White and Neil Young: Keep on rockin' in the free world gentlemen.
Please be sure to follow us on Twitter @riffyou and at Facebook.com/riffyou.