Q&A: BOIDS Stalking Within the Punk Scene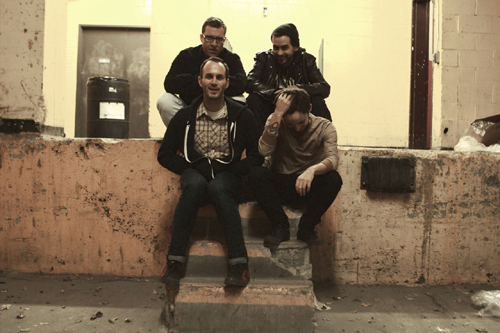 Today marks the official release of We Stalk Each Other Like Animals, the debut album from Montreal punk-quartet BOIDS (Boys of Intelligent Design and Style). Melded together from the ashes of previous projects now gone adrift, the band – Mike G, Patrizio, Andy W, and DW – is about to hit the road with Celtic punk stalwarts, The Real McKenzies, for a Western Canada tour.
Ahead of loading up the van and rolling down the road, Riffyou.com caught up with Patrizio to talk about how We Stalk Each Other Like Animals came to be.
RY: With this being your debut album, I have to ask about whether or not you have any pre-release nerves attached to it.
Patrizio: "It's nerve-wracking. It's a window into your own little world and you want people to understand that, and dig that. I think we can appeal to the masses in a certain sense because a lot of people like pop-punk. It's spread nice and thick."
RY: There is that rock n' roll notion out there that you have your entire life to make your first album, but beyond that, everything gets more rapid. How much emphasis did you put into making sure this album properly represents the band?
Patrizio: "A lot of the tunes were brought to the band upon its inception…from other projects or songs we'd been writing on our own. Andy brought a handful of tunes right off the bat, so that is where we cut our teeth. Once together as a band for a while, we started to morph and write songs that were more tuned to what we wanted to become. Over time, [we developed] something that was ours."
RY: Are elements of those older tracks still upon this album, or was that just your jumping off point?
Patrizio: "There are tracks that were there in the first place, but I don't think we jumped too far off of that point. Those songs were a good guideline to get started with and allowed us to discover what we liked, and what we didn't like; and allowed us to get along with each other.
RY: As for the material, does it sound cohesive to you even though songs were pulled from different areas?
Patrizio: "I'm still not sure if they're all going to fit. We have two songs that are under and minute and are thrashy; then we have two three-minute pop-punk ballads. I think there's cohesion in the lack of cohesion."
RY: You guys have existed for nearly two years, was there ever any concern that you weren't going to get this album out?
Patrizio: "Oh, all of the time, but I think that's normal. It takes a lot of time to do an album. I mean, it takes money, and time, and when you involve money and time, and other people, you get worried. I definitely wondered sometimes [if we'd get the album out] but we're moving along. We're on the cusp of something really big here."
-Adam Grant
Tour Dates:
03.06.14 Vancouver, BC Wise Hall
03.07.14 Victoria, BC Lucky Bar
03.08.14 Cumberland, BC The Waverly
03.11.14 Kamloops, BC Cactus Jack's Night Club
03.12.14 Nelson, BC Spirit Bar
03.13.14 Cranbrook, BC Eagle's Hall
03.14.14 Lethbridge, AB Scores
03.15.14 Edmonton, AB Pawn Shop
03.16.14 Banff, AB Wild Bill's
03.17.14 Calgary, AB Dickens
03.18.14 Red Deer, AB The Vat
04.09.14 Sorel, QC O'Callaghan's – BOIDS only
04.10.14 Toronto, ON Cherry Cola's – BOIDS only
04.12.14 Montreal, QC L'esco – BOIDS only
Please be sure to follow us on Twitter @riffyou and at Facebook.com/riffyou.