CMW 2014 Q&A: Born Ruffians on Going Deluxe & Their Next Album

For 10 years, Born Ruffians has been of those bands that makes being a Canadian music fan a great thing. In a country where many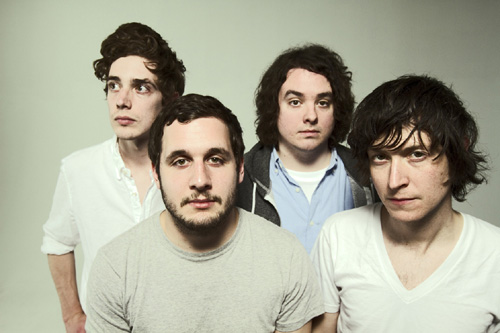 acts dare to be different, this Midland, ON, quartet – Luke Lalonde (vocals, guitar), Mitch DeRosier (bass), Andy Lloyd (guitar, keyboards), and Adam Hindle (drums) – have a beautifully positioned indie rock sensibility, with an ambition that takes them deep into an alternative space without taking away pleasant pop hooks.
In 2013, the guys released their excellent third album, Birthmarks, which led to a 2014 JUNO Award nomination for Breakthrough Group of the Year. By March, Born Ruffians gave this effort the deluxe edition treatment, adding on four brand new songs and five acoustic versions of already featured tracks.
Riffyou.com recently caught up with DeRosier to discuss that offering, as well as what the future holds for Born Ruffians.
RY: You guys recently released a deluxe version of your Birthmarks album. What motivated that move?
Mitch: "We had more songs recorded than what appeared on the actual album. We made the decision to hold those songs back – not because we didn't like them – but we just thought that they fit well together on their own, compared to what was [going to be] on Birthmarks. But, we didn't want to not show those songs to people, so we tossed ideas around.
"We had done these acoustic songs that Luke had done and this whole other batch of songs…we couldn't let them go and have no one hear them, so we worked with Paper Bag Records to put together the deluxe edition out."
RY: Was there any interest in holding back these songs for the purpose of a brand new album?
Mitch: "Definitely for 'Oh Cecilia,' specifically. That felt like the start of a new batch of songs. It fell so perfectly in the middle of Birthmarks and what the new material is going to be. We thought it was a good enough song to stand on its own, and have its own video, and be that bridge in between two records."
RY: With a new album, band's often have this desire to take a sharp left to really change things up. But, then you have the demons on your shoulder telling you to stay the course. Where do you want to take this new material you mentioned?
Mitch: "We talk about this every day, and it's something that we think about a lot. We've been in this band since high school and have never made music for anybody else. We always made what we liked and felt right to us. For whatever reason, that's always seemed to connect to our fans…which is awesome. With making this new album, we're doing what feels right. Luke's been writing constantly.
"If you were to play the three albums we have out back-to-back-to-back, they all sound pretty different, but our fans seems to connect with them in strange ways. We feel like once we start writing for somebody else, we lose the point of what this is all about."
RY: In terms of the new album, while you may still be early into the process, what kind of direction do you see it taking?
Mitch: "It is pretty early right now. The song we just demoed sounds nothing like anything we've written before. You think about alienating the fans you have, but you just have to go for it. Right now, everything we're deciding on has to do with production and
the aesthetic of the album, as opposed to song structures. I could say one thing now, and it would be completely different in a few weeks."
RY: With said, what do you want this album to be?
Mitch: "Well, we want something that fans might not expect. We know that some people might have an idea about what Born Ruffians are…we want to do something that we enjoy, obviously, but it would be cool to catch people's attention in terms of 'I didn't' think they could do that.' I'd like to surprise people. It'd be cool to have that attitude about it."
RY: Years ago, I watched that 2008 The Rawside Of… documentary about you guys, where it really zoned in on the inner workings of your band. How have you guys evolved since that era?
Mitch: "It's not even a growing up process, as much as it is you learn so much about yourself and how the band works. When we were younger, we went straight from high school to touring and that did fuck with the relationships within the band…it's such a shock to your life to all of a sudden be on the road and gone, and never home.
"As you get older, you learn how to manage that better. When you've worked at something for so long, you learn from your mistakes."
RY: Would you say that expectations for the band have changed?
Mitch: "Umm, no," laughs. "I don't think so. We've always had high expectations for ourselves. If you don't have high expectations for yourself, you get comfortable and you won't reach any higher level that you want to achieve. If you have a drive or goal in mind, then that's the only way you can improve. You can't improve if you're just like 'yeah, I'm happy here.'"
­-Adam Grant
Please be sure to follow us on Twitter @riffyou and at Facebook.com/riffyou.