Q+A: Cold Weather Touring w/ The Gutter Demons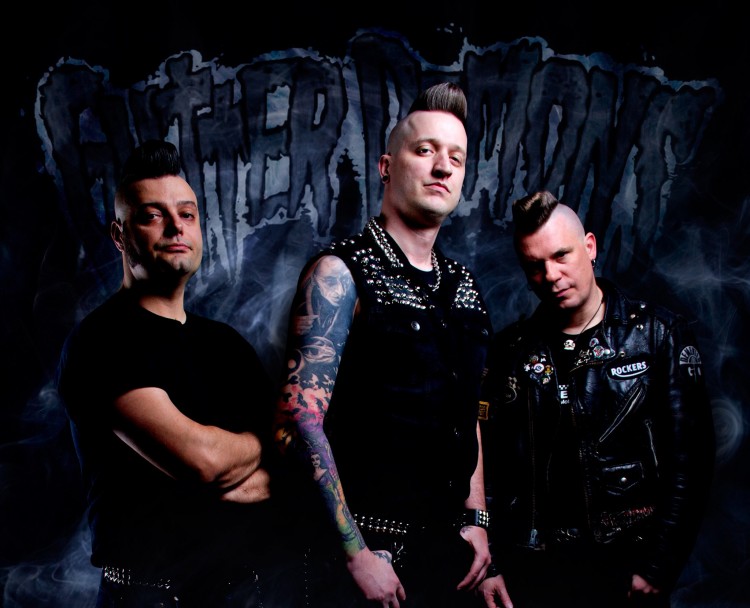 In many ways, touring is what it takes for a band to expand its appeal, hone its craft and become (usually) a tighter knit unit. Unfortunately, sometimes touring is required when the cold slap of winter is perpetually back-handing the planet.
With that in mind, Riffyou.com is asking a bunch of musicians what it's really like traveling the frigid roads and coming out the other side.
Today,  Johnny Töxik of Montreal Psychobilly band, The Gutter Demons, tells us about how his band handles the chilly climate.
RY: What vehicle do you use when touring and how does it handle cold weather touring?
Johnny: "Ford E-350 Econoline had been our main vehicle for years until we sold it – I don't remember exactly who needed to be bailed out back then. It's the best for winter season in my opinion compared to Volks-hippie-wagon. Always starts after the second try, big bumpers at the front and back and enough room for a bunk bed. Very warm too. Unless the radiator cracks on your way back from Halifax in February."
RY: Tell us about the worst, funniest, or scariest cold weather touring experience you've ever had. 
Johnny: "We drove through a pretty intense snowstorm once. Roadblocks, sliding cars and everything! Between Saguenay and Quebec City… In June!"
RY: What does your emergency roadside kit consist of? And how many shovels do you pack? 
Johnny: "Cigarettes, lighters, Old Crow, couple of Red Bull, 3 cellphones…. And no shovel!"
RY: How much does touring in a cold vehicle mess up a person's sleeping patterns?  
Johnny: "Not much in our case, since we don't sleep."
RY: If given the option, which weather condition would you rather drive in and why? A Blizzard, Freezing Rain or a Frosty and Wet Windstorm? 
Johnny: "I hung out with Wet Windstorm in Winnipeg, but I'm not gonna talk about it. Freezing rain can be pretty scary. No matter how heavy the van is, when you have to stop at a red light… well… you don't!"
RY: If you were only allowed to bring one of the following items on a winter tour, which item would it be and why? Winter Boots, Thermal Socks, Parka, Gloves, Long Johns, or a $100 Tim Horton's gift card?
Johnny: "Parka. Hands down. But not the fancy ones that cost more than 3 months of rent in Toronto. Ones from the army store, especially the Canadian Army's. Those are really warm and have lots of pockets. You have to buy one size bigger so it covers most of your legs and you can wear a big sweater under it. Winter boots would be close second. They don't look very cool but this is not high school anymore – wearing sneakers in winter is just plain stupid."
RY: What music do you play as you trudge through shitty, scary weather conditions? How does it help you out? 
Johnny: "Reggae. Reminds me of Switzerland."
RY: When touring in the cold, what's worse: loading your gear into a venue, or loading out after a gig? And why?
Johnny: "After for sure. when you sweat a lot during a show like we do, the cold goes straight to your bones. So loading out goes pretty fast."
RY: Have you ever been so cold on the road that you've considered retiring as a musician and finding a cubicle to forever call home? If not, what's the strangest thing to cross your mind during such a scenario?
Johnny: "That's a tough one. Never considered retiring because of the cold…and trust me, we've frozen our asses off more than once. To be honest, strange things cross my mind pretty much all the time. I have no excuse."
RY: What lessons have you learned while touring through the cold?
Johnny: "To never say: "Never again…'"
RY: What is one positive about touring in brutal weather as a band?
Johnny: "You get very close knit as a band (see what I did there?!) Winter is a big (and long) part of living in our country and it's also a big part of who we are. We are tough motherfuckers! You know that when people are crazy enough to go out when it's -40c to see a band crazy enough to drive all the way to their city, you can't go wrong!
"And that's more than enough to keep us warm."
The Gutter Demons' new album, Unfinished Business, is available now.
-Adam Grant
-Photo by: Frank Lam Photography