Q&A: Hoof-to-Hoof with Blóthar & Vulvatron of GWAR

For 30 years, GWAR has been gobbling up all the world's crack, turning backstage orgies into a bloody reservoir, before killing off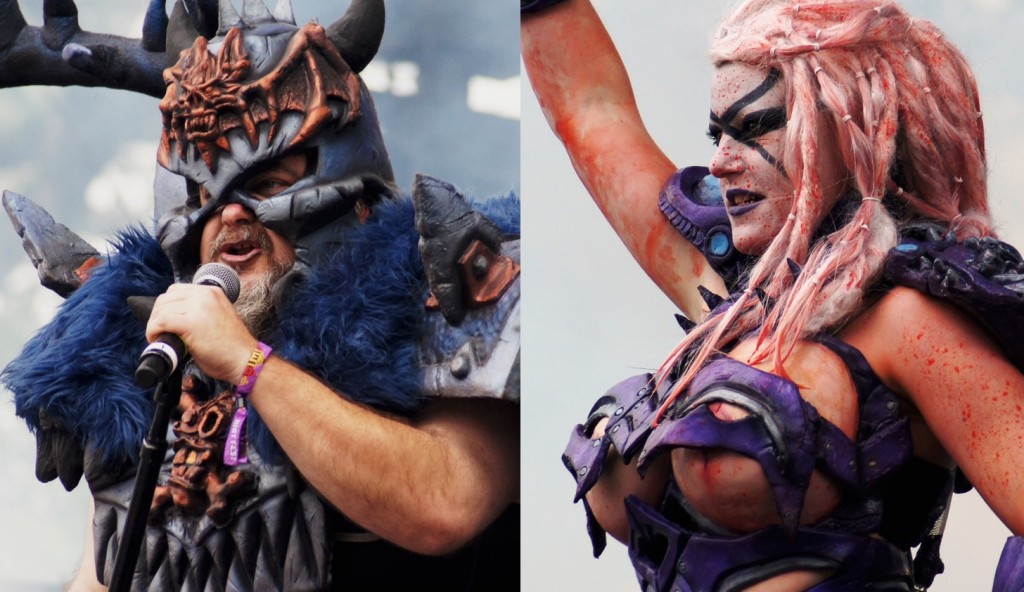 communities one parasitic, unworthy human at a time.
Earlier in 2014, their reign of terror was temporarily thrown off course by the sudden disappearance of GWAR leader, Oderus Urungus.
Unfortunately for earth dwellers, refuge can't yet be taken, as GWAR has chosen to soldier on and embark on the Eternal Tour, a North American trek in which the Scumdogs of the Universe hope to get answers with regard to what actually happened to Urungus.
Between making a new album, breaking eight balls and putting an end to the life of a desperate-for-love groupie, Riffyou.com caught up with Blóthar and Vulvatron, the new leaders of GWAR.
Together, we discussed Urungus, why humans are horrible, rubbing up against heavy girls, blood-squiring breasts, and who really created Ebola.
RY: You've both been thrust into this band following the disappearance of Oderus Urungus. Where do you think he went? 
Blóthar: "Since I've been sucked into this time, I'd think that it's a safe bet to think that he's getting sucked wherever he is. Chances are, he has been sucked into the future, or into the past…I don't know where he's at. Actually, he's probably holed up with a prostitute somewhere doing tons of weed. We'll find him one day. On the Eternal Tour, we will definitely divulge the fate of GWAR and Oderus Urungus."
RY: Do you think he's sitting back somewhere laughing at you, because he's now made Earth your problem?
Blóthar: "I know for a fact that he's laughing at me, because he's made GWAR my problem."
RY: Blóthar, what was life like for you before ending up in GWAR?
Blóthar: "Well, at one minute I was out fucking a Moon Moose – I wear that creature's hide on my back and shoulders – and I was successful. Then I laid down to take a nap and the next thing I knew, I was walking out on stage in front of 10,000 pre-pubescent boys with chlamydia. I didn't know what to do, so naturally I started singing the songs of GWAR. Some of [the band] wondered how I knew their songs, but every Scumdog knows the songs of GWAR."
RY: It's been known for some time that GWAR has zero faith in the human race. What makes the humans so terrible?
Vulvatron: "Lots of things. Your body armor is terrible. Your brain functions are highly under-utilized. The most intelligent members of your species use 10% of their neuron functions. You're entirely ill adapted to your environment. Evolution has completely failed your species."
Blóthar: "I would have to agree with that. Humans suck for all kinds of reasons. They're weak, as children they're dependent on their mothers…you're almost a mistake of the Gods. The other species on this planet are much more deserving of life than
humans. But humans seem to put themselves above all other creatures and the environment. That is a grave mistake."
RY: With your music, are you hoping to brainwash people at your shows so that they become easier prey for you? Or are you trying to convert them to practice life your way?
Vulvatron: "We don't need any help brainwashing them to take them as prey. They present themselves willingly for some reason."
Blóthar: "Absolutely. Humans seem to be willing participants in their own doom almost every time."
RY: Have you wondered if humans can be changed, or would you rather destroy them?
Vulvatron: "For now, we'll destroy them one city at a time…starting with the US and Canada, before the rest of the world."
RY: This tour is pretty big. How much of the population do you expect to wipe out?
Blóthar: "There's about 10 or 15 people in Canada that we're definitely going to kill. But, overall, I think 30-40,000 will be left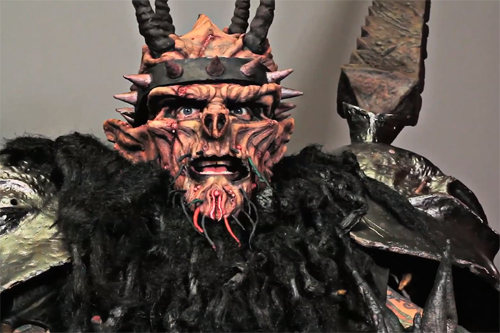 dead."
Vulvatron: "We'll hopefully wipe out more of the population than the current Ebola episode has accomplished."
RY: Could GWAR defeat Ebola?
Vulvatron: "We created Ebola."
RY: What was your motivation?
Vulvatron: "To kill the human race."
Blóthar: "That's true, but that's more of a pleasant side effect. Turns out that Ebola makes an excellent salad dressing."
Vulvatron: "And, it's low in calories!"
RY: When you're on tour, what's the backstage lifestyle like? A lot of orgies and a lot of blood shed?
Blóthar: "There are a lot of slaves running around trying to get things done. Of course, we never really appear until we show up
on stage. We're usually hovering over the venue in a bat-shaped helicopter, just waiting for the right moment for us to materialize. But in terms of backstage, we've had problems with Vulvatron. She's a cock block and takes all of the chicks that are backstage."
Vulvatron: "I pawn more of the weighty ones off on Blóthar because he seems to enjoy that."
Blóthar: "If you're reading this and you're a fat chick, meet me by the dumpster at the back of the venue."
RY: Why do you appreciate the heavier set women?
Blóthar: "Why do I appreciate fat chicks? Well, they're so grateful for one, actually," laughs. "But really, humans are too small. At least with the fat ones, there's something to hold onto."
RY: Now, how do you get these groupies? If they know anything about you, I'd assume that they have a death wish. Do you think they're turned on by impending death?
Vulvatron: "Definitely. I think they can recognize that we're superior beings and so they throw themselves at us. Be it death, or as sex slaves, they just want to be used in whatever way possible."
RY: Who is usually covered in the most blood after the orgies?
Blóthar: "Generally, the band is absolutely drenched in blood. The audience of GWAR – who are our victims – they can expect to be thoroughly soaked by many bodily fluids before they leave the show. Our victims are the most blood- and cum-stained."
RY: What does it say about humans that they want to be covered in that stuff?
Blóthar: "They're stupid, just stupid. What else needs to be said?"
Vulvatron: "I'm not well-versed in the desires of humans, so I assumed it was innate in your being."
RY: Vulvatron, your breasts shoot blood. Is this a normal tendency for women born in your native land?
Vulvatron: "Yes. In year 69,000 [where I'm originally from], females of the species – during a certain point in the monthly lunar
cycle – do extol blood from their various orifices…also, when agitated, excited, or annoyed. Most members of the species find this vastly erotic."
RY: How far can the blood be shot?
Vulvatron: "It depends on the attractiveness of the male species in front of me."
RY: How good is your aim?
Vulvatron: "Depends on the amount of alcohol I have consumed, prior to the spew."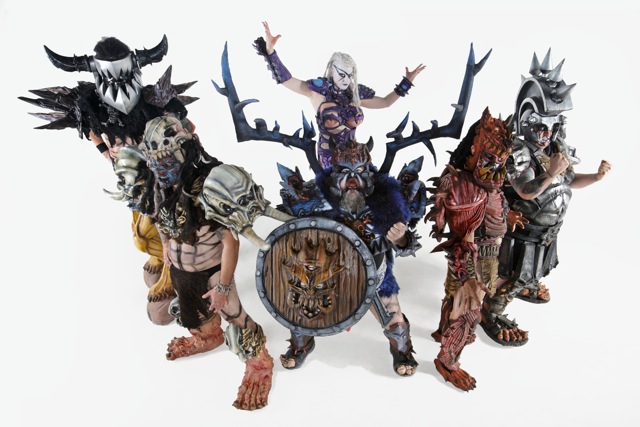 Blóthar: "It's usually pretty good. She manages to soak all of the equipment – and me – every night."
RY: Blóthar, are the men of GWAR jealous of this skill?
Blóthar: "Am I jealous? Personally, I think I have a better rack than Vulvatron."
Vulvatron: "His utters are quite ample."
Blóthar: "I, for one, find human breasts to be repulsive. In the case of super-human alien breasts…Vulvatron's are a little better than what humans have. But for me, I still prefer good ole fashion utters."
RY: What is it about utters that gets you going?
Blóthar: "In the substantiation of Blóthar, what people see is my hideous, four-pronged utter attack. Mine are simultaneously utters and penises. Since there's four of them, that's four-times the fun."
RY: Must be challenging to fit four heavier girls on there at the same time…
Blóthar: (Laughs) "I think you're misunderstanding me – mostly what I do is just rub on them until things trickle down."
-Adam Grant
Tour Dates:
GWAR W/ Decapitated and American Sharks:
10/30: Lawrence, KS @ Granada Theater
10/31: Denver, CO @ The Summit Music Hall**
11/1: Albuquerque, NM @ Sunshine Theater
11/2: Tempe, AZ @ The Marquee
11/3: Santa Ana, CA @ The Observatory
11/4: Reno, NV @ Knitting Factory Concert House
11/5: San Francisco, CA @ The Regency Ballroom
11/6: Hollywood, CA @ House of Blues
11/7: Las Vegas, NV @ Hard Rock Live
11/8: Magna, UT @ The Great Salt Air
11/10: Boise, ID @ Knitting Factory Concert House
11/11: Portland, OR @ Roseland Theater
11/12: Seattle, WA @ Showbox SODO
GWAR W/ TBA and American Sharks:
11/14: Vancouver, BC and Commodore Ballroom 
GWAR W/ Corrosion of Conformity and American Sharks:
11/15: Spokane, WA @ Knitting Factory Concert House
11/16: Calgary, AB @ MacEwan Hall Ballroom
11/17: Edmonton, AB @ Union Hall
11/19: Fargo, ND @ The Venue
11/20: Minneapolis, MN @ Skyway Theater
11/21: Milwaukee, WI @ The Rave
11/22: Detroit, MI @ Harpo's
11/23: Grand Rapids, MI @ The Intersection***
11/25: Indianapolis, IN @ The Vogue
11/26: Cleveland, OH @ House of Blues
11/28: Charlotte, NC @ Tremont Music Hall
11/29: Philadelphia, PA @ Electric Factory
11/30: New York, NY @ Irving Plaza
12/2: Nashville, TN @ Exit/In
12/3: Asheville, NC @ The Orange Peel
12/4: Pensacola, FL @ Vinyl Music Hall
12/5: Orlando, FL @ Firestone Live
12/6: Atlanta, GA @ The Masquerade
12/7: Columbus, OH @ Newport Music Hall
12/8: Millvale, PA @ Mr. Smalls Theater
12/9: Toronto, ON @ Opera House
12/10: Montreal, QC @ Virgin Mobile Corona Theater
12/11: Clifton Park, NY @ Upstate Concert Hall
12/12: New Haven, CT @ Toad's Place
12/13: Baltimore, MD @ Baltimore Sound Stage
 *No American Sharks
**Havok plays on this show
*** The Meatmen play on this show
**** Huntress plays on this show
Please be sure to follow us on Twitter @riffyou and at Facebook.com/riffyou.