Q+A: Stomp Records Celebrates 20 Years as a Home for Punks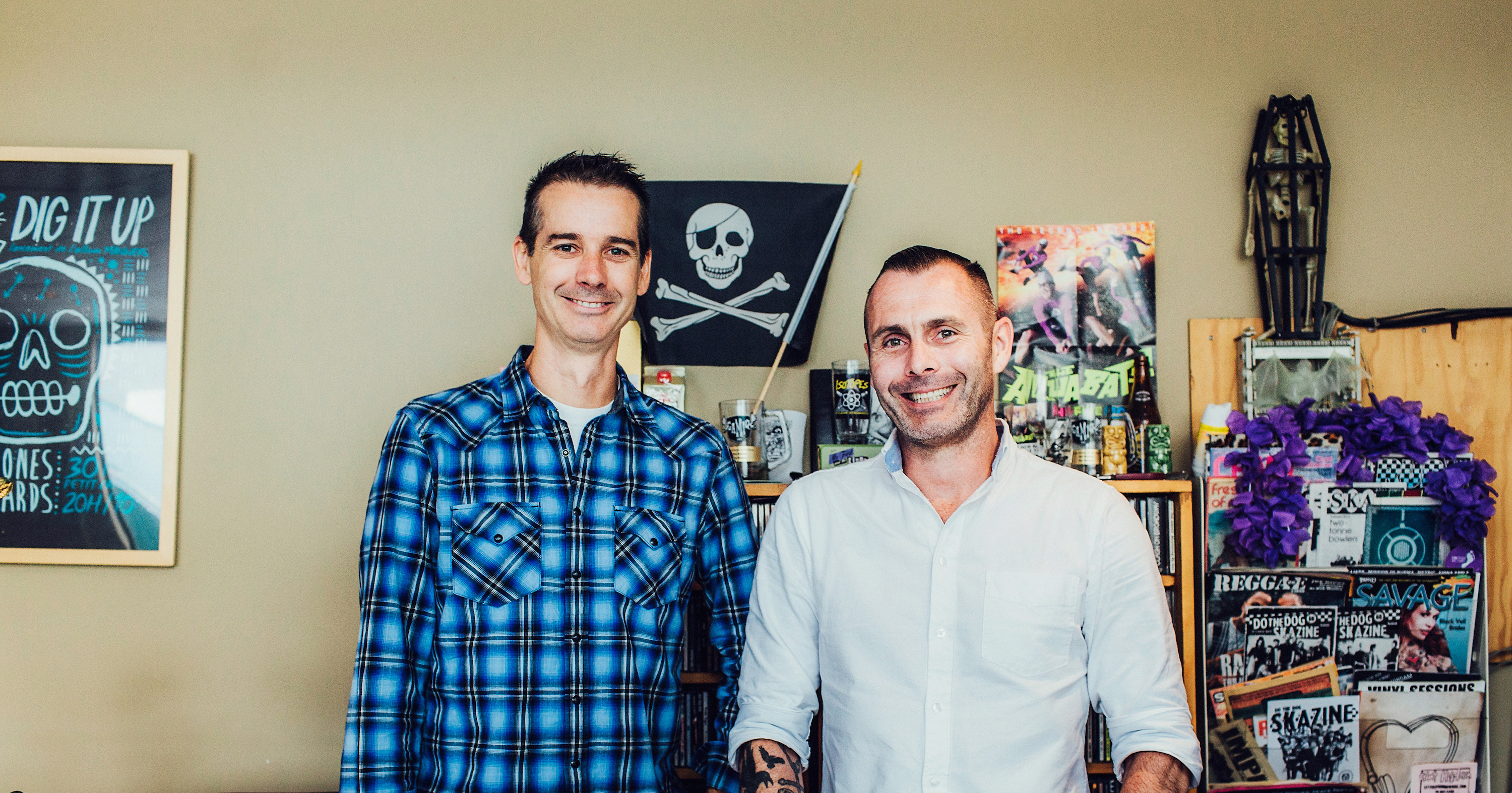 For 20 years now, Stomp Records has become one of Canada's most recognized and adored independent record labels. Based out of Montreal, QC, the punk-ska-reggae-rock label was founded by The Planet Smashers' Matt Collyer. Currently, Collyer and label VP and Co-Owner Mike Magee lead the company's charge.
During its time on the scene, Stomp Records has backed releases from the likes Simple Plan, Walk Off the Earth, The Planet Smashers, Bedouin Soundclash, Real McKenzies, The Aggrolites, The Creepshow, Brains, Glen Matlock (formerly of Sex Pistols), as well as younger, up and coming acts like The Penske File and BOIDS.
To mark this very special moment in the labels history, a special series of Stomp Records anniversary shows will take place in October and November (see the dates below.)
Ahead of that, Riffyou.com spoke with Magee about the early days of Stomp Records, the label's most memorable albums, plus what has helped the label survive and thrive.
RY: When thinking about 20 years of Stomp Records, what comes to mind first?
Mike: "Honestly it has to be all the good times we've had with the bands we've had the chance to work with. It's always been important that we're able to party our asses off with the bands on the roster and we've definitely done our fair share of that. Those connections that you make during tours and late night hangs in the studio are super important. All the people that have worked here past and present are all still really close friends that mean the world to us. So, yeah, I guess the short hippy-dippy answer would be the friendships we've made along the way."
RY: When was Stomp first considered a success? How much failure was met ahead of this point?
Mike: "I guess that would totally depend on who you asked. If you asked my dad, he'd tell you that we still have a long way to go before being a success. I personally like to think we're a solid record label with a good reputation and that, at least to me, equals successful. We've definitely had some dark times and learned a lot along the way, but I prefer to keep looking forward rather than looking back on our silly mistakes and fuck ups."
RY: The punk scene is often viewed as a community and sometimes a family. How much of that element has helped Stomp get to where it is today?
Mike: "It was and still is a HUGE element! There's an awesome network of fans, clubs, promoters, labels and media out there that support the scene unconditionally – from providing a place to crash for a touring band or taking a chance on booking a band at a local venue to deciding to write an article about them, there's some seriously great people out there that keep this amazing community alive and well."
RY: How has being a Montreal-based label influenced Stomp?
Mike: "Montreal's an amazing city for arts and music. Matt Collyer moved here from Toronto and decided to stay because he loved it so damn much. I moved here from Halifax and was immediately head over heels for the place. The scene here is really accepting and inclusive and incredibly creative. You don't find that shitty competitive bullshit here that you see in other towns. Plus rent and booze is crazy cheap."
RY: The music business has obviously seen better days. What allows Stomp to continue on? What practices have you embraced to ensure survival?
Mike: "We've always been an underdog, so we're really good at rolling with the punches. We're generally really humble guys and don't need to be a bunch of pretentious wannabe ballers riding around in fancy
cars, doing blow off of gold cards to feel good about ourselves. We mainly just try to use common sense and some ingenuity to make as much as an impact as we can for our artists, with the tools we have available."
RY: How have your criteria for which bands you sign evolved over the years?
Mike: "I'm not sure it's changed too much, but I think we've learned to avoid some of the early warning signs to look for when signing bands. Stuff like having unrealistic expectations, or being scared of touring, or having crazy, big, inflated egos. The main thing for us is that we love the music and can get along with the bands as people. After that, it's just details."
RY: Many fans will immediately identify Stomp with a band like The Planet Smashers. But, which other bands do you consider to have had the biggest impact on the label? And why?
Mike: "They'd be absolutely right to identify the Smashers with Stomp. Those guys started it all and are still one of the most fun, craziest bands on the label. There are tons of other great bands that added to the history label. Working with The Creepshow is a huge highlight for me. The Real McKenzies are a riot and are still teaching us old-school tricks of the trade. The Flatliners were a ton of fun…The Brains, Isotopes, The Penske File, Saint Alvia, Belvedere have also been great, but there are too many bands to mention, really. Of course there have been a few bands that did extremely well commercially, but were dicks (or became dicks), so fuck them."
RY: Which Stomp album would you consider the label's best, or most crucial release?
Mike: "Shit. That is an impossible question to answer. We've put out over 150 records and I'm very close to most of them. I'd have to say (in no particular order) Planet Smashers' Life Of The Party, because it blew up and cemented the band as an international force. Also, Bedouin Soundclash's Sounding A Mosaic because it was a ska/reggae influenced album that went platinum and won a JUNO award; The Flatliners' The Great Awake because it just a great fucking record; and The Creepshow Run For Your Life because I love those guys and that was the start of working with them. I could go on forever, but I'll shut up now."
RY: What does Stomp need to do to ensure another 20 years of existence?
Mike: "Liquor. Stomp needs lots and lots of liquor to continue for another 20 years."
RY: What is one thing fans don't know about Stomp Records that they should?
Mike: "We listen to Taylor Swift in the office on almost a daily basis…actually, nobody should probably know that."
-Adam Grant
-Photos by: Steve Gerrard
Tour Dates:
Oct 23rd – Montreal @ Club Soda – w/ Planet Smashers, SUBB, Beatdown, DRKGB
Oct 24th – Quebec @ Le Cercle – w/ Planet Smashers, SUBB, Beatdown
Oct 29th – Quebec @ L'Anti – w/ Brains, Los Kung Fu Monkeys, East End Radicals
Oct 30th – Montreal @ Katacombes – w/ Brains, Los Kung Fu Monkeys, East End Radicals, Kman + 45s
Oct 31st – Toronto @ Horseshoe Tavern – w/ Brains, Los Kung Fu Monkeys, East End Radicals
Nov 1st – Ottawa @ Mavericks – w/ Planet Smashers, Brains, Los Kung Fu Monkeys, East End Radicals
Nov 13rd – Vancouver @ Rickshaw – w/ Real McKenzies, Brains, Isotopes, Los Kung fu Monkeys, Rude
City Riot
Nov 5th – Calgary @ Ship and Anchor w/ Brains, Raygun Cowboys, Los Kung Fu Monkeys
Nov 20th – Toronto @ Lee's Palace – w/ Planet Smashers, The Creepshow, Beatdown
Nov 21st – London @ Call The Office – w/ Planet Smashers, The Creepshow, Beatdown
Please be sure to follow us on Twitter @riffyou and at Facebook.com/riffyou.