Rancid Returning with New Album, "Honor is All We Know"

Top-of-the-mountain punk rockers, Rancid, have announced that they will soon be releasing their eighth studio album, Honor is All We Know.
Recorded at the Boat/Red Star in Los Angeles, Rancid's first studio album since the truly enjoyable 2009 affair, Let the Dominoes Fall, was produced by Epitaph boss and Bad Religion guitarist Brett Gurewitz.
While we don't have a release date as of yet, the tracklisting and album artwork has been revealed. Have a look!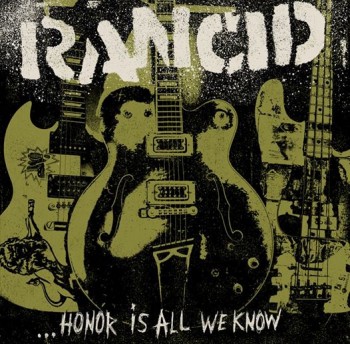 Honor is All We Know tracklisting:

1. "Back Where I Belong"
2. "Raise Your Fist"
3. "Collision Course"
4. "Evil's My Friend
"
5. "Honor is All We Know"
6. "A Power Inside"
7. "In the Streets"
8. "Face Up"
9. "Already Dead"
10. "Diabolical"
11. "Malfunction"
12. "Now We're Through With You"
13. "Everybody's Sufferin'"
14. "Grave Digger"
Please be sure to follow us on Twitter @riffyou and at Facebook.com/riffyou.