Riot Fest Returning for 10th Year

The wonderfully rockin' Riot Fest will return this September for its tenth go around. Toronto will kick things off on September 6-7,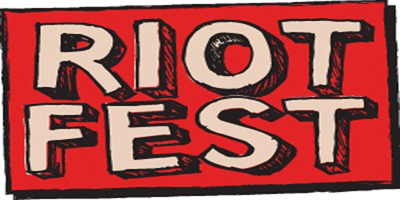 followed by Chicago (September 12-14) and Denver (September 19-21).
Organizers boast that the Toronto and Denver shows will have more stages and music than before, and feature a larger number of carnival rides, attractions, and diverse food options (including regional offerings). Meanwhile, "special events and surprises" in relation to the 10th anniversary of Riot Fest in Chicago will be unveiled soon.
Riot Fest started as a multi-venue festival within the Chicago club scene, but now brings rather impressive bills to multiple cities. Last year, the festival managed to pull The Replacements out of retirement, while also bringing audiences the likes of Iggy Pop & The Stooges, Blink-182, Rancid, Motorhead, Public Enemy, Against Me!, Bad Religion, Blondie, and GWAR.
Performer and venue details are to be announced soon.
Please be sure to follow us on Twitter @riffyou and at Facebook.com/riffyou.