Seeing Springsteen: A Perspective from the Pit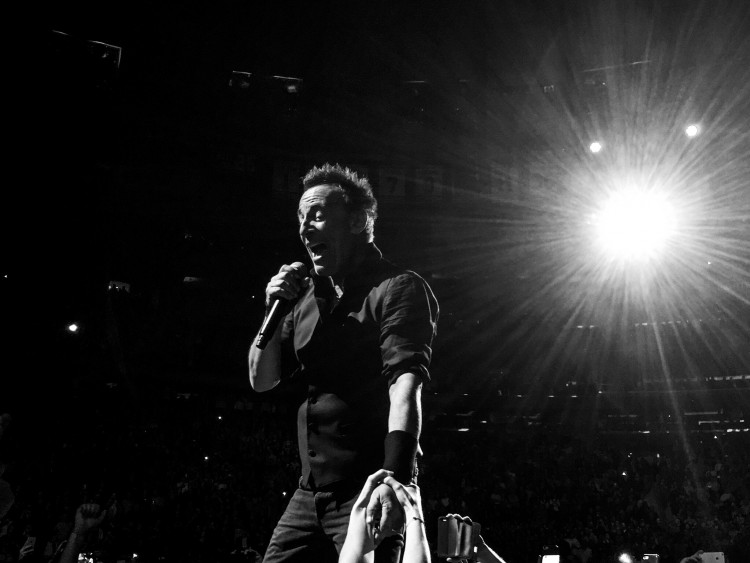 Bruce Springsteen introduced the E Street Band's performance of his 1980 double-album The River by proclaiming his recipe: "I wanted the record to contain fun, dancing, laughter, jokes, politics, sex, good comradeship, love, faith, family, lonely nights and, of course, teardrops.'
At 66-years-old, his marathon performances average around the three-hour length. These dramatic numbers are a treasured characteristic. The River itself features 20 songs, groomed from 104 E Street Band demos that followed 95 self-recorded demos on Bruce's tape recorder.
Witnessing his unwashed congregation at Madison Square Garden in New York City is an incomparable moment. His branded lyricism, circulates the city and the tri-state area, is matched by machismo, and stamina of the E Street Band that includes original bassist Garry Tallent, resident muse Stevie Van Zandt and Jake Clemons on the saxophone, testifying to his late uncle Clarence.
It's the blueprint for nearly any prolific musician since John Landau "saw rock and roll future." Proof of the influence is reflected on the faces in the crowd. On this night, Adam Duritz of Counting Crows blasted his fist into the air from the front-row and on other occasions there have been Canadian troubadours like Joel Plaskett and Arkells' Max Kerman found amongst them.
There's a certain level of trust as demonstrated by his crowd-surfing prowess during "Hungry Heart" and a level of vulnerability, as documented through the prelude to his haunting father-and-son lament, "Independence Day": ""It's a song you write when you're young, and you're first startled by your parents' own humanity." The climax of the evening reached with the house lights up for the testosterone-fuelled barn burner, "Rosalita (Come Out Tonight)" doubled with a refined adolescent version of The Isley Brothers' "Shout." And then it was over.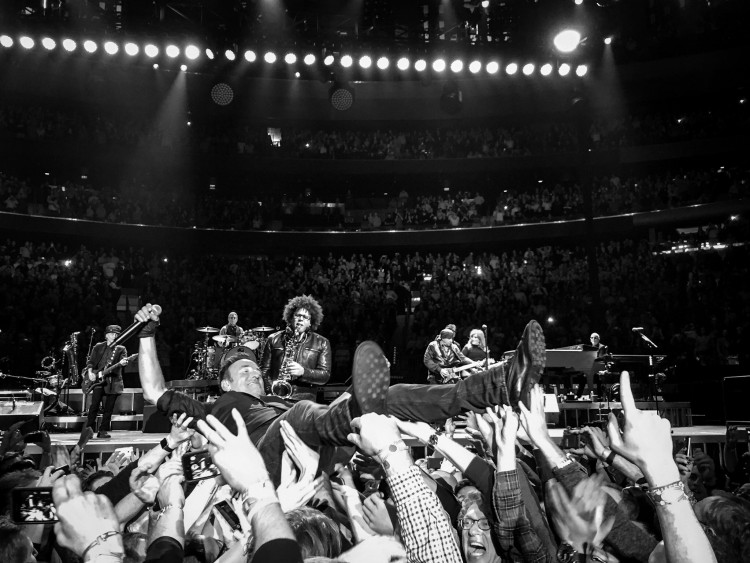 Stage antics are rightfully celebrated, but the moments within the crowd, conversations between sweater-belt businessmen to busted-up, middle-aged frat boys to millennial devotees like myself, is where the music keeps warm. Each conversation consists of memories of the first show, the pivotal record purchases and personal connections through melodies about gas shortages, broken promises and Burt Reynolds that have been the kindling for relationships.
These aren't Deadheads or Beliebers, Maggots or Little Monsters. Those that spend nights with Springsteen are often white men with a beer in hand, but there are no social or economic boundaries or political limitations – his fandom spectrum ranges from Chris Christie to President Barack Obama. These music fans are undefinable. It's an obsession, but one that many are not afraid to scream out loud.
While the soundtrack of this year has been profoundly dictated by mortality, opportunities to celebrate our heroes should be honoured and documented in memory.
Springsteen has made a career of that concept with frequent hat tips to Bo Diddley, The Beatles in his song and more directly, covering his contemporaries like David Bowie, Glenn Frey and beyond.
Buy the ticket. See the show. If you don't understand it now, you'll regret it when you do.
-Colton Eddy