Third Man Records Releasing White Stripes Live Album

It's seemingly never a bad time to be a fan of Jack White's Third Man Records, or any of his bands. As part of his ongoing Vault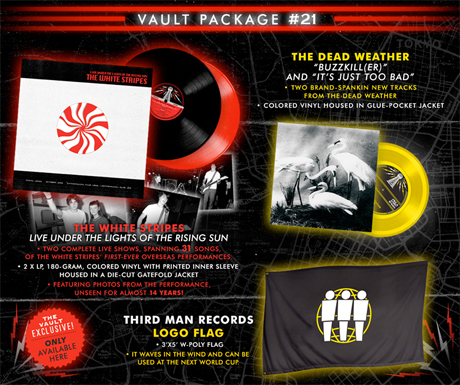 music subscription program, a package consisting of a new White Stripes live double-vinyl and a Dead Weather 7" is now available.
The White Stripes album, Live Under the Lights of the Rising Sun, consists of 31-tracks recorded during the band's first-ever tour overseas in October 2000. The music comes on coloured 180-gram vinyl, while the packaging features images taken from the performances.
Meanwhile, The Dead Weather's 7" is comprised of the brand new tunes "Buzzkill(er)" and "It's Just Too Bad." This gold-coloured vinyl offering will help pave the way for the band's forthcoming 2015 release.
In addition to the music, this Vault package will come with a 3'x5' Third Man Records flag, which the label says "can be used at the next World Cup."
For those who don't have a Vault membership as of yet, you have until July 31 to sign up and qualify for this beautiful $60 offering.
-Adam Grant
Please be sure to follow us on Twitter @riffyou and at Facebook.com/riffyou.