Watch Prophets of Rage Perform in L.A.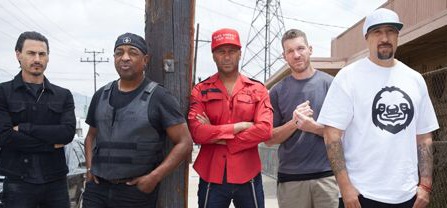 Last night at the Whisky A Go Go in Los Angeles, Prophets of Rage – featuring Tom Morello, Tim Commerford and Brad Wilk of Rage Against the Machine, along with Public Enemy's Chuck D. and Cypress Hill's B-Real – performed their first very first gig and fortunately some fan-shot footage of it has already surfaced.
"Prophets of Rage combines the sonic power of Rage, Public Enemy and Cypress Hill. It's my contention that we can no longer stand on the sidelines of history," said Morello in an interview with Rolling Stone. "Dangerous times demand dangerous songs. Both Donald Trump and Bernie Sanders are both constantly referred to in the media as raging against the machine. We've come back to remind everyone what raging against the machine really means. It's a voice that's been missing too long in the national/international dialogue and it's back. What better place than here? What better time than now?"
We don't know if Prophets of Rage will perform any further shows (like outside the Republican Convention?), so let's enjoy what we have right now.
We'll update with more footage of the show as it becomes available.
-Photo by Rolling Stone
Setlist (as reported by Pitchfork):
Prophets of Rage (Public Enemy)
Guerilla Radio (Rage Against The Machine)
Bombtrack (RATM)
Miuzi Weighs A Ton (PE)
People of the Sun (RATM)
Rock Superstar (Cypress Hill)
Testify (RATM)
CH/PE Medley ("Shoot Em Up" > "Can't Trust It" > "Insane In the Membrane" > "Bring The Noise" > "I Ain't Going Out Like That" > "Welcome To The Terrordome")
Sleep Now In The Fire (RATM)
New Song (probably called "Shut Them Down")
Know Your Enemy (RATM)
The Party's Over (Prophets of Rage)
No Sleep 'Til Brooklyn/Fight The Power (Beastie Boys/Public Enemy)
Bulls On Parade (RATM)
Killing in The Name (RATM)