Weezer & Death Cab for Cutie Helped The Monkees Make a New Album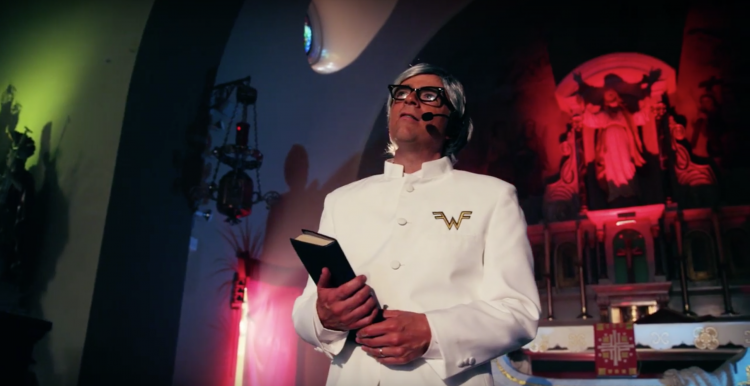 There is some news you never see coming, like the news that old-school pop-rockers, The Monkees, will celebrate its 50th anniversary by putting out its first album in 20 years – with the help of some accomplished modern music figures.
According to a since-deleted Amazon.com product description for The Monkees' forthcoming Good Times album (available June 10 through Rhino), Weezer's Rivers Cuomo and Death Cab for Cutie's Ben Gibbard have contributed songs.
Here's said product description, originally shared by the folks at the Monkees Concerts fan site:
"The Monkees are ready to have some fun this year as the iconic band celebrates its 50th anniversary with a tour and the group's first new album in 20 years, appropriately titled GOOD TIMES. Much like The Monkees early albums, GOOD TIMES features tracks written specifically for the band by some of the music world's most gifted songwriters, including Rivers Cuomo (Weezer), Ben Gibbard (Death Cab for Cutie), Andy Partridge (XTC), and Zach Rogue (Rogue Wave). The album also includes songwriting contributions by Nesmith (I Know What I Know) and Tork as well as producer Adam Schlesinger (Fountains of Wayne.)
"To help bring the anniversary full circle, The Monkees completed songs for GOOD TIMES that were originally recorded & written for the group during the 60s, including Love To Love by Neil Diamond, which features a vintage vocal by Davy Jones. Harry Nilsson wrote the title track Good Times, which he recorded at a session with Nesmith in January 1968. The production was never completed, so the band returned to the original session tape (featuring Nilsson's guide vocal) and have created a duet with his close friend Dolenz. Good Times will mark the first time Dolenz and Nilsson have sung together since Dolenz May 1973 single Daybreak. Other vintage 1960s tracks included on GOOD TIMES feature L.A. s famed Wrecking Crew of session musicians."
Update: In a new interview with Rolling Stone, Monkees member Mickey Dolenz just confirmed the album and its contributors. It's also been revealed that ex-Oasis member Noel Gallagher will be contributing some to it as well. Here's what Dolenz had to say:
"I'm not a big music listener outside of Frank Sinatra during martini hour. But I began doing research and I realized that the whole indie rock scene is all about recapturing that 1960s jangly guitar sound of the Monkees, amongst many other groups, of course. One reason we don't have a final track listing yet is because once we put the word out all these people said they wanted to get involved."
Whoa.