WIN "THE WHO HITS 50" CD!

The Who may now be 50-years-old, but they could still kick the crap out of your favourite band. With blasters in their arsenal like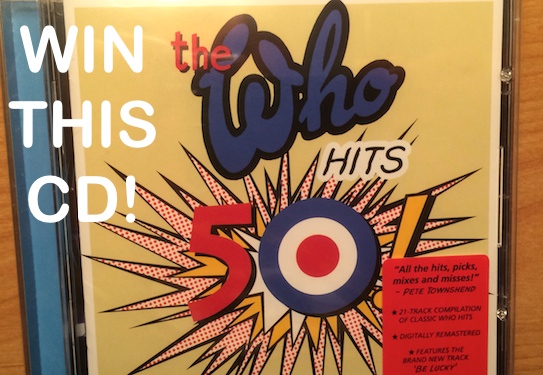 "Baba O'Riley," "My Generation," "Won't Get Fooled Again," and "Pinball Wizard," it's hard to find many groups with this much longevity, as well as enough timeless material to move ahead with.
To celebrate their half-century anniversary, Universal Music has released The Who Hits 50, a killer 21-song career retrospective. All tunes have been digitally remastered, while fans are also being treated to one new offering, "Be Lucky."
Guitarist Pete Townshend describes this package as "all the hits, picks, mixes and misses!"
We have a spare copy of The Who Hits 50 CD sitting on our desk that we'd like to give to one lucky winner.
How do you enter?
All you have to do is follow us on Twitter @riffyou or at Facebook.com/riffyou, and share/RT this page. Please use #riffyouWHO to ensure that we see your entry. 
Contest closes Wednesday, November 19 at 5pm EST. The winner will be selected at random, and contacted shortly thereafter. The winner will be contacted through Twitter or Facebook.
We will also include some Riffyou.com swag with your CDs…because we're nice like that.
Good luck!
Please be sure to follow us on Twitter @riffyou and at Facebook.com/riffyou.