WIN THE NEW WEEZER ALBUM HERE!

Let's face it: Weezer is awesome. Even when they put out an album that the majority perceive as bad or too weird to handle, there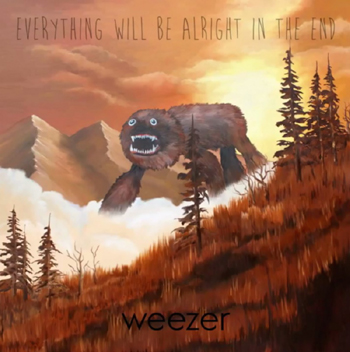 are always a few gems hidden in there.
However, everyone seems to love Everything Will be Alright in the End, including Riffyou.com.
With that said, we have two extra copies of the album just sitting in our office that we'd like to giveaway.
Want to win a copy?
All you have to do is follow us on Twitter @riffyou or at Facebook.com/riffyou, and tell us which Weezer song is your absolute favourite. Please use #riffyouweezer to ensure that we see your entry.
Contest closes Wednesday, October 28 at 5pm EST. The two winners will be selected at random, and contacted shortly thereafter. Winners will be contacted through Twitter or Facebook.
We will also include some Riffyou.com swag with your CD…because
we're nice like that.
Good luck!
Please be sure to follow us on Twitter @riffyou and at Facebook.com/riffyou.