WIN TICKETS TO KOI MUSIC FESTIVAL (SEPT. 19-21)

Would you like the chance to win a pair of tickets to KOI Music Festival in Kitchener, ON, from September 19-21?
If so, follow us on Twitter @riffyou, or at Facebook.com/riffyou, and tell us which band you'd like to see the most. Be sure to use #riffyoukoi so that we see your entry.
Contest closes Thursday, September 18, 2014 at 12pm EST. The winner will be contacted shortly thereafter.
Performers include: Danko Jones, Teenage Kicks, Trouble & Daughter, The Baudelaires, Arrows into Oceans, The Medicine Hat,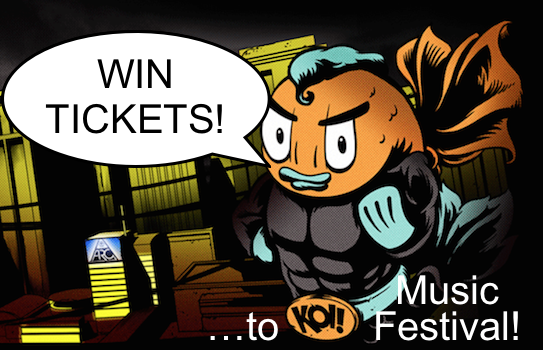 Stained Glass Army, 7T8, Every Time I Die, Chiodos, Four Year Strong, Mad Caddies, Miss May I, Foxy Shazam, Counterparts, Handguns, Man Overboard, Such Gold, Wildlife, The World is a Beautiful Place and I Am No Longer Afraid to Die, Mixtapes, Matadors, Front Porch Step, Die Mannequin, Courage My Love, Mandroid Echostar, The Beaches, Expire, Coldfront, Ritual, Prophets, SayWeCanFly, Like Pacific, Safe to Say, Party Cat, Sleep When You're Dead, USS (Ubiquitous Synergy Seeker), Protest the Hero, Silverstein, Courage My Love, The Front Bottoms and The Balconies. For the full list of bands, click here!
To learn more about this festival, read our interview with KOI Co-Founder Cory Crossman.
Please be sure to follow us on Twitter @riffyou and at Facebook.com/riffyou.