20 Years Ago: Pearl Jam Gets Weird on Vitalogy

By the time Pearl Jam got to making 1994's Vitalogy, they were one of the many flannel-clad bands that emerged out of the rainy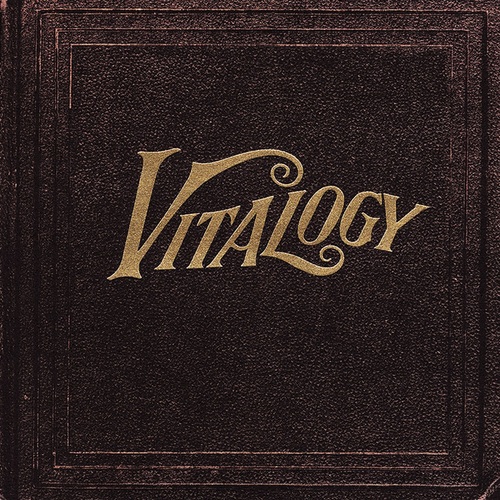 pacific northwest and shed some light on the current rock scene.
Their debut, 1991's Ten, was [and still is] a massive album. Bang, there's "Alive." Smack, look out for "Even Flow." Kaboom, here's "Jeremy." Whoosh, enter "Black." And, that's not to forget about the serene "Oceans"; throbbing "Porch"; and exquisite "Garden." Eventually, it would go on to sell more than 10 million copies.
With 1993's Vs., Pearl Jam still gave what those who loved Ten would've expected from a follow-up: "Go," "Animal," "Dissident," and "Rearviewmirror." But, what was also given was an inclination – through "Daughter" and "Elderly Woman Behind the Counter of a Small Town" – that there were other levels to Eddie Vedder and the fellas.
On November 22, 1994, enter Vitalogy. Released initially on vinyl before getting the CD and cassette (remember those?) treatment two weeks later, what Pearl Jam presented was an album that first gave us the impression that they could exit the big, classic riff and hook rock record world, and get a little weird.
The gloss was nowhere to be seen. The closest to shiny this album ever got was when it was still in the shrink-wrap. Production was minimized; a specific album direction wasn't adhered to; and despite efforts like "Better Man" and "Corduroy," Vitalogy sounded like an album Pearl Jam wanted to make as a swift reaction to the quick and steady rise they'd been on. The album might as well have been titled, How You Like Me Now? or You Were Expecting What, Exactly?
This, almost like Nirvana's Nevermind follow-up, In Utero, felt like an offering designed to challenge the audience and separate the bandwagon hoppers from the bandwagon drivers.
Over the years, it's become learned that Vitalogy was made during a time where everything inside the band wasn't all warm and fuzzy. There were communication issues, substance abuse, as well as rushed writing and recording sessions. It's also reportedly the first album in which guitarist Stone Gossard stopped being the band's mediator and Vedder made the final decisions.
Internal workings aside, Vitalogy is not an easy album for the listener…at first. Album openers "Last Exit" and "Spin the Black Circle" (the latter presumably about heroin), were as punk as Pearl Jam had, or has, ever been, but were immediately followed up by "Not for You," a sprawling, gloomy, medieval sounding rocker about not giving everything up and encouraging the notion of "…if you hate something, don't you do it too."
"Tremor Christ" offered some room to breathe, but is ultimately one of those songs that only your brain can describe when immediately exposed to it. From an artistic standpoint, this one was a big step onto the ledge, but one with firmly planted feet.
"Nothingman," meanwhile, may be one of the best sounding and expressive sad songs about lost love and loneliness that ever made its way out of the '90s. Meanwhile, "Immortality" and its chord-to-chord blues vibe seemed like a long stretch away from "Last Exit" and "Spin the Black Circle," but was in reality just separated by 11 and 10 songs, respectively.
The most obvious throwaway that Vitalogy gave us was "Bugs." Based on what we know about Vedder now, it's very possible that he wasn't just speaking about creepy-crawlers…perhaps he was actually talking about being bugged, and we all missed the point.
As noted, what really brought Vitalogy to life for Pearl Jam was "Better Man" and "Corduroy." While the former (despite how people try to twist the meaning) is not a love song, it does carry with it a strong enough sentiment of romantic settling, that to this day still encourages an arena-sized sing-along at every gig. The latter, "Corduroy," brings with it one of Vedder's best and most transcendent lyrical episodes: "I don't want to take what you can't give / I would rather starve than eat your bread / I would rather run but I can't walk / Guess I'll lie alone just like before…" and on it goes.
To this day, I'll take Vitalogy ahead of Ten and Vs. There's something strange, beautiful and defiant about this recording that makes me feel equally empowered and vulnerable each time I listen to it. As previously said, this is not an easy record, nor was it meant to be. It was meant to ready Pearl Jam fans for the ride that was ahead – one that continues to defy convention and writes its own rules along the way.
-Adam Grant
Please be sure to follow us on Twitter @riffyou and at Facebook.com/riffyou.