About / Submit Your Reviews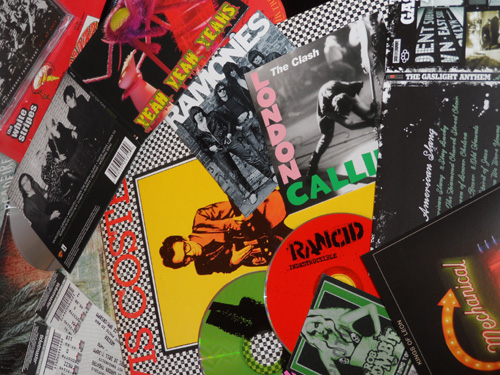 About the Editor
Adam Grant is a graduate of Mohawk College's Journalism & Communications Media program. He has spent most of his life engulfed by music, be it through his bedroom stereo speakers; the headphones attached to his iPod; and through countless ear-ringing nights in concert clubs and arenas. Most importantly, during his 10+ years as a member of the music press, he has had the opportunity to interview the up-and-comers; new and awesomes; stalwarts; and legends of the music industry.
That list (not complete, and in no particular order) includes: Alice Cooper, Marky Ramone (Ramones), Jack White (The White Stripes, The Raconteurs), Bad Religion, Randy Bachman (The Guess Who), Henry Rollins, Ian MacKaye (Fugazi), Rob Halford (Judas Priest) Arctic Monkeys, The Airborne Toxic Event, The Strokes, Nickelback, Geddy Lee (Rush), Bruce Cockburn, Jordan Knight (New Kids on the Block), Mandy Moore, Our Lady Peace, Il Divo, Daniel Lanois, Blue Rodeo, Sarah Brightman, Queen, Meatloaf, Anne Murray, Moby, Against Me, Goldfinger, Finger Eleven, Ministry, Jimmy Eat World, Muse, The Tragically Hip, Stars, The Hives, Three Days Grace, Disturbed, The New Pornographers, Killswitch Engage, Fall Out Boy, My Chemical Romance, AFI, The Transplants, Metric, Matthew Good, The Flaming Lips, Velvet Revolver, Wolfmother, Billy Talent, Anti-Flag, Michael Buble, Alexisonfire, Stereophonics, The Weakerthans, Tokyo Police Club, City and Colour, The Kooks…and more.
If you have questions, compliments, complaints, or a willingness to participate in Riffyou.com, Adam can be reached at: editor@riffyou.com.
Also, you can keep up with us at Facebook.com/riffyou and Twitter.com/riffyou.
Submit Your Reviews
RiffYou.com is a music news and reviews site designed to encourage readers to participate in the process. Instead of having a team of editors and staff writers directing all coverage, a lot of the power will be put into the hands of the truest music lovers of them all…you!
Have questions for the bands that fill your ears?
Seen a heart-stopping show?
Been wrapped in an album that has changed your life?
Experienced an awful performance or album that makes you want to slap those responsible?
If so, RiffYou.com wants to hear from you! Forward your reviews to editor@riffyou.com and we'll be happy to share your story with the world. You don't need to be a professional writer or journalist, just someone with a passion for music.
Click here for full review submission details.