Album Insights: Yukon Blonde Discuss "On Blonde"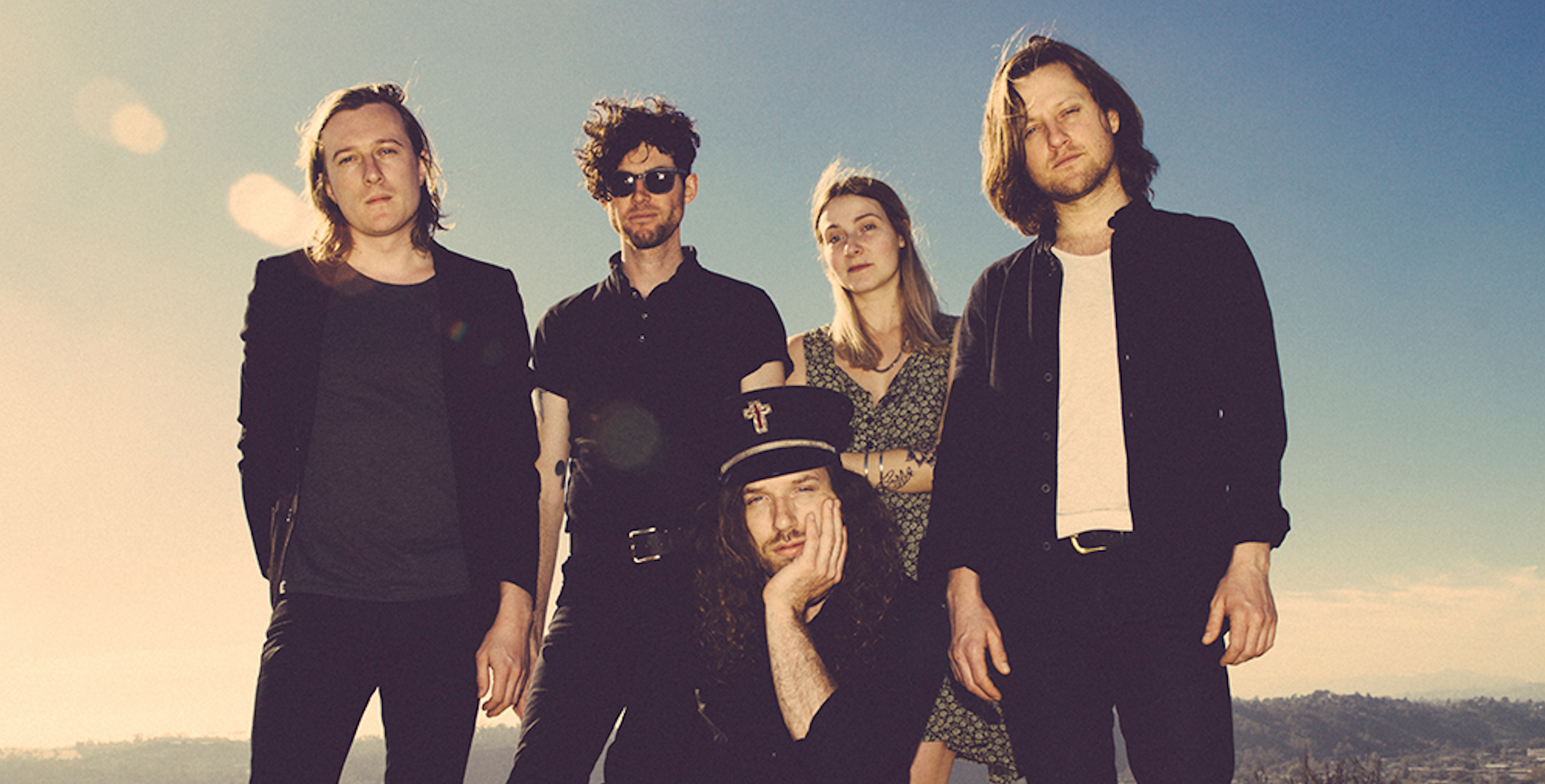 Sometimes, a band just wants to dance. Other times, a band wants to change its course. Most of the time when both of these things happen, a band like Yukon Blonde puts out an album like On Album, the group's unapologetic shift toward an evening larger rump-shaking sound.
With On Blonde, Yukon Blonde – Jeff Innes (vocals, guitar), Brandon Scott (guitar), James Younger (bass), Graham Jones (drums) and Rebecca Gray (synthesizers) – cranked up the synth-sound for an album that expounds upon the cool points the band was able to bank after releasing 2012's Tiger Talk.
In this edition of Album Insights, we asked Yukon Blonde's James Younger about the decision to get dancier, not making that sound too cheesy and how scary the sound shift was for the band.
The Challenge of Incorporating Synthesizers
"It's fun to record with them because the span of the synthesizer is massive – the soundscapes are way bigger than what a guitar can give. You're able to fill space very quickly, so you have to be aware of what needs to be there. We tried to keep things really simple with parts. If there's a riff, make sure that initial riff pops through – don't cover it with guitar strumming, extra symbols, or too much shit."
Avoiding the Cheese Factor of Dance Music
"That's a delicate situation where you have to tread lightly. I feel that Jeff's really good at writing dance songs – he's always wanted to write dance songs – and they're especially fun to do in festival settings, so that you can get people moving. I don't know how to make it cheesy, but I think there are certain sounds you just need to pick. If you're using triggers and stuff like that, don't use cheesy sounds. Use [sounds] Prince used. He can get cheesy, but he's a great songwriter, so it works."
Fear of Going Off Course
"At first when were making this album, we thought, 'Whoa, this is really weird.' We started sending it off to [Dine Alone Records] and our manager, wondering how they felt about it. We were told that it wasn't too crazy of a departure [from our previous albums.] – that made us get out of our own heads."
Capitalizing on Added Attention 
"I just want these new songs to sound really good live. Our main focus has been to get them really dialed-in so that we can do our best on tours. It did help to have Tiger Talk boost us, and then have this album carry on from there. We took a bit of a break [before releasing On Blonde] so it was nice to see that we still have all of these followers, fans, friends and family who come out to shows."
To Review, or Not Review the Reviews
"We definitely don't let reviews get to us. I try not to read reviews, because even if it's a good one, I don't want to feed any egos. We don't want that kind of vibe. And if there's a bad review, you're just going to feel like shit all day. I try to stay away from that kind of stuff, but it's nice to see radio hopping on a few songs – that's been really great for 'Saturday Night' so far."
The Feeling On Blonde Gives You
"This is the best lineup our band has seen. We have two new members now and it's really changed how we approach everything: practicing, to touring, to mindfulness, etc. It all seems to be working out really well finally. It's taken us a long time to find that balance within the band. With this album, I get more of a calming feeling from it."
-Adam Grant
Yukon Blonde Canadian + International Tour Dates:
Aug 21 – Golden, BC @ Golden Sound Fest
Aug 22 – Oliver, BC @ Tinhorn Creek Winery
Sept 8 – Sydney, Australia @ Newtown Social Club
Sept 9 – Brisbane, Australia @ Big Sound Festival
Sept 10 – Melbourne, Australia @ Shebeen
Sept 16 – Charlottetown, PEI @ Prince Edward Island Brewing Company
Sept 17 – Moncton, NB @ Tide and Boar
Sept 19 – Fredericton, NB @ Harvest Jazz & Blues Festival
Sept 21  – St. John's, NL @ Rock House
Sept 26 – Hamburg, DE @ Reeperbahn Festival
Sept 27 – Utrecht, Holland @ Ekko w/ The Wooden Sky
Sept 28 – London, UK @ Birthdays w/ The Wooden Sky
Oct 02 – Vankleek Hill, ON @ Beau's Oktoberfest
Yukon Blonde North American Fall Tour w/ Hey Rosetta!:
Nov 01 – Los Angeles, CA @ Troubadour
Nov 02 – San Francisco, CA @ Brick & Mortar
Nov 04 – Seattle, WA @ The Crocodile
Nov 06 – Vancouver, BC @ The Vogue
Nov 07 – Victoria, BC @ McPherson Playhouse
Nov 09 – Edmonton, AB @ Winspear
Nov 10 – Calgary, AB @ Jack Singer
Nov 11 – Saskatoon, SK @ The Broadway Theatre
Nov 12 – Winnipeg, MB @ Garrick Centre
Nov 14 – Minneapolis, MN @ Triple Rock
Nov 15 – Chicago, IL @ Lincoln Hall
Nov 16 – London, ON @ London Music Hall
Nov 17 – Kitchener, ON @ Centre In The Square
Nov 19 – Kingston, ON @ The Grand Theatre
Nov 20 – Toronto, ON @ Massey Hall
Nov 21 – Montreal, QC @ Corona Theatre
Nov 25 – Saint John, NB @ The Kent Theatre
Nov 27 – Halifax, NS @ Rebecca Cohn Auditorium
Please be sure to follow us on Twitter @riffyou and at Facebook.com/riffyou.