Q&A: 10 Years of Dine Alone Records with Joel Carriere

Ten years ago, Joel Carriere set out on his own and gradually brought to life one of Canada's most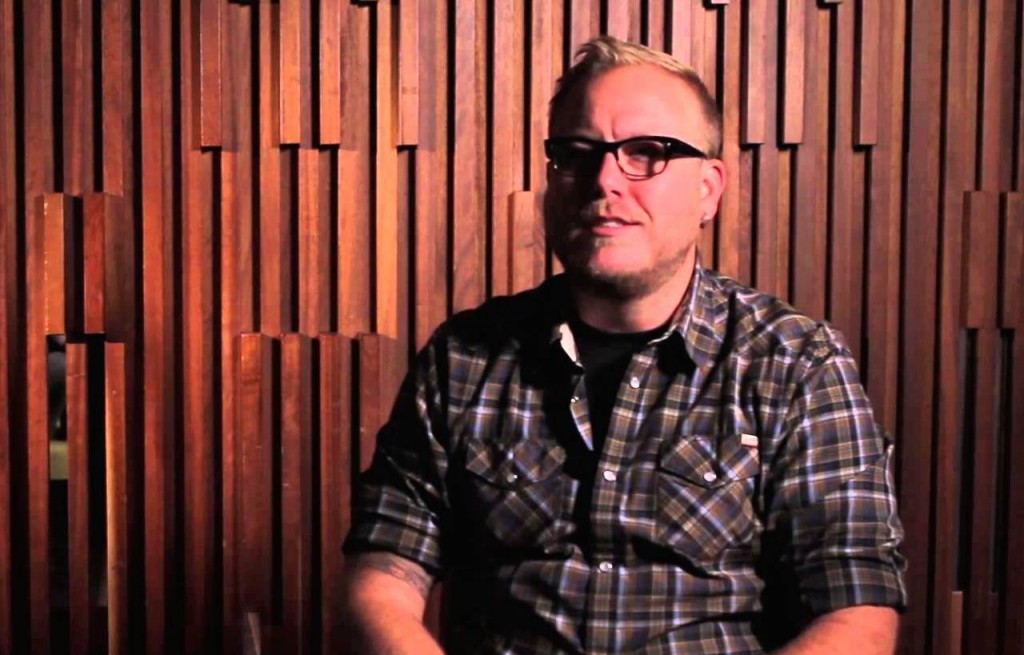 successful, respected and eclectic independent record labels: Dine Alone Records.
Throughout its existence, Dine Alone Records have had a hand in the careers of Canadian talents like Alexisonfire, City and Colour, Arkells, Tokyo Police Club, Monster Truck, Moneen, Hannah Georges and Hey Rosetta! Meanwhile, Marilyn Manson, Jimmy Eat World, Billy Bragg, Chuck Ragan, The Lumineers, Broncho, and Twin Forks are just some of the international acts to have partnered with Carriere and his crew of music fans, turned label staff.
As Dine Alone Records celebrates its 10th anniversary through a series of special releases, Riffyou.com spent some time with Carriere to reflect upon the early days, label roster diversity, Alexisonfire, the future of Dine Alone, as well as how fatherhood has changed the way he approaches life.
RY: At the 10-year mark, how reminiscent/nostalgic have you been?
Joel: "I am not sure if it's just the 10-year anniversary that is making me nostalgic. I had my first child over a year ago and now I feel the need to document things. I want him to know my past outside of being 'Dad.' Don't get me wrong I am in love with being a father, but we all wear different hats and I would like him to know more than one of mine. That being said, it is bringing up plenty of memories as we reminisce and begin a year of celebration for this anniversary. It has been fun to look back and remember the steps that got us to this point. Whether the steps were broken, large steps that needed to be leapt over or falling down the steps, they all taught us something and helped us further ourselves and our company."
RY: The story of what led to you starting Dine Alone reads like a movie script. Although it's been a lot of work to get here, are you amazed by what has happened since you initially decided to start a label?
Joel: "I am not sure if I am ever amazed. I only say that because I am always onto the next thing by the time the amazing moment happens. That being said, I am grateful for everything that has come our way. I feel like we are just getting started. Each day we operate is another day we can learn and figure out how to be better at our jobs. It isn't what I do that amazes me; it's what other people do that impresses me. When I see someone selfless, considerate, thoughtful and kind — those real positive human moments – that's what I find remarkable. I know I sound like a fucking hippie, but I am more impressed with good people than talented people."
RY: When did you first feel momentum with the label and felt like it was headed in the direction you wanted it to go?
Joel: "I can't really pinpoint the first 'WOW' moment for the record label. But my first big personal moment was when I quit all my jobs and realized that I had nobody to account to but myself. Around that time I quit the record store gig, my seasonal post office job and the label I was working at in Toronto. I focused all of my attention on my website Bedlam Society; managing bands, DJ'ing, promoting shows; and starting the label. It was a very scary and exhilarating feeling, knowing that I was in control of my own fate. Once I was free from any excuses that could hold me back, that is when the momentum started."
RY: Your roster is very diverse, yet somehow looks like they all belong together. How do you decide which artists are a fit for Dine Alone?
Joel: "Dine Alone is an extension of what we all love as music fans. For several years it was just me choosing the bands we signed, but now the staff contributes. We are signing bands that we would be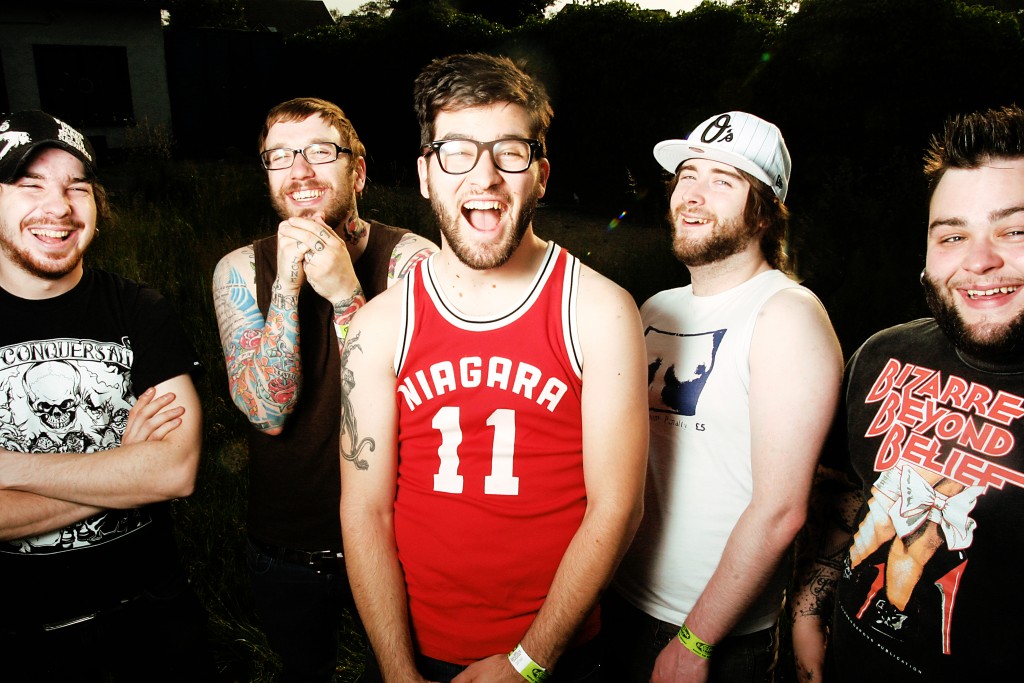 listening to anyways. The diversity comes from our love of music. I never wanted to limit ourselves with one specific genre. I could have done that when I started with Alexisonfire. There were tons of metal/hardcore/punk bands that wanted to work with us and I just felt like I had the best band in that genre so why dilute something awesome. The next big band I worked with was Bedouin Soundclash. They were the polar opposite of Alexisonfire. Working with different genres of bands, early on, allowed me to meet new people and learn different ways to market and promote different artists. It made us a stronger, well-rounded company. It's these same principles that make me admire Sub Pop Records and Silva Artist Management's diverse rosters.
"Our artists do in fact have a common theme: they are all great songwriters that you want to go see live. I grew up loving the live experience and that is very important to us. The bands need to be able to move the audience and create great memories for them. If they can't do that we usually are not interested in signing them."
RY: Having known Dallas Green before Alexisonfire and City and Colour, did you have any inklings that he would become as popular and acclaimed as he has?
Joel: "I could tell you 'yes' and look like a genius, but I would be lying. We knew each other from our part time jobs at the mall and what we knew is we both loved music. I was trying to get something going from a behind-the-scenes perspective and he was trying to get something going from a band level.  When I finally saw his band, Helicon Blue, we agreed that we would work together and figure it out along the way. For every goal we achieved, it opened up a few other doors and that is how it happened. Our first two goals were to play out of town and always open for Moneen."
RY: The emergence of City and Colour also brought with it the initial end of Alexisonfire. Was it tough to handle the excitement of Dallas' solo success, because it meant the end of Alexis?
Joel: "The [initial] end of Alexisonfire wasn't just Dallas leaving. Alexisonfire had consumed everyone for several years and it was getting a little blurry. Dallas was the first one to recognize that maybe it was time to move on from it. He was having a hard time managing two full-time projects with Alexisonfire and City and Colour touring back-to-back. The band was going to continue without him and we were talking about the future until the day Wade called and said he was joining Gallows…that was the moment Alexisonfire was officially done, as we knew it. In time I realized that Alexisonfire was not done for me. I still manage the estate and we released a catalogue box set – we're all still close. I still get to be in the world of Alexisonfire, which is fun."
RY: With Alexisonfire returning for festival dates this year, what do you expect from the band?
Joel: "I expect this band to come back and be perfect. Not auto-tuned, choreographed, or paint-by-numbers perfect, but rather a prefect storm."
RY: What is the goal of Dine Alone at this stage?
Joel: "This very moment the goal is to get through this year! Right now, we are expanding our American operation and hoping to put down roots in the UK or Australia. We have adjusted our global distributions to put us in a better position. We are going to be taking on a couple more labels for
distribution. We'll be launching a couple of other companies that are extensions of Dine Alone to further compliment our in-house services. We are expanding our A&R as well, so we never feel late to the game on upcoming bands. We are also looking at new offices in LA, Toronto and Nashville. We currently have two employees in LA and two in Nashville. We are looking for new space in both markets to allow for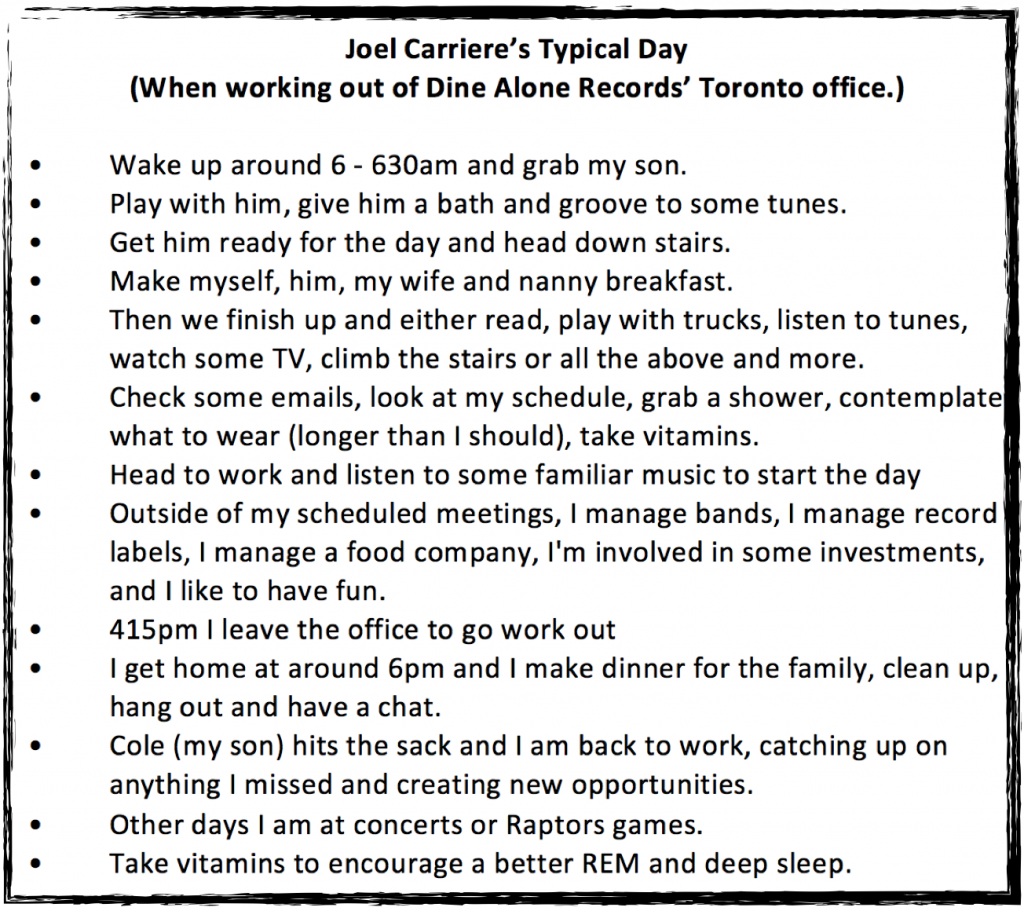 expansion. Our Toronto team spends a lot of time between NYC, LA and Nashville so it only makes sense to set up more permanent roots. We want to have a global impact and in order for us to do this we need a bigger presence in the USA. It's hard to convince international bands to sign to the Canadian label that is doing things globally. We get that. So the bigger our presence is in the USA, the easier it will become to work with artists."
RY: What does Dine Alone mean to you at this point in your life?
Joel: "It's not just mine anymore, I share it with a lot of people. But it still has the original values and mentality it always had. We are just spreading the love globally instead of keeping it in Canada."
RY: How competitive are you when it comes to how your label is, versus others?
Joel: "I can't really speak to how competitive other labels are, but I know the ones that say they aren't are lying. We are very competitive, not just with other labels, but in general. We have a strong drive to achieve big things. When you have that hunger, it motivates you."
RY: How has being a father changed the way you go about your Dine Alone duties?
Joel: "I spend more time being direct and get straight to the point because I now have a bigger responsibility and that is to make sure I don't raise an asshole. I am at my best when I am with my son, so that means I would like to spend more time with him. In order to do that and continue to grow Dine Alone, I can't waste any of it. Some people say time is money and that is not true – time is priceless. Once you can realize that, things just change. The way you deal with people and your overall outlook changes."
RY: What advice would you provide to someone who wants to start a label tomorrow?
Joel: "Dive in and do it. If you get as far as a name or one release or a year in operation or end up creating something amazing for yourself, at least you had the drive to do it. The worst thing you can do is not recognize your capabilities. We have so many institutions around us that want to keep you back from being great. Fuck them, fuck their rules and fuck the box they want you to live in. Go out and start a label, manage a band, write a song, be a dancer, paint a picture, just follow your heart and push yourself to be the best you, that you can be. You will forever go to sleep never wondering 'what if.'"
-Adam Grant
-Joel Carriere photo by JUNO TV
Please be sure to follow us on Twitter @riffyou and at Facebook.com/riffyou.